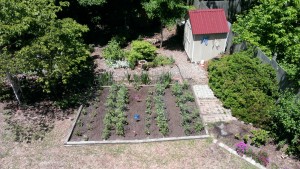 The salsa garden has been planted and is ready for the 2014 growing season here in North Carolina. I planted the garden in late April. I usually do it on Good Friday, but I'd been traveling a lot and the winter was pretty hard. Luckily, I had been preparing my soil a few weeks ahead of time (tilling, fertilizing, weeding, etc.) so it was easy to get the plants in the ground.
I got my plants from Logan's Trading Company in Downtown Raleigh. Zander went with me to help select the plants. Actually, we made a pit stop at Wise Recycling to cash in our aluminium cans and made $53.00 before going to Logan's. The plants looked great. Zander wanted to try some pink girl tomatoes, so we'll see what those are like this year. Unfortunately, they were out of red and orange peppers so we went with more golden peppers instead.
We had a boys-out lunch at Bad Daddy's Burger Bar before heading back home. After we got home, I did some final garden preparations and got the plants in the ground by the end of the weekend. That was the last weekend in April, so let's fast forward to mid-May.
Garden update May 17-18
The salsa garden was well-hydrated earlier this week. A cold front came through on Wednesday/Thursday and left us with 5 ½ inches of rain. After that, lots of sunshine and cooler temperatures. I decided that it was time to cage all of the plants and worked in the garden.
I tried a new strategy when planting the garden rows this year. Instead of organizing the plants east to west like I've done in years past, I decided to try north to south and group them in rows of two. You'll see how it looks in the pictures below, but the theory is that it will provide more access to my plants.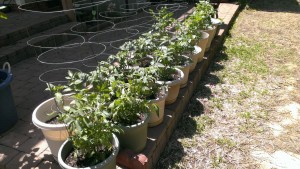 I also planted less plants this year to help with spacing them out and will be experimenting with a few other things as well. Here's what the line-up looks like:
Tomatoes:

Better Boy (3)
Big Boy (4)
Celebrity (6)
Early Girls (8)
Large Cherry (4)
Patio (8 in pots)
Pink Girls (2 in the garden / 2 in pots)
Roma (4 in the garden / 4 in pots)
Rutgers (4)

Peppers:

Big Bertha (8)
Camelot (8)
Golden Peppers (6)
Jalapeños (3 in pots)
One of my experiments is with the Roma's. I've got half of them in pots and the other half in the garden. I also reduced the amount of cherry tomatoes this year. I had over 1,000 last season which was a lot to deal with. I reduced the amount of plants by half and moved them to the edge of the garden in case they get ginormous again.
I've already got a few blossoms on the plants, and most tomatoes are already knee high. Hopefully it will be another great year for the salsa garden.