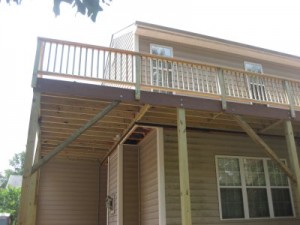 You may remember that we started exploring creating more outdoor living space here at Ramsgate Manor. The project is well underway and taking a bit longer than we had expected.
Construction started in early May. We were planning on being out of town for about 3 weeks—which presented the perfect opportunity to get most of the project complete (in our eyes). When we returned from our trip to San Francisco and Honolulu, the deck had been framed and the planks installed. Unfortunately, the railing was not installed and the patio was an after thought.
Beyond the obvious, the door was still not here and the pavers for the patio had not been ordered. The project was behind. We thought it should have been completed before Memorial Day weekend.
The hold up on the railing was a "special" order that we were waiting for. Originally, we wanted a rail post that allowed us to run electrical wire and have low-voltage lighting on the deck. We decided to scrap the special posts once we realized the lights were not a sytle we preferred.
The railing was built last week. The base of the patio was finished last week and more work was completed over the weekend. It's coming along quite nicely. And it looks awesome. We've snuck out through the window and enjoyed the deck a few nights.
Another part of the project we are waiting on is the door. Apparently, the people putting the door together broke the glass. The door was ordered in late April, and well, let's look at today's date and figure out what the hell takes so long to make a door? It's very fustrating. It's supposed to be ready by Monday (June 27).
This week, we hope to have the door installed, the vinyl siding redone, and the patio completed. Everything should be wrapped up before the Fourth of July weekend. We're very excited to complete the project and start enjoying our new space.