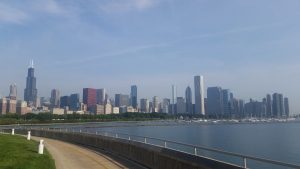 The stage was set for our trip to Chicago. Zander and Coco were with Meme and Poppy for a week at the farm and a break from summer camp. The four-legged kids, Rex and Sox, were already enjoying a week at the beach with Nana as we dropped them off over the past weekend. After two days of work, Merri Beth and I were ready for three days in Chicago. Our plan was simple: White Sox game, Cubs game, and a day at Lollapalooza to see Blink 182 and a bunch of other bands. We would figure everything else out along the way. Here's what our adventure in the Windy City looked like as the calendar changed from July to August and the summer is in the middle of a great set.
Tuesday, August 1 – Arrival, crosscheck, and The Loop
Our day started as another normal workday. I got up on the earlier side and got in a 10 mile bike ride. MB got up and went into the office. I was pretty much packed and ready for our trip before heading into the office and I only had a few meetings on my calendar and a short to-do list to knock out before leaving Red Hat Tower.
Then travel mode kicks in. I schedule an Uber to pick us up at 4:00 pm. And they were at the house ready to take us to the airport as scheduled. We arrived in plenty of time, made it through TSA pre-check security in only a few minutes and were patiently waiting for our flight to board. MB and I finally boarded and made it to CVG (Cincinnati) with no issues.
We decided to grab some dinner during our layover. I noticed that the airport was pretty dead for a Tuesday evening. Not a lot of activity, a few places were already shut down, and it was barely 8:00 pm. We found this interesting restaurant named Max & Erma's. It was literally the only option we had to eat unless we wanted fast food or The Outback. We ended up with a bottle of wine, a bacon and cheddar burger for MB, and a bean burger with house salad for myself. Dinner was decent and helped us pass the time for a short layover.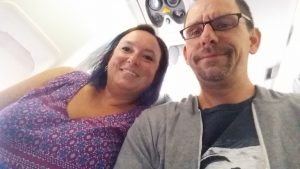 We finally boarded our short flight to Chicago and caught a Lyft to downtown Chicago. Our hotel was located in The Loop, the center of downtown where all the "L" (subway) lines intersect. We booked a room at the Palmer House Hilton, which was a great location for all the things we wanted to do over the next three days. Check-in was interesting for us. The front desk associate asked us if we wanted to upgrade, disappeared for a few minutes, and came back to tell us that we booked a king room and they were full. She gave us our keys and we proceeded to our room.
On the lovely ninth floor of the the Palmer House, we discovered we were checked in to possibly the smallest hotel room in Chicago. We debated what to do and decided to go back to the front desk and inquire what was up. A very nice associate, Genesis, informed us that they were completely full and offered us a discount on the room or Hilton Honors points. We also asked about getting our original reservation and she informed us that we could change rooms the next day. MB and I decided that we could live with that and proceeded to quasi settle-in to our room for the night.
But the night was young and we wanted to explore The Loop for a hot minute. I found a whiskey bar named 2Twenty2 a short distance from the hotel that had plenty of local craft beer on tap. MB ordered a pint of Vallejo Half Acre IPA and I indulged in a few pints of local beer. The Revolution Anti-Hero IPA is quite delicious and so is the Dick the Butcher from Burnt City Brewing. Our travels were catching up with us and it was time to get some rest for the next three days. We've got a lot to do while we're here in Chicago.