Wednesday, August 2 – Heading to the Southside to see the Chicago White Sox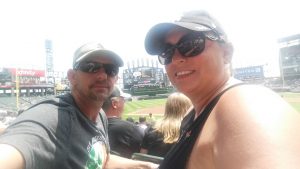 One of my favorite parts of traveling is to explore the city during my morning runs. Not only do I get better oriented with directions and wayfinding, but I get to see way more that I could just walking around. I started off our first day in Chicago checking out the Riverwalk along Millennial Park and Grant Park. I ran to the Shedd Aquarium before making my way back to the hotel. Definitely a clutch trail for running, biking, and enjoying the outdoors.
I grabbed some breakfast for us on the way back from my run. While we got ready for the day, I did some research on the Chicago Transit Authority so the we could easily move around on the L. Once we were ready for the day, we found a CVS where we purchased our Ventra (transit) cards. Soon after that, we were on the Red Line heading to 35th Street for our first baseball game.
I scoped out this place on Yelp called Turtles Bar and Grill that turned out to be a hidden gem. While the restaurant was busy with some game day patrons, we found a table and settled in. After originally being greeting quickly, we waited quite a few minutes for everything else to transpire. Our drinks arrived, and eventually a mountain of food. We each ordered a salad and shared an order of (really large) garlic and Parmesan cheese fries. The salads were huge and we were full from those, but the garlic fries were so delicious, we couldn't help ourselves. We were fueled up for the game.
It was a short walk from Turtles to Guaranteed Rate Stadium and the weather was pleasant and warm. As we made our way into the ballpark, we stopped by the team store for some White Sox gear—a visor for myself and a hat for MB. A mini souvenir baseball bat, a tradition for us, was also purchased for our collection.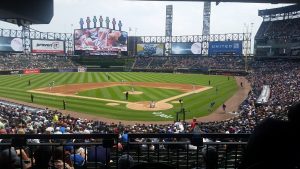 Finally, it was game time. The Chicago White Sox were hosting the Toronto Blue Jays. I got a chance to see the Blue Jays play last August when I was in Toronto for LinuxCon North America. MB picked out some amazing seats between third base and home plate from StubHub, right behind the Chicago dugout. We watched a few innings before walking around the ballpark to take in the scenes.
I was really impressed with the stadium. It was clean, felt new, and had lots of amenities. One of my favorite parts was the Craft Kave. Located in right field, it was a bar with an amazing selection of craft beers and a field level view of the game. If you arrive early enough, you can sit on the upper patio of the Craft Kave. Eventually, we found our way back to our seats and enjoyed the rest of the game. The Blue Jays beat the White Sox, 5-1.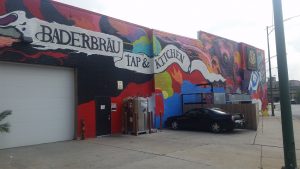 There was no rush for us to get out of the ballpark and cram onto the L. MB and I took our time leaving and decided to walk about a mile to Baderbräu Brewing. An interesting brewery located in a kind of industrial-like section of town. The vibe inside was pretty cool and I got a flight to sample.
Not to far away was Motor Row Brewing. Another lively place with some really good beers. We enjoyed the atmosphere as well as the beer. I happened to log my 1,700th unique beer on Untappd during our tasting.
After a long day at the ballpark and visiting a few breweries, MB and I hopped on the Green Line to head back to The Loop. We stopped by the hotel room to refresh and come up with a game plan for dinner. We decided we wanted to indulge in a deep dish pizza. MB did some quick research and suggested that we head over to Pizanos.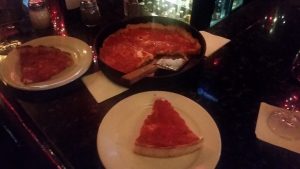 Just a short walk from our hotel, Pizanos was hopping with activity. We decided to eat at the bar and enjoyed the half-price special on bottles of wine. The plain cheese deep dish we ordered took at least 30 minutes to cook. It was worth the wait. Once it arrived each of us grabbed a slice and began to dig in (fork and knife style).
And that was our first day in Chicago. We did a lot, saw a low, and now it was time to recharge for day two. We're going to see the Cubbies play at Wrigley Field.