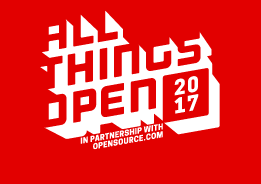 The excitement for the largest open source conference on the east coast is starting to build. On Wednesday of this week, the team from All Things Open had some great news to share. First, they launched the latest version of the conference website. It looks pretty slick and continues to use the Spaceman theme. Even more exciting than the new website is that registration for the conference is now open. But wait, there's more.
If you are interested in attending, you should take advantage of the 1-week sale that ends on Wednesday, June 21. You can attend both days of the conference for only $99. This is a steal! You get two days of amazing content, presentations, and more. You can not get a better conference deal than this.
Lastly, All Things Open organizers announced the speakers who have confirmed they are attending. And the line-up is top notch. I don't think there is another conference of this caliber, with this many great speakers, for the price of admission.
All Things Open will be the center of the open source world in October. Right here in the open source city of Raleigh, NC on October 23-24. I hope to see you there.