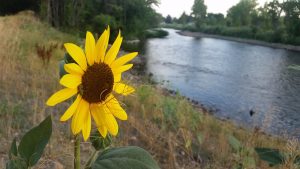 The sampling continues in Fort Collins, but the big event today is seeing Kenny Chesney play at Frontier Days. We'll get to that soon. Today's visits include Fort Collins Brewery, Odell Brewing Company, and New Belgium. It was another productive day, with some great summer weather with friends and family.
This will be a broken record during our visit in Fort Collins: I started off the day with a run. This time I went west on the Poudre Trail and enjoyed some amazing views of the Poudre River and the Rockies. I got about four miles in and the altitude was still slowing me down a bit, but I was really enjoying the trail, the views, and the low humidity. Speaking of the views, there were even a few flowers along the trail to brighten the day.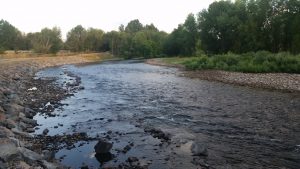 By the time I got back, the rest of the family was heading out to Frontier Days for another day of exploring and perhaps a rodeo. Me, more work. I didn't have any meetings today, but I had three big projects starting and it was time to buckle down get organized.
I cooked some breakfast and got ready for the day, then it was another morning on the roof top deck checking email and working on projects. The first thing that needed attention was preparing for an upcoming conference called LinuxCon. Opensource.com partners with several conferences throughout the year to conduct interview series to help promote the conference, speakers, and select topics that are interesting to our audience. My project was to gather content related to Linux containers. I spent a good portion of my morning doing some research, connecting with speakers, and the stating to prepare content for the series.
Exploring a few breweries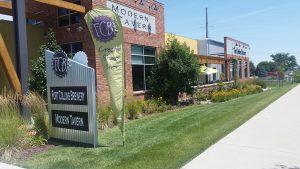 My reward for getting a good start on my projects was lunch at Fort Collins Brewery. Similar to yesterday, I walked over to New Belgium and got a bike share. Lunch was pretty good. The Pescatarian options were limited, but I enjoyed a Brussels Sprouts appetizer and a salad with Salmon for lunch. The flight of beer had lots of different varieties. Nothing was really standing out. The Far Away IPA and the Hefeweizen were decent, my favorite was probably the The Last Polka, a pale wheat ale.
On the way back to the house, I decided to stop by Odell Brewing Company. I absolutely love their beers. Some of the best in Fort Collins. I really wish they distributed to North Carolina. I enjoyed a flight on their patio and couldn't wait to bring Merri Beth back. I looked at the gift shop and already picked out a shirt that I liked.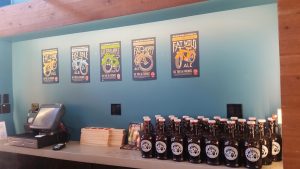 It wasn't in my plans to stop at New Belgium, but since I had to return the bike share there before going home, I decided to stop inside. A quick glance at the main bar, and I realized that I like New Belgium so much that I've had every single one of the beers featured on tap. But, as I looked around and noticed the new west bar, I noticed several collaboration beers that were totally up my alley.
In talking with the bar tender, New Belgium shared their Fat Tire recipe with other breweries and said, "Make it awesome." And many of them succeeded. I sampled two of them for now. But I'll be back for the others.
Kenny Chesney in Cheyenne
The family finally arrived back from Frontier Days and I had wrapped up work for the day. We were getting ready to drive to Cheyenne for the Kenny Chesney concert. Merri Beth, Zander, Beth (MB's mom), and I were heading north for the show. We parked at the car pool area and took a bus in to the busy and bustling area at the fairgrounds in Cheyenne.
There were tons of people at the entrance. We finally made our way into the arena and found our standing room only "seats" in the section behind the pit, dubbed the party zone. My friend Jason Shaeffer and his wife Joanna where joining us. We had been texting for a while and MB and I finally found them at Frontier Days with a few of their friends. We had a beer with them then headed back to Beth and Zander.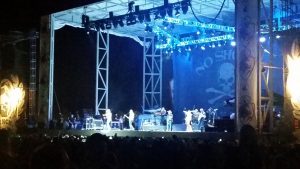 The opening act had started and I was interested in finding some food. Zander came with me and we stumbled upon some sort of gaming kitchen at Frontier Days (think State Fair food vendors). I scored some shrimp tacos while Z got a bison burger. We were set.
By the time we got back to our section, the opening act was finishing up and we were getting ready for Kenny Chesney. Jason and Joanna joined us and the show was just about ready to start.
Kenny Chesney puts on an amazing show. Even though I'm not the biggest country music fan, I'm game for this entertainment. One of my favorite moments from the concert was the cover song in the middle of the show of The Joker, by The Steve Miller Band, intertwined with Bob Marley's, Every Little Thing. Simple awesome. Enjoy the video.
Pictures