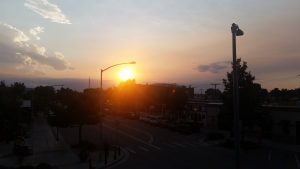 Our last full day in Fort Collins was composed of exploring new places and hanging out with friends and family. After a long day of work, it was time to enjoy some craft beer from Snowbank, Funkwerks, Horse & Dragon, and Jessup Farm. And we had an amazing birthday dinner for Coco at Hearth, my friends restaurant in Windsor. An awesome day, came along with us for the ride.
The day started off with another run on the Poudre Trail and I explored some of the trails to the west. I'm not much of a trail runner, but I went outside my comfort zone to get more amazing views of the Poudre River. I still wasn't use the altitude, but I powered through it.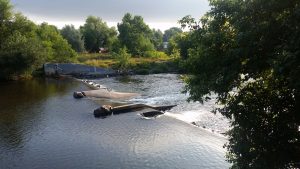 After some breakfast, it was another full day of work. Merri Beth and Coco were at the house today and I had a few meetings to attend in between project work. It was another productive day, long, but I chipped away at it.
Lunch was take-out from a place called Mad Greens, that reminded us of Happy and Hale. We got some stacked salads while Coco got a grilled cheese. We took our food to the first brewery of the day, Snowbank.
Snowbank Brewing had something special waiting for me, I didn't know it until I got there though. We arrived just as they were opening. MB and I shared a flight while we ate our lunch, our Mad Greens. More importantly, they had a beer named Open Source IPA. I thought I was dreaming. It was pretty good on the flight, so I ordered a full pint to indulge.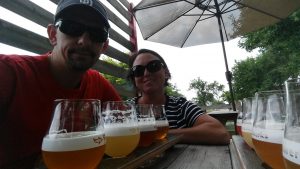 Our next stop was amazing. Funkwerks is exactly as one would expect. Funky and delicious. MB and I each ordered a flight and shared it. Wow, we probably could have just shared one, but the beer is THAT good. We sat outside on a picnic table with Coco and busted out our laptops to get a little work done. I booked some upcoming travel for LinuxCon, wrapping up my flight, hotel, and transportation to/from the airport. Score!
In true Colorado fashion, it looked like some weather was moving in. We savored our beers and enjoyed every last taste. We headed out before any rain started. This was a super fantastic visit, and our next stop wouldn't disappoint either.
Just around the [industrial] block was a unique craft brewery dubbed Horse & Dragon Brewing. We entered the dragon, Coco was intrigued, and we eventually found the dragon on the bar. MB and I ordered some flights, and they came in a cute little wooden box. We were excited about the Sad Panda, as it came highly recommended. Overall, the beer were good, definitely a place I'd like to explore again.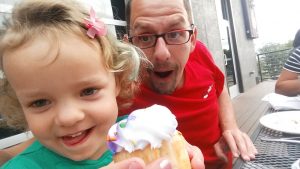 Out afternoon was slipping away rather quickly. We made the short trip down to Windsor to meet our friends and family at Hearth Restaurant and Pub. MB and I saw this place last year when it was under construction. It was great to see our friend Shaeffer's amazing place finally open and operating. Jim, Beth, and Zander, joined MB, Coco, and I along with the Shaeffer family sitting outside with a great view of Windsor Lake.
Appetizers were coming out. Delicious. Then we shared several pizzas for dinner. We brought cupcakes with us to celebrate Coco's fourth birthday, and they were a hit with the kids. The evening was beautiful and we had an amazing sunset while we finished our meal.
After dinner, Coco and Zander went with Jim and Beth while we continued to hangout with our friends. We did a quick tour of the Shaeffer's house and saw some of the upgrades in progress, then we headed over to Jessup Farm to end out the night.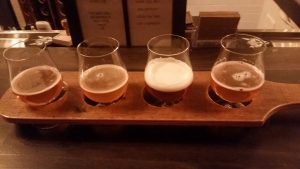 A fascinating combination of beers were waiting for our visit at Jessup Farm Barrel House. The beers were unique and delightful. We sampled a few strong ones, but didn't over indulge. It was really more about hanging out with friends with fine craft beer. We were some of the last folks in the place and realized that it was time to call it a night. The bartender said she didn't mind, but we were catching the vibes.
MB and I said our good byes to Jason and Joanna, then made our way back to Fort Collins and found a quiet house with kids and in-laws fast asleep. We did our best to stay quiet and sneak into bed. It was a long day and we've got to pack up tomorrow and head back to Raleigh. Fun times in Fort Collins. Thanks for joining us today.
Pictures