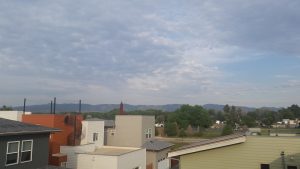 Our first full day in Fort Collins was pretty low key but filled with fun. We had breakfast with a friend, got some work done, and while Merri Beth headed to Cheyenne for Frontier Days, I stuck around our house for meetings. Then after a long day "at the office," I explored some breweries.
I had a really awesome run to start the day off. I got in four miles on the Poudre Trail, which runs along the Cache la Poudre River. Basically, from our VRBO, I went by New Belgium, got on the trail, and headed east for an out and back.
After my run, MB and I met our friend, Jason Shaeffer, for breakfast. We gathered at the Original Pancake House on Harmony Road. We ate outside in the chilly (to us) morning. But the sun was warming things up quickly. I had some of the best coconut pancakes and Shaeffer, MB, and I had a chance to catch up on a lot of things.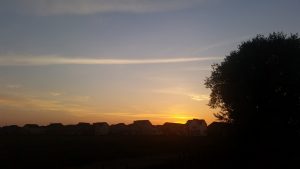 After a delightful breakfast, we hit up the grocery store on our way back to the house. Once back at our place, we grabbed our laptops and got to work. It's so nice to be able to work remote. I was able to join several meetings and get lots of work done too.
I started my work day on the roof top deck. There were a few clouds around and the morning was nice and cool. I worked outside until it started getting warm. Then I headed in for the rest of the afternoon. MB got some work done as well, then headed up to Cheyenne to join her parents and the kids at Frontier Days.
I stuck around the house, grabbed some lunch, and worked for the remainder of the afternoon. Once I wrapped up my work day, it was time to start exploring the brewery scene in Fort Collins.
Equinox, Copper Smith, and Illegal Pete's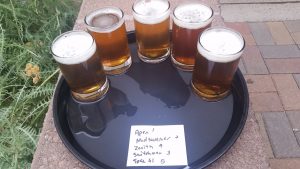 It was about a 10 minute walk over to New Belgium, where I rented a bicycle from the bike share program. Then I cruised on over to the downtown area where, after returning the bike to a different location, my first stop was Equinox Brewery.
The weather was so nice that I couldn't sit inside at Equinox, even though the ambiance was pretty laid back. I ordered a flight of some pale ales and fired up Untappd. All the beers we quite tasty. I tried the Apex Extra Pale Ale, Midsummer Pale Ale, Switchman Session IPA, Zenith IPA, Space Ghost IPA, and Darth Vernal Dunkelweizen. By far, the Space Ghost was probably my favorite. Equinox is definitely a place I'd come back to.
I was trying to coordinate some dinner plans wit MB so I stuck around close to the downtown area. I ended up waiting at Cooper Smith's and getting a flight there to sample their beers while she made her way back from Cheyenne.
We met at Illegal Pete's to get some take-out for dinner. Great spot, lively atmosphere, and the food came out fast and cooked to order. We took it back to the house and everyone dug in. MB and I enjoyed some of Odell's 90 Shilling that we picked up at the store. Everyone just chilled out for the rest of the night, wrapping up a fun day in Colorado.
(Just a few) Pictures