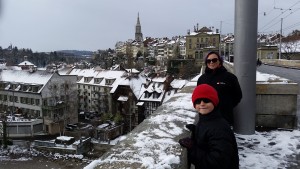 Our time in Switzerland continued in Bern and Neuchatal. We enjoyed some snowboarding and skiing in St. Moritz then we enjoyed the views on the Glacier Express. Now it was time to explore the capital city and take a ride to a beautiful town on the lake.
Exploring Bern – January 17, 2016
While we experienced some traditional Swiss food in Bern last night, it was time to walk around the city and take in some history. While MB and Zander slept in a little bit, I did some research on the top things to do in Bern. And one of the activities that kept appearing at the top of the list was the Bear Park.
After breakfast at the hotel, we ventured out into the city. A light snow was falling, but we were bundled up appropriately. On our way to the Bear Park, we visited the Clock Tower (Zytglogge) and Das Bern Münster (a Bern Cathedral and Cathedral of St Vincent). As we arrived at the Bear Park, it dawned on me that it was winter. And what do bears do in the winter time? They hibernate. So while I was thinking about why there weren't any bears out in the park, we got to see them snoozing on the web cam.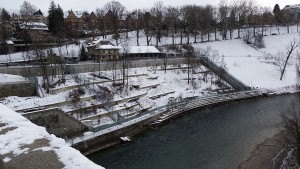 After the bear park, we took a nice walk around the river, through a park, and ended up at the government parliament building near our hotel. Snow would fall periodically and we enjoyed seeing a pair of swans along the river as we went back into the heart of the city. Our day in Bern was expiring and it was time to get on the train headed to Neuchatal.
We went back to the hotel to get our luggage and made our way to the train station a few blocks away. It was about a 40 minute train ride to Neuchatal. Once we arrived, we walked about 15 minute to our new hotel. We checked in and went out for a snack. We found a fun place called Desperado Mexican restaurant & bar. After snacks and drinks, we enjoyed a nice walk along the water and a sunset over the lake. We bumped into one of our co-workers, Sam Knuth who was out and about just like us, and we chatted for a bit before escaping back to our room.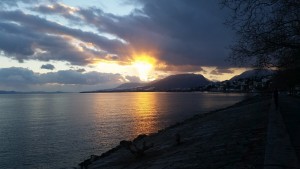 We had a busy day so far and decided to relax in our room for a bit before heading back out. Because it was Sunday, a lot of places were closed for dinner. Apparently, the happening spot was Les Brasseurs, where we had dinner. The table next to us was full of co-workers from Red Hat who were in town for the same meeting that Merri Beth was here for. While they were getting ready for a full week of meetings, Zander and I were tapping out and getting ready to head home tomorrow.
Back at the hotel, we tried to watch/listen to the Carolina Panthers NFL playoff game. We couldn't find it on TV, but found a radio broadcast on the Internet. After the Panthers win, we called it a night. Zander and I were getting on the train in the morning back to Zurich.
Sightseeing in Bern