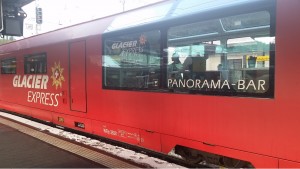 Our extended weekend and journey in Switzerland continued aboard the Glacier Express. The world famous "slowest express train" would take us from the eastern part of the country, through the Swiss Alps with the end destination of Zermatt. The 7-hour ride took us over countless bridges, through numerous tunnels, and most importantly, offered amazing views around each and every corner.
Glacier Express: Willkommen an Bord – January 16, 2016
Merri Beth, Zander, and I were adjusting nicely to the time difference in Europe. We also knew that the trains in Switzerland don't mess around, and we needed to get to the train station with plenty of time to spare. Our hotel, Randolins, had a great breakfast spread. We indulged in the delightful breads and cheeses, eggs, bacon (everyone but me), jams, and fresh fruits. Most of our luggage was packed up last night, we just needed to add in last minute items.
After breakfast, we finished packing and met the shuttle driver to take us to the train station that was about a 10 minute drive from the hotel. We were running a few minutes behind from our 8:30 am departure time because we were waiting on someone from another group who was going skiing and running late—unwanted travel anxiety.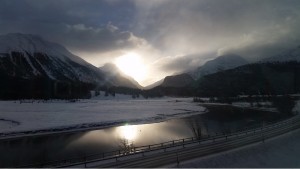 Finally, we arrived at the train station and settled into our seats. The train was warm and the panoramic windows were huge. We left precisely at 8:57 am. These trains are on Swiss time. The first part of our journey saw the sunrise over the mountains and a lake, then we traveled through the Preda-Bergün area, famous for 30-minute sledding trails—sledders would take the train from Bergün up to Preda, and sled down the mountain trail. Maybe next time!
The Glacier Express had a major stop/layover in Chur, where we had a 10-15 minute break. I took that as an opportunity to get off the train and stretch. It was cold out, but refreshing. The next stretch of the train ride took us through Rheinschluct, Disentis, Oberalppass, and Andermatt, while offering spectacular views of the Rhein River.
At this point, the lunch we ordered had arrived. We decided that getting lunch on the train was the easiest options for us.
Travel tip: If you have time to shop before the trip, definitely bring your own lunch on the train. It's a great way to save money.
After Andermatt, we went through the longest tunnel of the train ride, the Furkatunnel. Earlier, I mentioned that we went through "countless tunnels." In fact, there are "91 tunnels and 291 impressive bridges" along the journey. And many of them are very scenic.
The last part of our trip took us through Münster (like the cheese), Brig, Visp, St. Niklaus (yes, like Santa Claus), and our final destination, Zermatt.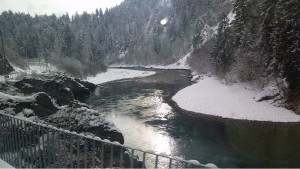 Our original plan was to get to Zermatt and check out the famous Matterhorn. However, we arrived at dusk, and we didn't do the research to figure out how to get to the Matterhorn—or at the very least, a glimpse of the mountain. We hung around Zermatt for about an hour, visited a gift shop, then got back on the train headed to Visp.
Riding on the train all day was exhausting, but we survived. To top that off, we needed to get to Bern, where the hotels were a lot cheaper and there wasn't a two night minimum. But that meant more time on the train. Thankfully, it was an express train with minimal stops. We finally arrive around 7:30 pm and navigated to our hotel (dragging luggage around the city a few blocks).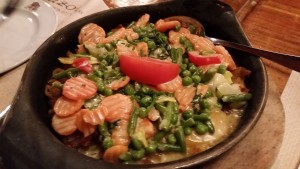 MB, Zander, and I checked into our hotel room, a very nice Best Western. We immediately started researching some dinner options on our laptops then bundled up and headed out. We stumbled upon a restaurant called Le Mazot and it was game on. They had traditional Swiss food and we ordered a vat of cheese fondue and a hashbrown-like dish called Rösti. That was enough for us get the experience we wanted. After a long day on the train, this food hit the spot. And the beers were great. I enjoyed a wonderful Schneider Weisse Original.
After our late dinner, we walked around a bit to take in the Saturday night scene. Ice skating near the government building and the hustle and bustle of bars and restaurants. Our night ended in the hotel room watching some NFL playoffs with German commentators. Quite a fun experience as we were exhausted from a long day.
Enjoy the views
A night in Bern