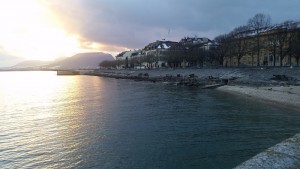 The extended weekend in Switzerland for Zander and I was ending soon. While Merri Beth was staying in Neuchatal through Friday, Zander and I had a full day of adventure ahead of us that included castles, trains, airplanes, and sunsets.
Homeward bound via Zurich – January 18, 2016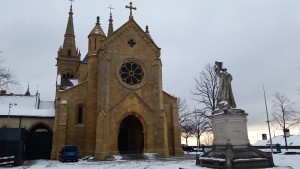 Our entire hotel room was up early, like 6:30 am early (European time). Merri Beth had her first day of meetings, while Zander and I needed to get on an early express train bound for Zurich. We had breakfast at the hotel then went our separate ways. Zander and I wanted to see the Château de Neuchatal in the day time, so we walked across town to see the castle. It was bitterly cold so we bundled up appropriately. On the way back, we visited the Red Hat office before we had to grab our bags and head to the train station.
The train ride was about an hour from Neuchatal to Zurich. Once we arrived at the airport, we made our way through security, did some duty free shopping–which included lots of chocolate–and eventually made it to our gate. After boarding our flight to New York's JFK airport, we settled in for the ride over the Atlantic Ocean. We arrived in New York to a beautiful winter sunset while we were landing.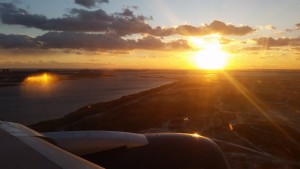 Once Zander and I made it through customs and security, we were back in the terminal and walking forever to our gate. We grabbed some dinner and then boarded our flight. After a long day of travel, we made it back home. We had an amazing time in Switzerland, a trip I would totally do again, but it was back to reality while MB continued her stay in Europe for the week.
To make things even more interesting, I was heading to the west coast on Thursday. Jim and Beth came up on Wednesday night to help out with the kids. I was up early for my flight and out of the house at 5:30am. Then Thursday afternoon, an approaching winter storm made things interesting for the Triangle and Wake County canceled schools for Friday. Long story short, Jim and Beth took the kids to the farm for the weekend, Merri Beth barely made it back to Raleigh with one of the last flights into RDU before the airport was shut down, and I was enjoying great weather in Pasadena, California at the Southern California Linux Expo.
Sightseeing in Neuchatal