Spring Break 2015: Rincon, Puerto Rico Day 4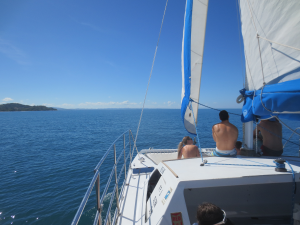 Another beautiful day in Rincon was on tap. An early morning surf session with some of the leftover swell was a great way to start the day. Then the family was all geared up for a morning sail on the Katarina and some snorkeling in the Tres Palmas Marine Reserve. This was day four of our Spring Break and our last full day on the island of Puerto Rico.
Monday, March 23, 2015
More Surf at Domes Beach (with the GoPro)
Not quite dawn patrol, but I was in the water around 7:00 am. There was some thigh to waist high leftover waves from the previous swell still coming in pretty consistently. I paddled out for a few waves, then saw how clear the water (and reef) was and how fun the waves were—I went to the car and added the GoPro for the last hour of the surf session. The GoPro is mounted on the front of the board facing forward—which gives it a unique perspective compared to my GoPro surf session from the other day. You can tell by the sound when I'm up on a wave.
Sailing on Katarina

Around 9:30 am, Merri Beth, Zander, and I boarded the Katarina catamaran along with some other folks from Los Angeles and Orlando for a day of sailing on the west side of Puerto Rico.
We had an amazing time snorkeling in the Tres Palmas Marine Reserve. Some amazing shots with the GoPro and some great fish and views of the coral reef. Check our this post for pictures and videos that take you below the surface.
After sailing and snorkeling, we headed out to lunch at La Cambija Bar & Grill. The food was amazing. We had a plethora of seafood items. I got the Wahoo fish tacos (no surprise considering my recent fish tacos fascination), Zander got a Mahi Mahi burrito, and MB got a fresh Tuna burger (sandwich). A cool spot that I would definitely go back to.
We took a little siesta after lunch. Then we returned the surf board rental to Mar Azul Surf Shop. Once we got back to the condo, I took Zander to the pool so he could go swimming. While at the pool, some afternoon showers began to roll in.
It was time for happy hour at The Beach House. We headed up the hill on 413 (The Road to Happiness™) and danced through the rain drops to enjoy surf videos, beer, and a rainy sunset at The Beach House.
We ordered some takeout and went back to the condo. We enjoyed our dinner and began packing up for our upcoming travel to Denver. We would have about half a day tomorrow to enjoy the sun, then a two and a half hour drive to San Juan to catch our flight.
Pictures from Sailing on the Katarina