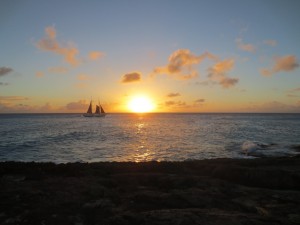 Our second full day in St. Martin started off bright and early. I was up at 6:00 am (Atlantic Time) and I went for a short run. Barefoot. On the beach. Born to run baby! After that, Zander and I went out for a swim in the Caribbean in front of our place.
After breakfast, we loaded up the car and headed out for the day. Our first stop was Pic Paradis, the tallest spot on the island with some great views. But I think we missed a turn somewhere on the single-lane road, lush with tropical foliage on both sides and only a few places to pull over and let other cars pass.
We ventured over to Mullet Bay, on the Dutch side, where we spent most of our day. It is a beautiful beach with amazing blue water, beach bars, and umbrellas and chairs for rent. We sat on the beach, played in the water, explored the reef, and relaxed. This was a pristine find for us.
We had a late lunch at Maho Beach at Sunset Bar & Grill near the Princess Juliana International Airport. You can watch the planes landing and taking off, up close and personal. It's really fascinating to see these huge airplanes come in and literally fly feet above your head. When they take off, you can feel the blast and people stand behind the fence and try to withstand the force. Zander and I explored, but didn't get too close.
We concluded our day at Cupecoy Beach with a Caribbean sunset. We sat on the rocks above the white sand beach watched the sun fade into the water and clouds. As if perfectly timed, a sail boat passed by for a picture perfect moment.
We were beat from being out all day and returned to our apartment. We sat in quite a bit of traffic from Marigot to Grand Case. There's not too many main roads here and you should expect some traffic here and there if you visit. But no worries for us. We're on island time.