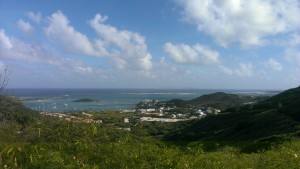 4:30 am was an early start to our day, but it was worth it. Our flight to Charlotte (CLT) left Raleigh at 7:10 am, or at least it was supposed to. We were up, showered, and already packed by 5:15am, then it was time to start our long day of travel to St. Martin. We were at RDU International Airport before 6:00 am, checked-in and through security. Our flight had a slight delay taking off, but we made it to CLT within ten minutes of our scheduled time.
While in CLT, we grabbed breakfast at a bagel shop and lunch at Quiznos during our 90 minute layover. Our flight left around 9:40 am and we landed safely in the Caribbean around 3:00 pm Atlantic Time. We made our way through customs where Coco got the first stamp on her passport, and we were on our way to explore St. Martin.
We rented a car from Kenny's car rental (reminiscent of Barbados). Lesley, the car rental guy, found us at the airport and gave us the lowdown. After a bit of mid-afternoon island traffic, we made our way to the Blue Marine in Grand Case, settled in, and started to enjoy our vacation.
It was Tuesday night and we grabbed dinner at a Lolo—a beach bar-b-que—to kick things off. Merri Beth got the shrimp creole plate while Zander and I shared a marlin plate. The plates came stuffed with cole slaw, broccoli, mac n cheese, spaghetti, potato salad, salad, rice & beans, and seafood. The Carib lagers were delightful.
Wednesday morning arrived quickly, but we slept in to catch up from yesterday. We had no plans on tap except for finding breakfast and doing some grocery shopping. And we accomplished that before lunch. First, we took a walk down restaurant alley in Grand Case and had a fun breakfast at Hever Hotel. It was the "American Breakfast" and we enjoyed fruits, eggs, croissants, bread, and cheeses. After that, it was time to shop.
We headed to the grocery store, where everything was in French, except the beer, wine, and liquor and maybe a few other select items. We spent a good amount of time at the market, but we accomplished our goal of getting breakfast items and a few dinners to cook. More importantly, we were fully stocked with a case of Carib—the beer we drink 'round here (maybe that's Banks beer from Barbados). We got back to our place, unpacked our groceries, and had some lunch while Coco napped.
During the afternoon, we headed to Cul de Sac (French side) which wasn't the kind of beach we were looking for because it was more of a harbor. Then it was off to Anse Marcel where we discovered the private beaches require you to buy food and/or pay for beach chairs. No thanks. We finally discovered the Grand Cayes beaches. It was a natural preservation area, a white sand beach filled with sea glass. We stayed for about an hour, swam, collected sea glass, and relaxed, before a storm off shore motivated us to move south to Orient Bay and beyond.
With a rain storm fast approaching, we hopped in the car and eventually ended up near Oyster Pond at Dawn Beach, avoiding the rain storm. We found a place named Busby's Beach Bar where the family shared a pizza and mom and dad enjoyed happy hour. The sun was starting to disappear, so we decided to head back to Grand Case where we cooked some dinner, played some Uno, and awaited the next full day of our vacation.