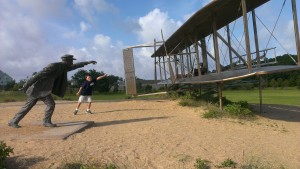 We're on day five of our week on the Outer Banks. On Wednesday, July 3 the weather finally cooperated with us to get to the beach for an extended amount of time. First, the family enjoyed a bike ride in Kill Devil Hills.
Merri Beth recently added a child seat on her bike and we brought our bikes with us from Raleigh. I added the "Alley Cat" bike extender to my bike for Zander. MB had Coco, while I had Zander and we were off on the bikes.
From the beach house, we headed toward the Wright Brothers Monument, went over to the First Flight school area, then did a lap around monument. Coco was getting a little cranky, and MB headed back to the house with her, while Zander and I continued on. We headed to Kitty Hawk along Bay Drive and Moore Shore Road, then came back. Zander and I got in just under 14 miles.
After the family bike ride, we were ready to beach it up. We lathered up, packed up the Jeep, made some lunch, and headed to the beach. After getting the tent set-up and settled in, I took Zander skim boarding. Then he wanted to go boogie boarding. The water was still a little chilly, but it was bareable. I got Zander into some fun little waves. Later, he was on his own.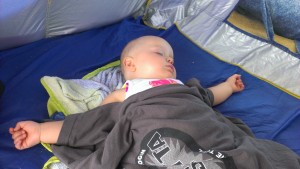 Meanwhile, under the tent…Coco was snoozing. She enjoyed a long nap on the beach with a steady southerly breeze. MB was able to get some reading done while getting some sun.
We watched a storm pass to the south. The skies got dark and you could see the rain. We were checking the radar on our phones and got a little concerned that it would make an appearance over us. But it went on by and the sun kept shinning. The family really enjoyed our time on the beach today and stayed until 4:00 pm.
After our day on the beach, we heading back to the beach house and needed to run a few errands. We stopped at KMart to return a pop-up tent that wasn't quite what we expected. It was advertised as a 12×12 with 81 sq. ft. of shade. I'm not a math wizard, but those numbers don't make sense to me. We basically traded that tent in for a 10×10 EZ-Up that should work great for future beach trips. We also stopped at Harris Teeter for a few items, then we had to swing by the ATM to make a deposit.
Once we were done with our errands, we went to the pool. I told Zander that if he behaved during our time out, that we could go swimming for a while. We took a dip in the pool as the day expired. It was a pretty full day for us and tomorrow should be a big time.