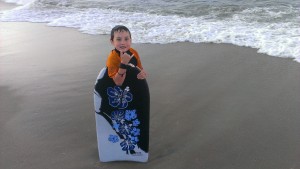 Not only was it Taco Tuesday on day four of our OBX beach week, but it was "Work From OBX" day. On Tuesday, July 2, Merri Beth and I were working remote and getting stuff done. Red Hat is great that way. I have the ability to work remote and still operate pretty smoothly with my team. My mom had today off and needed to run some errands. Zander tagged along with her.
I had a few calls to take in the morning, then finished up the first draft of a new article I've been working on for opensource.com about citizen CIO's. It should be a really fun read for folks as I explore how citizens are helping to make technology decisions for their local government. Merri Beth was working on expense reports and other various tasks.
After my mom got back from her errands, MB and I had a late lunch at The Pit. It was Taco Tuesday, where tacos are $1-$2. The service today was definitely sub-par. Our server seemed dazed and confused and wasn't very attentative. The food made up for the lackluster service. The tacos were awesome and we brought some back for Zander and Nana.
I worked for the rest of the afternoon, hosting my weekly opensource.com call then following up with my things my team was working on. After a final round with email (hopefully for the week) it was time to do a surf check.
Zander had been very patient as MB and I worked all day. He scored a new boogie board from Nana on their trip. We hopped on the bikes and did a surf check at First Street. He was itching to get in the water, and not much had changed from yesterday. Small surf, cold water, and southwest winds.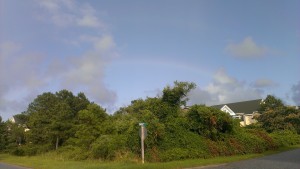 We biked back home and got caught in a quick sun shower that was passing through. Perfect weather for rainbows. Yes, it had been raining on and off all day, but not as much as the past few days. Zander and I went over to Second Street and he got to take his new boogie board out for a test spin. There was a pretty decent drift to the north. After catching a wave or two, Zander would hop out of the water and hustle down the beach for more. He eventually got chilly and the sun was dipping below the horizon. Breaking in the new boogie board…check.
Tomorrow, we're planning on beaching it all day. Let's hope the weather cooperates as we gear up for the Fourth of July!