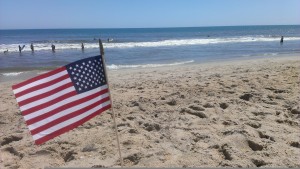 Happy Fourth of  July from the Outer Banks! This is my favorite holiday and we were celebrating Independence Day Outer Banks style: All day on the beach, with family, sun, sand, surf, and American beer!
We literally spent all day on the beach. We arrived at the Raleigh Avenue beach access before 10:00 am and were some of the first folks on the beach. The good news, we got our pick of spots. Bad news, it was going to be a crowded day on the beach, and we did our best to "rope off" our area.
We got everything set-up: the beach tent, cooler, beach chairs, toys, boards, and our small American flags. I absolutely love our American flags. Mini versions of Old Glory nestled in the sand. Not only is it a great way to show the pride for our country, but it's also a great way to mark off our beach area. For the most part, marking off our area worked.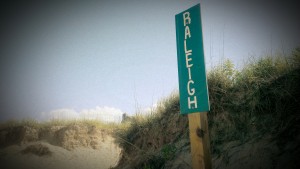 The water was still chilly. The wind was coming out of the south and eventually went southeast for most of the day; making the water a little more bearable—almost refreshing.
I brought my 7'10" surfboard today and scored a few waves. I wore my Springsuit during the morning sessions and stayed pretty warm. Later in the afternoon, I went out in board shorts and a long sleeve rash guard. My feet got a little numb from the cold water, but at least I was surfing.
Merri Beth got to read a bunch in her book while Coco enjoyed an extended nap on the beach. Not only did we have nice temperatures in the lower 80's, but we had a steady ocean breeze which made it even more pleasant.
Zander was either skim boarding or boogie boarding most of the day. He even made a few friends on the beach.
We were literally on the beach all day long. We packed our lunch, had snacks, and a cooler full of Kona Longboard Lager pints (cans) and Miller Lite. Life was good. We didn't leave the beach until after 5:00 pm. That's an eight hour day!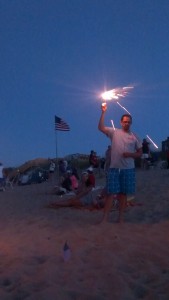 Back at the beach house, we let the dogs out, feed them some dinner, then started our own meal: Mahi fish tacos! While it wasn't the most American dish in the world, they were some really good fish tacos. Add in some fresh avocado and homemade mango salsa to the mix, and I'd say that our dinner was off the chains.
But the day wasn't over yet, and one of my favorite parts was yet to come: fireworks on the beach.
We drove down to Nags Head where people were flocking to the beaches. We had our beach chairs and some sparklers in tow. Coco stayed home with Nana and Zander joined us to watch the fireworks display at Nags Head Fishing Pier.
The show started at 9:15 pm and lasted for almost 30 minutes. Great colors, awesome crowd, and a great way to end the day.
It's days like today that I circle on my calendar every year. I love spending all day on the beach with my family. But it's also a reminder that our freedom isn't free. And it's nice to let freedom ring every once and a while. Happy 4th. Be safe. Let freedom ring.