A week of surf on the Outer Banks will do wonders for your soul. I headed out to Kill Devil Hills, NC on Tuesday, September 4, leaving Raleigh, NC after dinner and arriving at the beach just before midnight. The swell forecast from Hurricane Leslie was looking very promising. And the wind (direction) looked like it was going to cooperate over the next few days.
[yframe url='http://www.youtube.com/watch?v=rkCuMCZXt_w']

Wednesday, September 5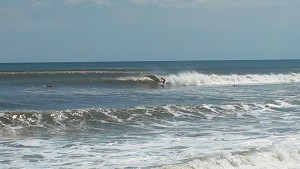 It was head high and gnarly in Kitty Hawk. My first session with Hurricane Leslie was a great one to start off the week. The winds were offshore and there were a few barrels to be found. I surfed at Laundry Mat / Lillian Street. And I found out really quick that a stiff current–south to north–created by the southerly swell, was going to be a differentiator for surf sessions during the entire week.
Before I even hit the water, I walked. And I walked. Almost down to the Black Pelican. I would repeat this process many times during the week. Catch some waves, drift down (instead of fighting the current), get out, walk back up the beach, and catch more waves.
The waves were great. A little tough to get into at first, but as the tide dropped, the drop-in got easier. I surfed for about three hours. Not a bad start to the surf week.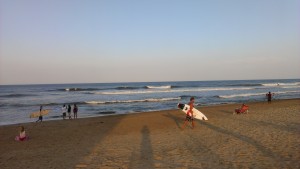 A second, afternoon session was in order. This time I paddled out at Hayman Street in KDH. With the size and direction of the swell, there were only a few hot spots on the Outer Banks producing outstanding waves. Hayman Street was one of them. The surf was a very drifty, but clean.
I surfed for another two hours, fighting the drift, and scoring some great waves. It was like a playground out there. Little wedges and ramps everywhere. And that made for lots of fun rides.
Thursday, September 6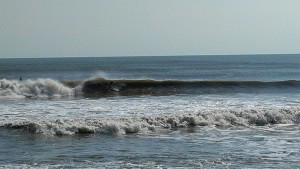 Another early morning on the beach. I was awake before sunrise to get some work done, then hit the water around 7:30am for a morning session. More head high, clean surf. I got in a solid 2-hour session at Hayman Street with my friend Todd Fisher. More waves, lots of drift, and not too crowded.
I had some work-related meetings this afternoon so I dialed-in and got what I needed to get done. After that, it was time for an afternoon session. Head high and clean, well, for a while. The surf was still cranking. I got in about an hour of surfing before a wacky storm came through and turned the winds onshore. There was lightning involved, so I got out of the ocean. So did everyone else. I waited in the car for the storm to pass, but the surf just didn't look as appetizing as before. Done for the day.
Friday, September 7
I was in the water early again today, paddling out at Hayman Street . The surf was morning sick and super choppy. I surfed for about an-hour, then got out to head back to the house for some work. But the moral here, I got worked out there. I should have saved my energy, but it was worth giving it a go. It was one of those sessions where you needed to be in the right spot at the right time. The surf just needed some time to get organized.
I got the call late in the afternoon that the surf was cranking. So I grabbed my board and headed to Hayman Street. The parking lot was packed and the surf was enticing. I paddled out and finally bumped into Tony and Eric at the "Chowan bomb." It was basically the sandbar in front of the Chowan Street beach access that was breaking about 1-2 feet bigger than the rest of the area. #boom! It was hard to stay on the peak and catch a wave, but if you got one, it was worth the work and the wait. I can't wait to see what tomorrow brings.
Saturday, September 8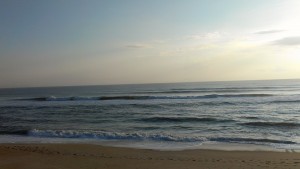 This was it, the last surge from Hurricane Leslie before the wind would switch. I was in the water for over four hours. The surf was unbelievably good. The drift was intense, so I ended up walking back up the beach many, many times. But the waves were worth the walk and kept the line-up manageable.
The surf was solid head high and lots of set waves coming in were over head. Some of the set waves weren't really worth the drop, because of all the extra work—so the wave selection was critical to a good session today.
I caught a few waves at the Chowan Bomb sandbar. In fact, it was one of my best waves of the day. I caught one way on the outside and basically took it all the way in. I caught so many good waves that I can't remember all of them. A great day to cap off the swell from Hurricane Leslie.
And to add insult to injury, literally–I hurt my MCL on my right leg. I was on a big wave heading left. I dropped in, did a bottom turn, and then was back on the lip faster than I thought. I sort of air-dropped back in the wave then had a strange wipeout. After piecing things back together, I think my leash pulled my leg in a strange direction, extending my MCL band in a strange direction. Ouch!
Sunday, September 9
The wind switched Northeast today and totally ruined the surf. After what we've had for the last five days, most surfers were a little snooty and opted for a day of rest. I went for a nine mile run on a bum MCL. Probably not the smartest thing to do, but my body let me do it.
Looking back over the last few days, North Carolina produced some great surf. California and Hawaii quality surf. I'm glad that I have a job that allows me to be remote and do what I love. More importantly, I'm stoked to have a family that understands good surf doesn't come around that often. This was one of those time. Funny how it always occurs in September.
Surf pictures from Hurricane Leslie
More pictures on Facebook.