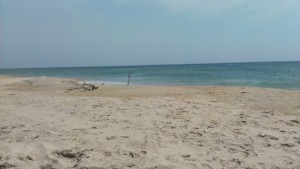 This was our last full day on the Outer Banks for the week of Fourth of July. I can't believe our week on the beach flew by this fast. We had a blast. For our last day, we decided to take a trip South to Pea Island. After a long night seeing Southern Culture on the Skids, we were up fairly early and heading for a full day on Hatteras Island.
The drive from Kill Devil Hills was about 30 minutes. And the scenery is simply gorgeous. From South Nags Head to the Bonner Bridge, it's just breathtaking. Then, once you get to Pea Island, the thin roadway between the sand dunes and the Sound makes you enjoy the scenery that much more. We parked near the Ranger Station and found and isolated spot on the beach.
It was a beautiful day and the water was magnificent. After we set-up our tent, we got in the water. Merri Beth freaked out after stepping on either a Flounder or a skate. She wasn't happy about that. A few minutes later, I saw a tiny skate with my mask on, so we're pretty sure that's what it was.
Zander was enjoying skim boarding. He's still getting the hang of it, and it's totally fun to watch. The family enjoyed a mix of sun, sand, and water today. The wind started picking up, so we had to lower the tent. We've learned from already having a pop-up tent flip over a few years ago, to keep an eye on the conditions.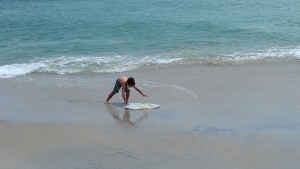 After lunch, we went for a short walk, looking for seashells and sea glass. We found some great sea shells, but no sea glass. Everybody on the beach was very spread out. That's how it should be.
Mid-afternoon, we decided to pack up shop and head back to town. The wind was picking up and we were beached out. We had a wonderful day on Pea Island.
The drive back was pleasant. Not much traffic. The rest of the afternoon was spent at the beach house. We cooked a family dinner and enjoyed time with Nana.
After dinner, we went to the pool for an evening swim. We brought the ring toss with us and enjoyed throwing and finding the rings in the dark-lit waters. Zander was pretty good at it. He had a blast at the pool.
We had a great week on the Outer Banks. It got a little hot towards the end of the week, but not as hot as three 100+ degree days in Raleigh. We'll head back home tomorrow after being away for over two weeks. A week in Boston and over a week on the beach. It was a much needed break, and we're going home with a well-deserved tan.