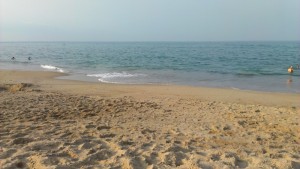 After a great recovery day, today was going to be a scorcher! We had an outline for our day, but no firm plans other than a few hours of work this afternoon and a concert tonight. We wanted to get to the beach early, then get off the sand before it got into the high 90's. We were heading to Port 'O Call this evening to see Southern Culture on the Skids (SCOTS).
We grabbed a quick breakfast and headed over to Raleigh Avenue for a few hours in the sun. We kept it pretty minimal today. Zander was skim boarding, Merri Beth and I were in our beach chairs. The sun was shining and the wind was light out of the West. The water was beautiful. We were on the beach for a few hours, then headed back to the beach house.
We made a quick pit stop at Lowe's. I was looking for some U.S.A pleated fans for our deck, but they were out of stock. I guess everyone was in the Fourth of July mood. We took a quick walk through the garden center, but nothing was jumping out at us. It was too hot to get any new plants in the ground this week.
Back at the house, it was time to get a few hours of work done. Merri Beth and I planned on getting a half day in on the laptops. Zander was occupied with activities while MB and I checked email and caught up on what was happening at Red Hat. It was nice to catch-up on work, instead of putting it off until Monday morning. We both got a jump on next week. After the laptops went down, we headed back to the beach.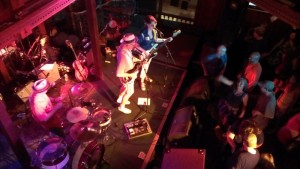 Across the by-pass on First Street, the sun was moving West and the beach was cooling off from the hot day. We set-up a small beach camp. Zander and I hit the water, while MB enjoyed a book on the Kindle. There were a few guys out spear fishing. The water was almost as clear as Monday. Zander and I tried snorkeling, but his mask wasn't working that great and started leaking. He decided to go skimboarding instead while I explored underwater for a little longer.
We enjoyed our evening on the beach. Then headed back to get ready for tonight's show.
Nana was going to keep at eye on Zander. He was already in bed by the time we left. We arrived at Port 'O Call just after 10:30pm for the Southern Culture on the Skids (SCOTS) show. The cover was $12—and we thought that was a steal to see SCOTS.
The last time we saw this band was at the Lincoln Theater in Raleigh. Wikipedia describes their style as "towards the rockabilly, surf rock, country music, and R&B genres, with a punk edge and outrageous humor thrown in." I call their style simply, "twang." And it's awesome.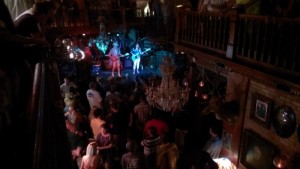 We had a blast at the show. They played a good mix of old stuff and some newer tunes that we hadn't heard yet. We picked up one of their CDs that we didn't have, which has some great tunes on it. We met the band in the parking lot after the show. Apparently, Mary, the bass player, had a power surge back at her place in Chapel Hill and wasn't too happy about getting the run around from Duke Energy. She's not looking forward to the spoiling food in her fridge.
It was way past our bedtime, after 2:00 am. MB drove us home. Awesome show, we hope the one tomorrow night is just as good.