Wednesday, December 21 was the halfway mark of our vacation in Costa Rica. And again, we had no plans, no worries—just pura vida. Today, we decided to spend all day on the beach.
I was up early again, surfing Playa Negra. I walked down to the beach and surfed for almost two hours.  It was solid chest high and got a little bigger as the tide started to come in. There were about 10-12 guys out and everyone one catching waves. I caught an awesome wave on the far North end of the break that connected all the way to the inside. I also found a barrel or two and plenty of cutbacks. After my surf session, I headed back to Cafe Playa Negra to catch up with the family.
Merri Beth and Zander were just waking up when I returned. Zander actually slept in, which let MB sleep in. It was time to get some breakfast downstairs in the cafe. Then, we got ready for a full day at the beach. We packed up our backpacks and headed to Playa Avellana.
A perfect day at the beach
It was reminiscent of a Summer day on the Outer Banks. A light ocean breeze, warm water, some waist high surf, and plenty of sunshine. The only difference was some shade provided by the tree-lined shoreline in Costa Rica.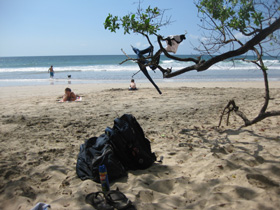 After we set-up our spot, I got in the water to catch some waves. This spot was different than Playa Negra, it was all beach break and the bottom was a lot more sand-covered—which made it feel just like home. I surfed for about an hour, catching a few good rides, but most of them were short and sweet. Then I thought to myself, these waves are perfect to learn on, I should try to get Zander on the board. The tide was just right and the shorebreak was long and shallow.
I asked Zander if he wanted to surf, already knowing the answer. I got him on the board, we went over a few safety items, and we made a plan. He'd catch five waves laying down, then five waves on his knees before trying to stand up. This formula seemed to work great. When Zander went to stand up on his first wave, it was magic. His balance was perfect and he was surfing. People on the beach even noticed and gave him a short round of applause and a few fist pumps.
We caught a bunch more waves that day. Zander was LOVING it! We also enjoyed all the other activities on the beach. MB did some reading, we relaxed in the shade of the trees, and we had fun looking for seashells as the tide dropped. We brought some snacks to the beach with us, but it was time for lunch. It was late afternoon, so we packed our things up and went in search of a late lunch.
We decided on El Pargo, a local spot with some traditional food and Mexican cuisine on the menu. MB got the nachos, I got fish tacos, and Zander got a quesadilla. Lunch was filling and pretty good on the taste buds. We headed back to Cafe Playa Negra for the rest of the day.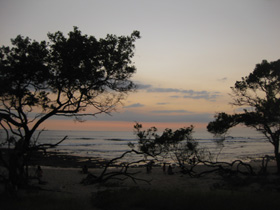 Once we got back to our room, we decided to try out the small pool at the hotel. It was a small L-shaped pool, perfect for Zander to swim in. We relaxed pool-side for a while.
As the day was coming to a close, we decided to take the short walk down to the beach. It looked like another good sunset. We brought some walking beers and the camera.
The tide was low and the shore area was very shallow. MB and Zander went exploring. Well, MB wasn't paying attention and fell into a deeper spot on the reef. You guessed it, she soaked her dress and almost spilled her beer. She hurt the bottom of her foot, but other than that and being slightly embarrassed, she was fine.
A birthday dessert
Since we had a late lunch, we skipped dinner. The cafe was hopping again. While Merri Beth and Zander were upstairs in the room taking showers, I went downstairs and asked Dave if they could do a birthday dessert for MB. A few minutes later, I got the family in the cafe and the entire place sang, "Feliz cumpleaños a ti."
We hung out at the cafe for a little while longer, watching surf videos and enjoying the crowd and atmosphere. You could definitely tell it's starting to pick up around here with more people coming everyday and each restaurant getting a little busier compared to the beginning of the week.
Day four in Costa Rica was awesome. Zander caught his first wave, we had a great time in Playa Avellana, and MB's birthday week continues. I think I'll need to get a T-shirt made that says, "I caught my first wave in Costa Rica," for Zander. But, I don't think he'll forget this day any time soon.
See more pictures from Playa Avellana and from the entire trip.