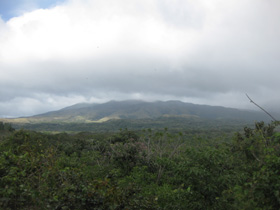 I was up at 5:30 AM Central Time and looking to surf. This was our third day in Costa Rica, Tuesday, December 20. And it was Merri Beth's birthday today!
I took a short walk to Playa Negra with my surfboard under my arm and eagerly awaited the surf check to see how things were. As I made the left towards the beach, I could already hear the surf crashing on the volcanic reef. When I arrived at the break, there were only a handful of guys on the main peak. I paddled out to join them.
This was the best surf I'd seen since we arrived. It was solid head high and glassy. There were a few bigger set waves coming in that seemed to clean out the line-up fairly well. I caught some great waves, mostly rights, and even snuck into a few barrels. I surfed for about an hour and half, and would have surfed longer, but it was time to get back to the family as they were hanging out back in the room.
Cafe Playa Negra was closed today. We had some of the snacks we got yesterday for breakfast and then started making plans for the day. What to do, what to do? Let's go find a canopy tour and check out Liberia! Brilliant!
We hit the road, headed for Liberia and beyond. After an hour and a half on the road, we arrived in the busy town. We made a pass down the main street and decided to keep going. It looked like people were out shopping (possible Christmas shopping) and there were lots of folks walking around, doing their thing.
A trip up the mountain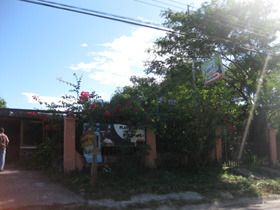 We drove up a bumpy road, a very rugged road through the town of Curubande and pulled over for some traditional food (comidas typical). I enjoyed a plate of arroz con pollo (chicken and rice) and Merri Beth had gallo pino y pollo (beans and rice and chicken). The restaurant was part of a families home. It looks like they added an extended kitchen, some tables, and some soda refrigerators. The food was very good and it was awesome to have some traditional Costa Rican food.
After lunch, the bumpy road continued. Parts of it were pretty horrible. What was amazing to us was the tour buses and tourista vans were driving along just fine. We made it to the entrance of the Rincón de la Vieja National Park and paid a small fee (700 Colognes per person) to enter. We finally made it to Hacienda Guachipelin. We got some information about the canopy tour and then stopped by the bar to enjoy a beer. It was a long drive up here and we didn't want to just turn back around. We did some research on our phones searching for other canopy tours in the area using their wifi.
We continued past the hotel area further into the park. We reached the end of the road where you could enter the park and the hiking trails. We weren't prepared to hike and it was $10 a person to continue on. We decided to hold off on that and maybe come back another day. For now, we enjoyed the view and started to head back down the mountain.
On the way down, we made a short pitstop at Mirador lookout point. It was a short walk along the trail, then a great 360° view of the surrounding area. After we took in the scenery, we made it to the bottom of the mountain, glad to be on a better road.
A second trip up the mountain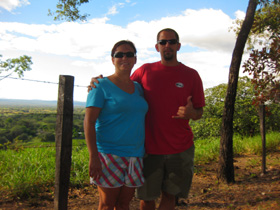 Our next stop was Buena Vista Lodge. We drove a few miles along the main road and through a small town named Cañas Dulces. About 30 minutes later, through a winding mountain road, we reached the lodge and got some information on their canopy tour. It turns out they have a mega pass that includes a zip line tour, water sliding, buffet lunch, horseback riding, and a trip to the spa (mud bath and hot springs).  The full pass was only $80 per person and a kids pass was a little cheaper. We made a reservation for Thursday.
Nothing else was on the agenda, so with plans for later in the week, we headed back to Playa Negra. Along the way, we found this sweet spot with a killer view., Bar Rest. El Mirardor. We ordered a snack, Salchipapas, which was basically fries with cut-up hot dogs on it.
The view was magnificent. The sun was bright and painted the lush green landscape with hints of gold. Zander chowed down the Salchipapas and enjoyed an orange soda. We didn't want to leave, but realized that we had a 2-hour drive back. At first, we didn't want to be on the roads after dark, but now felt comfortable about finding our way.
Once we arrived at Playa Negra, we wanted to get some dinner, but were pretty beat from driving around all day. We decided to get some take out food from the pizzeria we ate at the other night. While MB and Zander took showers, I walked down the road to get some food. After two beers, our food was ready and I headed back to the room.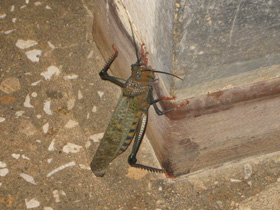 At Cafe Playa Negra, there is a nice balcony area to hang out on. We set-up our food and enjoyed a family dinner outside. After we finished eating, we were relaxing, reading, and Zander was writing in his journal. These large grass hoppers or locusts as the locals called them, would whiz by and land on a wall, usually near a light.
Then, the most amazing thing happened. One landed on the couch next to Zander—which kind of freaked him out. Then a random dog that was hanging out, came up and snatched the grasshopper off the couch and ran off with it. And that's how our third day ended in Costa Rica.
See more pictures from Rincon volcano, El Mirador, and from the entire trip.