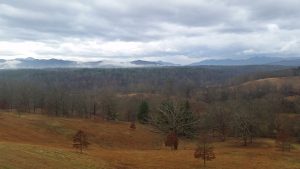 The holiday break this year looked a little shorter on the calendar than past years. As many of you know we like to escape the holiday madness to a tropical location and come back on Christmas Eve. Flights are usually very affordable and we avoid peak season prices. Over the past few years, we've been to Turks and Caicos, St. Martin, Hawaii, and Costa Rica. And I traveled a lot in 2016, so having another trip at the end of the year wouldn't have mattered that much.
Instead of taking a flight we hopped in that car and decided to try something different in 2016. For our holiday break this year, we headed to the highlands for a few days in Asheville, NC.
Ahoy I-40
Monday, December 26 – Merri Beth, Zander, Coco, and I were recovering from a wonderful Christmas Day. We were slow to get out the door, but eventually got everything packed up, got the dogs to the vet for boarding, and were on the road heading west.
The trip to Asheville is pretty easy, I-40 west for about 4 hours. We took the Passat and the kids had reading material and games to keep them occupied. Coco got in a little nap and mom got some reading done. As we got closer to Asheville, we ran into a little mist and light rain, but nothing too bad. We found the NC State bowl game against Vanderbilt on the radio and listened to that for the last 30 minutes of the trip.
We found our Air BnB north of downtown Asheville and unloaded the car. We settled in and waited for MB's parents to arrive before heading out to dinner. While we waited, we started scoping out places to eat. We headed out a little after 6:00pm.
The place we picked out was called Pack's Tavern. I called ahead to see if they were open, how busy they were, and if they could take a party of six. They said to come on in. Well, by the time we found parking and arrived, there was a two hour wait. No thanks! We walked a few blocks away and had a less than 30 minute wait at Mellow Mushroom.
While we waited for our table at Mellow Mushroom, we were able to watch the NC State bowl game on the big screens. The game was on their largest TVs and the Wolfpack were playing good football–which made our wait seem shorter. Our party was finally sat at a nice table right in the middle of the restaurant with a good view of the game. We ordered some beverages, food, and enjoyed the game.
The meal was wonderful, NC State won the bowl game, beating the Commodores 41-17, and we headed back to our place to get ready for a long day touring the Biltmore Estate tomorrow.