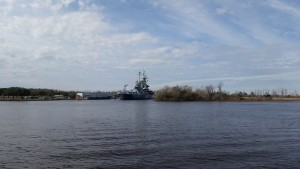 We had a full day in front of us to explore downtown Wilmington and more breweries. Merri Beth and I were joined by her sister Jenni and cousin Nikki, to celebrate Jenni's birthday weekend. On Friday, we explored Wilmington Brewing Company, Front Street Brewery, and Ironclad Brewery. On tap for today: Broomtail Craft Brewery, Waterline Brewing, and Flytrap Brewing—and really, whatever Wilmington had in store for us.
Saturday, February 6, 2016 – Wilmington Brew Scene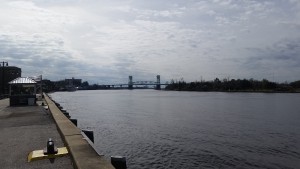 With no kids to wake us up early, we slept in as best we could. It was a little chilly to start the day. I waited until mid-morning to venture out for a 5 mile run around downtown Wilmington. I love exploring this way because you can cover a lot of ground in a short amount of time and it's a different perspective than a car. I really enjoyed running along the Cape Fear River, even with the brisk wind coming off the water. While I was running, the girls got ready for the day and started mapping out some things they wanted to do.
When I got back, I showered up and read a little bit, then got on the laptop for a while. The girls were finally ready to head out, but they were going out on foot while I wanted to go across town to check out Broomtail Craft Brewery. On the way, I stopped at Flaming Amy's Burrito Barn for lunch. So delicious. I couldn't even finish my burrito – it was too much. And all those delicious salsas!
Broomtail Craft Brewery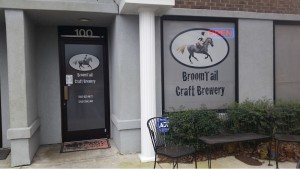 The first brewery of the day was tucked away in a little industrial area off of Highway 17 in North Wilmington. Broomtail Craft Brewery was a smaller facility with really good beers. I got a sampler of four beers (3 IPA's and a brown ale). This was my kind of place, good IPA's and the NC State vs Duke basketball game was on TV. Go Pack!
Broomtail was really friendly and accommodating. The staff working that day definitely made me feel like I was welcome. It was also nice that I bumped into a few folks from the Outer Banks. Someone saw the OBX tags on my car and asked if I was from there. A conversation then ensued about surfing, beach life, etc. Don't let the location or storefront fool you, this place has some quality beers.
While I was at Broomtail, MB and the girls went to the Museum of the Bizarre and checked out The Black Cat Shoppe before getting a late lunch at the Copper Penny.
Cafe Fear Beer and Wine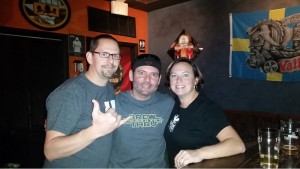 While at Broomtail, I texted my friend from high school, Ryan Bennett, who lives in Wilmington. It was a long shot, because if he's working on a movie set then it's unlikely we'll get together. We were in luck today. Ryan just so happened to be hanging out on Front Street with some friends. So I zoomed over there from Broomtail and coordinated with Merri Beth and the girls who were finishing up at the Copper Penny.
I met Ryan and his friends at Cafe Fear Beer and Wine. Cool place with a great selection of beverages. We gathered around a table inside and had lots of catching up to do! The girls finally joined us. We hung out for a while, then Ryan's friends had to go. He stuck around for a little longer, but was eager to get home to watch the UNC basketball game. I can't believe we got a chance to catch up with an old friend. This really made my day!
The afternoon was slipping away and a light rain was starting to fall. I drove the girls back to our VRBO and we started making a game plan for the rest of the night as we took a break from being out. We weren't quite ready for dinner because we ate a late lunch. Onto the next brewery!
Waterline Brewing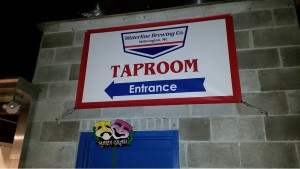 A short walk from our VRBO on Front Street was Wilmington's newest brewery, Waterline Brewing. This place was jamming! Live music, food truck, good beers, and a bustling atmosphere. We found a gathering spot inside in front of the stage and had a place to set our beers near the soundboard. All the tables and bar stools were occupied, but that was alright with us. One of the roaming bartenders/servers was very helpful and attentive to our needs despite the place being really busy.
They had a great variety and selection of beers. MB and I each got a flight of different beers so that we could try them all. Not a bad one in the bunch! I was in love with their Rye IPA. The music was great too. I would definitely visit Waterline again, we had a great experience here.
Now it was time for dinner. We walked down Front Street and noticed the light rain had stopped for now, but it was getting cold out. We decided to eat at the Beer Bario and got a cozy table near the window. We started off with some nachos to get things going then had some amazing tacos. The food was great and everyone seemed satisfied. By the time we wrapped up our meal, everyone was getting tired. We headed back to the house and crashed after a long day of exploring. We ran out of time to check out Flytrap Brewing, so maybe next time.
The Wilmington Hangover
After a solid night sleep, the household starting waking up around 9:00 am. Well, Nikki had to be at work by 7:00 am, so I'm not sure anyone in the house heard her get up. I was planning on getting another run in, but it was cold and rainy. A cold front was coming through that was a huge deterrent to get out and run. MB and I decided to pack things up and get up the road. We ended up driving through pouring rain the entire way home, with some wintry mix as we got closer to Raleigh as the temperatures were a touch colder.
Once we got home, we unpacked and started getting ready for the work week and to have a little family Super Bowl XL party. Go Panthers! Can't wait to visit Wilmington again soon.