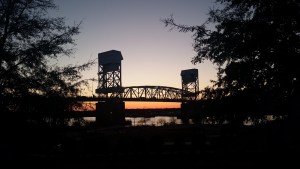 Merri Beth and I spent a weekend in Wilmington, NC to celebrate her sister's birthday and to explore the beer scene flowing along the Cape Fear River. From Wilmington Brewing Company to newly opened Waterline Brewing Company and a cluster of other breweries along the water front area, we sampled, explored, and had a great time.
Friday, February 5, 2016 – First taste of Wilmington
Merri Beth and I got an early start to our day so that we could leave work early. We carpooled to the office and got what we needed to get done finished up around lunch time. After that, we headed home, packed up the car, and headed east on I-40 trying to get ahead of any traffic.
Wilmington Brewing Company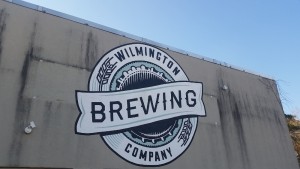 Our first stop was Wilmington Brewing Company. And what a great place to start exploring. This place was hopping with activity and for good reason, the beers were pretty good. We learned it's a husband and wife operation, so family owned and operated. They had some really good IPAs, including the Sneaky Goose Double IPA.
The only thing I wasn't digging on was the lack of a sampler/flight option. They did let us try any beers we wanted, but I felt bad about wanting to go through the full spectrum. Instead, we changed our approach to go with smaller, 9oz pours to try more and then split our beer to try as many as we could. As it got closer to 6:00 pm, the place was getting really packed.
Every Friday, they have a special new keg for their Firkin Fridays events. Today, it was a milk stout called "Pump and Dump." A side tidbit of info, the wife who owns the place is pregnant. Get it! We met some cool people there, a guy named Chip, that gave us some great tips about where else to go and what to expect from other breweries in the area.
After our first stop, we heading to our VRBO. We scored a great two bedroom house on Front Street that was a short walk to the hustle and bustle of downtown Wilmington. After we got settled in, MB's sister, Jenni, joined us. Then her cousin, Nikki, got off of work and joined the party.
Front Street Brewery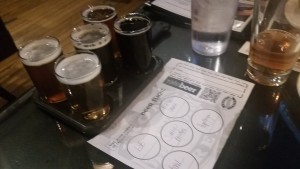 Next on our places to explore was Front Street Brewery. We got there around 8:00 pm and had to wait about 15 minutes for a table. We got a beer at the bar and waited. I started with the Port City IPA and MB got the Riptide Raspberry Wheat. Once we were seated we had a blast. Our server was fun and knowledgeable. We started off with an appetizer: chicken nachos (chicken on the side).
It was time to sample some more of the beer offerings. I got five: Coastal Kolsch, Amberjack Esb (Extra Special Bitter), Hoppleganger, Rock The Casbock, and Scottish Breakfast. The Casbock was really good, it is aged in Wild Turkey barrels for 14 months. The other beer were descent, nothing that I would send back.
The food was really great too! And very affordable. I got the mango Mahi dish. MB had the ribs, Jenni got shrimp and grits, and Nikki had pulled pork BBQ.
Front Street Brewery was really fun. We'd definitely go back and it looks like they have some amazing lunch specials too.
Ironclad Brewery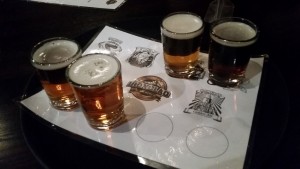 Our final stop for Friday evening was Ironclad Brewery. Tucked away behind a huge Post Office, Ironclad had two bars in their downstairs area and had seating upstairs as well. They have their own beer as well as taps from other NC breweries. We sat at a table and one of the bartenders served us, even though it was later in the evening and they were winding down.
I got a sampler of four beers: White Squall, Cape Fear Defender IPA , Teddy Hopper Double IPA, and Gib's Pumpkin Ale. I'm not sure if it was the end of the night and my taste buds were shot or what, but these beers were just alright for me. Nothing was bad per say, but nothing really stood out either. I wasn't interested in getting a full pint of anything. Ironclad was definitely a cool spot that looks like it could handle big crowds. It might be cool to do some kind of events there.