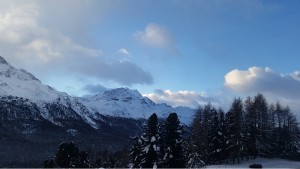 Switzerland was amazing. Merri Beth, Zander, and I had an opportunity to visit for a few days in January 2016. We didn't know what to expect and we maximized our time, visiting five different cities in five days. We took the train everywhere, went snowboarding, ate traditional Swiss food, and enjoyed the majestic beauty of the Swiss Alps. We've got all the details about our trip in case you find yourself in St Moritz, Bern, or Neuchatal one day.
Zurich Bound – January 13, 2016
Our flight left Raleigh-Durham airport (RDU) at 4:45 pm heading to New York's JFK airport. Once we arrived, we had a two hour layover. To kill the time, we grabbed a snack at the Shake Shack before our plane started boarding around 8:00 pm. We were on a Boeing 767-300ER aircraft and it's the first time I've seen the full flat-bed seats on a plane. We were not in those seats, however, we did score Delta Comfort with my upgrade.
The flight was pretty nice. We were served dinner on the plane and we had personal entertainment—I watched a movie, then went to bed. Our arrival in Zurich, Switzerland was around 10:00 am in the morning, and there was a six-hour time difference.
The train from Zurich to St. Moritz – January 14, 2016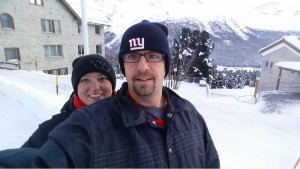 After our arrival in Zurich, we gathered our bags and got our passport entry stamp at customs. Then we made our way to the train station and purchased a 4-day flex pass. Lucky for us, Zander was able to get a family pass since he was traveling with us.
The train ride to St. Moritz was almost four hours and involved two transfers. Our adventure started at the station at Zurich airport and took us to the first stop, Zurich HB. We had 10 minutes to transfer to the correct platform for our next train—and this was all new to us and that made it fun! We got on the next train to Chur which took us south east, then had our final transfer there en route to St. Moritz.
We finally arrived at the train station in St. Moritz. The train ride was relaxing, comfortable, and several naps occurred while we were in transit. Next, we had to figure out how to get to our hotel. We were in luck and found a courtesy phone and we were able to make contact and arrange transportation on their shuttle. While we waited for 45 minutes, we grabbed a light lunch at the train station cafe. Breakfast was served on the plane, which is why we didn't need to eat while we were at the airport.
Travel tip: Since we had a little time to kill in the Zurich airport before our train left, we used that time to scope out what we needed to do and where we needed to go for our departure. It definitely saved us some time heading out.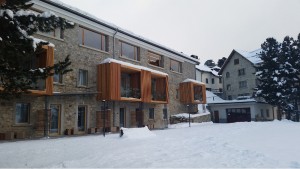 After a long day on the train, we finally checked into our hotel, Randolins. This place was really cool and it seemed very new—it had that new hotel smell. We settled in and decided to head into town to acquire our snow gear for tomorrow. The shuttle dropped us off near Ski Service Corvatsch. Zander and I were fitted for snowboard boots and boards, while Merri Beth was going with ski blades. The staff was super helpful and friendly while we were stoked to get ready for tomorrow.
The hotel shuttle picked us up about an hour after it dropped us off. We were back at the hotel in about 10 minutes. After stashing our gear, we decided to head to dinner at the hotel restaurant. The food was pretty good. Zander and I each got the red wine, vegetable risotto and MB got a pork dish. After eating, we were ready for bed. It was a long day and we needed some rest before hitting the slopes.
Snowboarding in St. Moritz – January 15, 2016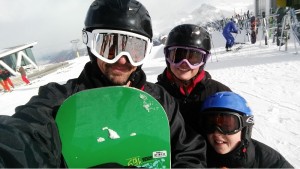 We woke up to an amazing, beautiful view of the snow covered mountain from our hotel. We were warm and toasty in our room. Breakfast was a full buffet of traditional Swiss breakfast foods including meats, cheeses, bread, fruits, and jams. There was also scrambled eggs and bacon for some warmer options. We indulged, knowing that most of our day would be spent on the slopes.
After breakfast, we geared up and were out the door around 8:30 am. Merri Beth was on her ski blades while Zander and I had our snowboards. We walked down to the ski lift, about a slow, 10 minute walk from the hotel. We got our lift tickets from the hotel front desk—at a discounted price too. After we scanned our lift tickets (they were electronic by the way), we were on our way up the mountain.
Once on the first lift, we traversed over to the next lift that would take us to the top of the mountain. Then it was the wide open slopes for the rest of the day. We took things slow to start off, but we found our groove pretty quickly. The morning was a little windy and a few blasts of snow would come through, but that was mostly on the higher parts of the mountain.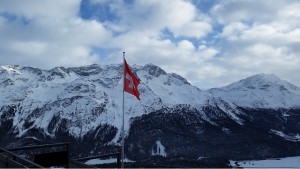 After a few runs, we took a break mid-morning at one of the mountain resorts for some hot cocoa. Then we continued on a few more runs before taking an extended break for lunch at a place called Trutz that was on the mountain. Warm, made to order food with an Italian flare that hit the spot.
Merri Beth was done for the day, so Zander and I continued on for about two more hours until the lifts closed. MB took the lift back down to Randolins and she would meet us later in St. Moritz. For Zander and I, the slopes weren't very crowded and we got some great runs in to end our afternoon session.
Alas, our time snowboarding expired. We made our way to the Chantarella rail station where MB was waiting for us. We took the last train back to town and returned our rental gear. Merri Beth brought our boots with her, and we were ready to hit the town for the evening.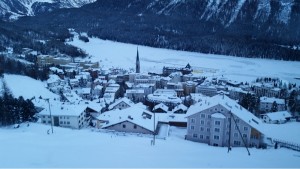 We walked around a bit, and did some gift shopping. Then we had happy hour at an outdoor spot called the Roo Bar. Yes it was outside and about 20º but why not! We tried hot wine for the first time which really warmed us up.  After our drinks, we were ready for dinner. After a long day on the slopes, we were ready to relax and have some food.
For dinner, we found this amazing Italian place called Arte Pizzaria. We had a cozy little table and ordered some pizza's to share. MB and I enjoyed some Italian wine that was delicious. After dinner, we caught a cab back to the hotel and took in the night. Zander and I had a fun little snowball fight, before we went to bed. We crashed pretty quickly considering that we were active all day. Tomorrow, we're on the Glacier Express. Can't wait to see the amazing country-side.
Snowboarding in St. Moritz