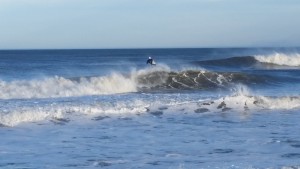 El niño is creating some crazy weather in North Carolina. On Christmas Day, we were on the Outer Banks of North Carolina, it was 70°, the ocean temperatures were in the 60's, and there was waist high surf. (Apparently, we were a day late for the real swell.) Fast forward to the second weekend in January 2016, and another swell was hitting the OBX. With a sub-topical storm system north of Bermuda and a strong weather system moving through the region, the surf was cranking in Kill Devil Hills.
I drove from Raleigh to the Outer Banks during the afternoon of Saturday, January 9. I was secretly hoping to get in a surf session before dark, but the Atlantic Ocean was showing big, unorganized swell and a stiff current. No thanks. In fact, the surf was bigger than what I thought it would be. Plan B.
I ran a few errands, including a quick stop at the Outer Banks Brewing Station and then Harris Teeter for some dog food for Rex and Sox. My mom and I grabbed some take-out from Pok's Art. Yummy Thai-Asian for dinner. The NFL playoffs were on, so we watched some of the games. I went to my friend Tony's place down the street to watch the second half of the Steelers vs. Bengals game. Then it was time to rest.
Sunday, January 19, 2016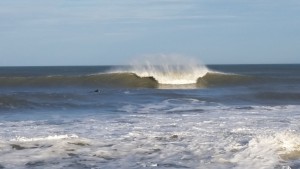 I woke up to pouring rain, so I reset the alarm and went back to sleep. Once I got out of bed, I had some breakfast, then headed to Lowe's. After that, a quick surf check at First Street. Wow, the surf was still big: Solid head high and a stiff current going south to north. The water temp was 49° and I decided to wait for low tide.
I finally paddled out around 2:30 pm. I got my ass kicked on almost every wave. The surf was at least head high (6-foot), but most of the waves going by me were bigger that that. It was an easy paddle out. I timed it well and didn't have to duck dive any big set waves. I was wearing a 3-2 full suit and booties, no gloves, no hood. The current was strong and the wind was pushing water all over. Every wave I tried to catch was pushing the water up the face of the wave. One wave I caught held me up so much, that I lost my balance after standing up and I canon-balled down the face of the wave. Ouch. And it was all in slow machine (added for dramatic effect).
I surfed for an hour and unfortunately, didn't really catch a good wave. And to top things off, the wave that had the most potential, meaning, I was in the perfect spot to take-off, someone was right in front of where I was going to drop in. He apologized immediately, but man I was totally bummed. My surf session was really a test of winter surfing. It was big, brutal, cold, and drifty. Despite the warm air temp of 70°, the surf was quite the challenge.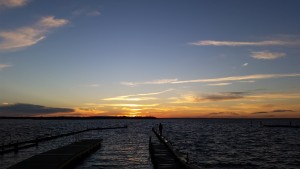 After my session, I watched all the rippers tear it up at Hayman Street. Check out the videos below—they're really awesome. For the rest of the day, I watched a great sunset on Bay Drive, grabbed some takeout from Mama Kwan's, and watched the NFL playoffs. (And I wrote this blog.)
My original plan was to head back to Raleigh, but the surf looks like it's going to hold up for Monday, so I decided to extend my stay and adjust my work schedule to get a few extra waves.
The surf scene at Hayman Street, KDH
Solid winter surf at Hayman Street, KDH
Winter surf in Kill Devil Hills
Great surf and sunset pictures