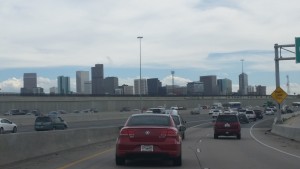 The kids were gone, the house was clean, the garden was tended, and a fresh batch of salsa was just processed last night. Our suitcase was packed and Merri Beth and I were ready to head to Denver for an extended weekend. Fun, not work.
August 6, 2015 — Heading to Denver, Colorado
We left RDU and the first leg of our trip was through Atlanta. After we settled into our seats, I was informed that I was upgraded. I handed the new seat assignment to Merri Beth so that she could enjoy some time in first class—living the good life.
We had a 90 minute layover in Atlanta where we grabbed some lunch and boarded our flight to Denver. There was a slight delay on takeoff, due to a thunderstorm that was passing through, but it was less than 20 minutes. We still made it to Denver on time.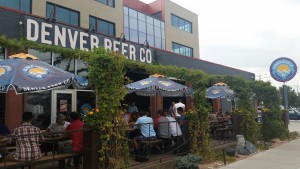 After getting the rental car, we fought some rush-hour traffic to get to our hotel. We quickly settled in and walked over to Denver Beer Company to meet some friends for happy hour.
I pinged some CityCamp and open government buddies over Twitter before we came out. Brian Gryth and Scott Primeau were both able to make it to happy hour with us. In fact, Scott even brought his wife and 4-month old daughter along—it was awesome to meet them.
Merri Beth and I shared a flight of beer. We liked all of the beers we had, but settled in on the Incredible Pedal IPA. We also enjoyed a nice snack from Basic Kneads Pizza. The wood-fired thai pizza we shared was delicious.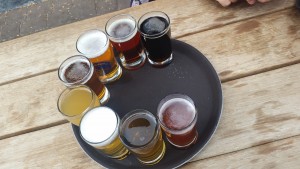 Scott and his family had to leave, it was getting close to bed time for the little one. After happy hour, Brian joined us for dinner. We headed over to My Brother's Bar. The vegetarian options were limited, but MB enjoyed a Bison burger. O'dells was on tap, so things were all good.
We said our good-byes and thank-you's to Brian and headed on a nice stroll back to our hotel. It was late (for us) even though it was only 9:00 pm local time. We decided it was best to rest up and get ready for a full day tomorrow.
On tap: Elitch Gardens amusement park, breweries in Loveland, and a visit to Chimney Park.
Denver Beer Company