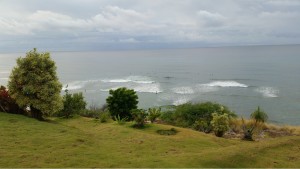 I was up before 7:00 am, with most of my things packed up and ready to go. Wednesday, December 24, Christmas Eve, was the last day of our trip. I wanted to get one last surf session in and I was super stoked that I did. I was pleasantly surprised with how good the surf was at Diamond Head. I pulled up and paddled out immediately.
I made my way to one of the main peaks where there were only a few guys out. The peak I previously surfed was crowded, but there weren't 50 people on it like the other day. I'm so glad I paddled to the main peak. The waves coming in were chest to head and glassy. I scored some of the longest, best rides of the trip. And my wave count was way up. Definitely a surf session to remember.
I surfed for almost three hours and knew that I had to get back to the apartment to pack up and checkout. When I got back, everyone was mostly packed and ready to go. I hopped in the shower, ate some food for second breakfast, and we cleaned-up a few last minute things around the apartment.
We had all the bags ready to go and started loading up the car around 11:00 am. The housekeeper was already there and we were checked-out. We had a few hours to kill, and we had some last minute shopping to do in Waikiki.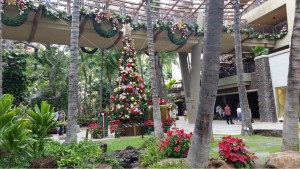 Merri Beth, Zander, Coco, my mom, and I found some parking, then went to the International Marketplace. It's a bunch of different vendors with everything from pearls and other jewelry to t-shirts, hats, trinkets, and lei's. After we meandered through the vendors, we did some shopping. Merri Beth got a string of multi-colored pearls. Coco also got some pearls. Zander got a ukulele and some surfboard magnets. I scored a sweet Hawaiian tie. Mom finally found a sweatshirt that she liked.
After shopping at the International Marketplace, MB, Coco, and I headed over to the Quiksilver shop. I found a few t-shirts that I liked and Merri Beth got a nice zip-up hoodie. We found Mom and Zander where we left them, then headed back to the car.
We moved to a new parking space close to Kuhio Beach Park. I wanted to put one of the lei's we made earlier this week on the Duke Kahanamoku statue.

Not only did we visit the Duke statue, we sat on the beach for a few minutes, soaking in those last few minutes of sunshine. The palm trees swayed in the breeze and there were even a few reminders of Christmas sprinkled throughout the beach scene.
We spent about 45 minutes on the beach, then headed back to the car and started making out way towards the Honolulu airport. Merri Beth wanted to stop by the flagship Hilo Hattie store on our way to the airport. She was disappointed in the store and doesn't remember it being that bad from previous visits. We continued on.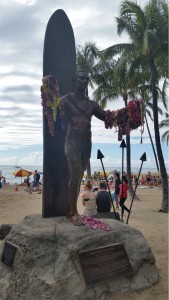 I thought it would be a good idea to try and get some lunch and we were near a Wahoo's Fish Tacos, but they were closed for Christmas Eve. Scratch that plan, we headed to the airport.
HNL was not very busy. After returning the rental car and doing a little bit of repacking, we got our boarding passes and made our way through security. We had about an hour until our flight left. I had the car seat and stroller gate checked, while MB went out to in search of food we could bring on the plane.
MB returned and gave us the run down of our food options, then she and I went over to California Pizza Kitchen to place our order. By the time we got back they were just starting to board the place.
We got on, got settled in, and enjoyed the 8 hour flight to Atlanta. We arrived more than 30 minutes ahead of time, but still had a three hour layover before we got back to Raleigh. The flight was uneventful, except for the kids didn't want to go to sleep. We left at 5:00 pm Hawaiian time, which is 10:00 pm Eastern time. They finally went to sleep, but it took some effort.
That's a wrap from Hawaii. Mele kalikimaka and aloha!
Pictures from Christmas Eve