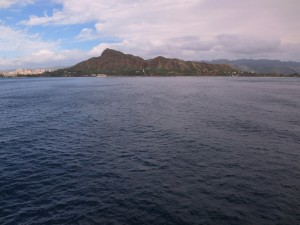 We had a wonderful time island hopping over to Kauai on Monday and got a chance to sleep in and rest this morning. Our vacation time was dwindling and Tuesday, December 23 was our last full day on Oahu. I needed to move the car, because our parking expired at 7:00 am. Zander joined me and we did a quick surf check at Publics in Waikiki, then further up at Diamond Head. There were some decent waves coming in, but we decided to surf later in the afternoon.
We drove back to our apartment and joined Merri Beth, Coco, and my mom, who were getting ready for the day. The first part of our day took us back to Aloha Tower and pier 8 to board the Star of Honolulu. We decided to give whale watching another try, but this time, on the morning cruise that departed at 8:45 am.
After the crew provided their brief overview, we immediately went out to the observation deck and started scanning for whales. The ocean was much calmer than the cruise we were on last week and I felt like we had a good chance to spot some whales.
As luck would have it, the whales weren't active this morning. We didn't see any activity. The crew on the Star of Honolulu gave us another voucher to return, but with our limited time, we weren't able to use it. Shibby and family: 0 vs whale watching attempts: 2.

Since we were already out and about, we did some souvenir shopping in downtown Honolulu. Mom and Zander went on ahead, while Merri Beth, Coco, and I found a smoothie shop called Hi-Blend. MB scored a delightful poi punch smoothie while I went with some greens. We joined mom and Zander to finish up some shopping.
Lunch was next on the agenda. We were going to find a place to eat, but then remembered that we had a bunch of food in the fridge. We drove back to the apartment in Waikiki and dug into some leftovers.
Surfing at Publics in Waikiki
After lunch, MB, Zander, Coco, and I went to the beach in Waikiki. The beach was somewhat crowded, but we found a spot near the large outdoor movie screen and enjoyed the bright sun and the warm breeze.
Zander and I went surfing. At first, we got in the water at a spot that didn't allow board riding. I missed the sign, but the lifeguard was nice enough to let us know. I let Zander paddle out, on his own, to the Publics surf break. He was using the same board the I rented. The break was a little bit of a paddle for him, at least longer than he's used to on the east coast.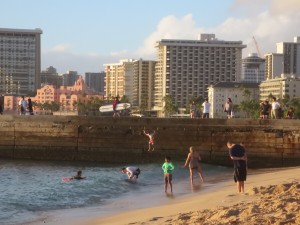 I was swimming around the area while Zander went ahead and caught a few waves. He didn't last too long, maybe about 30 minutes, saying he was tired and had been paddling a lot. I was going to let him surf some more, but he wanted to head in. I took him back to the beach and then paddled out to get a few myself. The waves were only knee to waist high, but fun and consistent.
After surfing, I joined MB and Coco on the beach. Zander was swimming in the water and then wanted to go jump off the wall. We let him go a few times—I might have joined him if I hadn't dried off. It looked like he had some fun doing it. To be honest, I didn't think he'd go, but he did, and he went again and again.
Last night in Hawaii
We went out to dinner on our last night on Oahu and decided to try out Cheeseburger Beachwalk. We walked a few blocks from our apartment and enjoyed some of the scenery in Waikiki. The shops were busy with people and the restaurants were vibrant. At Cheeseburger Beachwalk, MB and I enjoyed some Mai Tai's—they even came with tiny umbrellas. In fact, everyone got a special drink.
We had a wonderful dinner and then did some shopping at a nearby ABC Store. The ABC Store's in Hawaii are more like 7-11's with touristy add-ons. They are actually really nice stores. And there is literally, an ABC Store on every corner in Waikiki. T-shirts, trinkets, and other souvenirs were scattered throughout the store.
After our mini shopping excursion, we walked back to the apartment and started packing up some of our things. We needed to be out by 11:00 am tomorrow morning, but we had all morning and afternoon to do a few more things.
Pictures from Waikiki