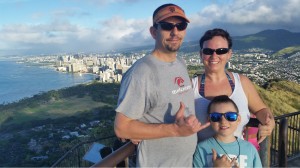 Diamond Head State Park opened at 6:00 am. Merri Beth, Zander, and I were up early on Thursday, December 18 to hike to the top of Diamond Head crater, but we were not timing it to get there as the park opened. On the way, we caught an amazing sunrise, then hiked into the park around 7:00 am.
It's $5.00 for a car to get in, while walking in is $1.00 per person. After we walked through the tunnel to enter the crater, we paid $3.00 in cash for entry into Diamond Head State Monument. MB, Zander, and I were ready to hike to the top.
The trail at the bottom near the welcome center and restroom is paved. But as you start to ascend, it gets rockier and slightly more challenging—you need to pay attention to your footing. It took us about 40 minutes to hike up the crater and back down. The views from the top are amazing. There were some nice trade winds blowing making it pleasant at the observation bunker and other areas of the summit.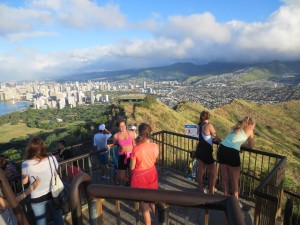 At the top, there are several lookout points.  We made it up the first set of 74 steps and through a dark tunnel after winding our way up the trail on the inside of the crater. Since our last visit, there was an addition to the trail that lets you bypass the next set of steep, 99 steps that lead to the summit. We took the newer trail and enjoyed the view from one of the lookouts, then continued on.
We finally made it to the observation bunker and enjoyed the view. Wow, it was amazing! We took some pictures, got some selfies, and relaxed in the bunker area overlooking Waikiki and Honolulu. While the weather was fabulous and the views were awesome, it was time to descend the trail and get on with the rest of our day.
Time for malasadas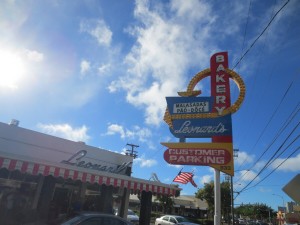 After our hike at Diamond Head, we headed over to Leonard's Bakery to get some delicious malasadas.
A malasada is a Portugese doughnut without a hole. Leonard's fries "generously-sized balls of dough until it's golden brown on the outside and light & fluffy on the inside."
They are served to order and the boxes come out warm. Several malasadas were eaten in the rental car before we went back to our room where mom and Coco were hanging out. Everyone got to enjoy some malasadas before we got ready to head out for our next adventure…whale watching!
Enjoy some pictures from Diamond Head State Monument