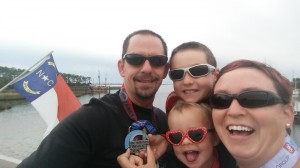 The training paid off. Those long runs in October made a huge difference. Despite the up and down weather in central North Carolina, the running season this November turned out to be pretty good. The first race of the season was the City of Oaks half marathon. Hilly and cold. How would I fare?
I barely made it to the start line in time. I literally got there about three minutes before the race started. It was tough getting out of the house with the kids on a Sunday morning, even with daylight saving on our side, for the first weekend in November. I made it though, and I as ready for the hilly course and temperatures in the 30's.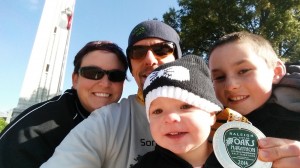 I like the first half of the course, going down Western Boulevard towards Downtown Raleigh. But once we hit Peace Street, the hills start to take effect for the rest of the race.
I was happy with my results: I finished in 01:42:05 at a pace of 07:48 minutes per mile. It wasn't quite enough to beat my PR for this course during the 2011 City of Oaks half marathon at 1:41:38. But all things considered, a good run.
A Record Breaking Outer Banks Half Marathon
This was it, the race I was training for. The weather was almost perfect and I was ready. A combination of good nutrition, weight loss, and training over the last year allowed me prepare for the Outer Banks Half Marathon on the weekend of November 8.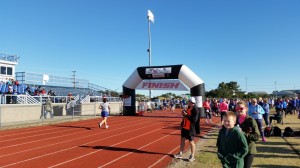 Merri Beth had signed up for the 10K on the Saturday before race day. I got the kids ready to head out and cheer her on. She finished the course in just over an hour on a beautiful Saturday on the Outer Banks.
We signed Zander up for the 1 mile fun run. He was looking good coming in at the finish line. After the races, we hung out for a while and relaxed for the rest the day.
On race morning, I was feeling it. Mentally, physically, and spiritually, I was amped. I was putting in 7:34 minutes/mile for most of the course—charging the bridge at mile 10. I was cruising to the finish line. Confident and excited that I was going to beat my time from last year.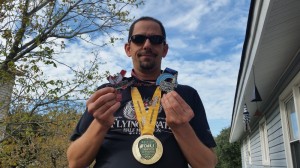 I finished 106 overall (wow) and got a personal best with a finish time of 1:39:07. I also placed 10 out of 130 for my age group. Satisfied with my results would be an understatement. This was my best half marathon time, ever, finally beating the elusive 1 hour and 40 minute mark (for me).
I now have 24 half marathons and 1 full marathon under my racing belt!
I also ran the Raleigh Rocks the Greenway 10k the weekend after the Outer Banks Half Marathon and the Inside Out 8k Turkey Trot on Thanksgiving Day morning. In looking back, this is the first 10k race that I've done and I was firing on all cylinders again. I finished in twelfth place overall and first place in the men's 35-39 age group. Here are the results for the 2014 race season:
2014 Flying Pirate half marathon – 1:46:23 | 8:07 min/mile (Spring)
2014 City of Oaks half marathon –  1:42:05 | 7:48 min/mile (Spring)
2014 Outer Banks half marathon – 1:39:07 | 7:34 min/mile (Fall) [PR]
2014 Raleigh Rocks the Greenway 10k – 46:53 | 7:34 min/mile (Fall) [PR]
2014 Inside Out Sports 8k Turkey Trot – 36:41 | 7:26 min/mile (Fall)
Here's what the 2013 race season looked like:
2013 Tobacco Road half marathon – 1:43:43 | 7:56 min/mile (Spring)
2013 Flying Pirate half marathon – 1:45:27 | 8:03 min/mile (Spring)
2013 City of Oaks half marathon –  1:43:08 | 7:52 min/mile (Fall)
2013 Outer Banks half marathon – 1:41:32 | 7:45 min/mile (Fall) Previous PR
And the 2012 race season:
2012 Tobacco Road half marathon – 1:44:39 (Spring)
2012 Flying Pirate half marathon – 1:45:39 (Spring)

It rained the entire time for the Flying Pirate race

2012 Bay to Breakers 12k – 01:00:25 (Spring)
2012 Oktoberfest Run Green 8k –  39:12 (Fall)
2012 City of Oaks half marathon – 1:43:53 (Fall)
2012 Outer Banks half marathon – 1:41:59.0 (Fall)
2012 Skinny Turkey half marathon – 1:44:14.0 (Fall)