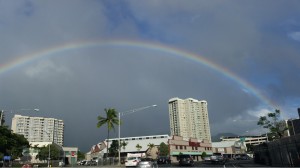 After weeks of planning and months of anticipation our departure date had arrived. Vacation in Hawaii was on the horizon. We just had to get there first.
Mom arrived on Sunday, December 14. We watched some football and relaxed. Merri Beth and I were getting some packing done while getting things ready for our last day of work for the year. We couldn't wait to have a few weeks off until January.
Monday, December 15, was a somewhat normal day. The kids were up and going to school, MB and I were off to the office. Mom was hanging around the house for the day. The plan was to come home early, but last minute things at work prevented that from happening for Merri Beth and I had a chiropractor appointment set-up already.
After work, we headed out to dinner. Our plan was to go to Ruckus at Mission Valley, which we did. But once we got there, they were closed for their annual holiday party. We thought about Trophy Brewing, but decided on Mellow Mushroom on Peace Street—it was a hit for everyone, the kids and my mom.
Dinner was fabulous and hit the spot. We got back to the house to watch the remainder of Monday Night Football, do some last minute packing, and get to bed early. We were ready to head to the island of Oahu, Hawaii and our flight left early in the morning.
Tuesday, December 16, 2014
The household was up between 4:30-5:00 am. Our SkyShuttle to RDU airport was arriving at 5:45 am. Bags were by the door, the kids (and the adults) were groggy, and we were on our way to RDU after getting on the shuttle.
The flight to Atlanta was leaving at 7:20 am. We had already checked in online, printed our boarding passes, dropped off our bags, and made it through security. After boarding early with the kids, we were in the air headed to Atlanta.
The flight from RDU to ATL was about 90 minutes or so despite a 30 minute delay on the tarmac due to bad weather in Atlanta. Once we arrived, we had a 2-hour layover, which gave us enough time to acquire some lunch to have later on the plane and walk to our departure gate. Luckily, we landed in terminal E and only had to head a few gates down in the international terminal.
Heading to the land of Aloha
It was the long-haul over the continental US and the Pacific Ocean. 10 hours in the air from Atlanta to Honolulu. The kids were settled in with their own entertainment systems. Coco was watching Frozen, Zander was watching Elf. I was hooking it up with some Bejeweled 2 and watched the Maze Runners. We ate our Qdoba for lunch and had an enjoyable flight.
I was impressed with the kids. They did a great job on the plane and their behavior was impeccable, especially for the amount of time we were on the plane. We arrived in Honolulu around 4:00 pm Hawaiian time. I stayed with mom and the kids to gather our bags while MB went to get the rental car. We were on our way to Waikiki, windows down, flip flops on.
We settled in to our home away from home for the week at the Royal Aloha. Merri Beth and I went to the grocery store to get some essentials for the apartment–breakfast items, snacks, Longboard Lager, and some Ahi Poke.
We were ready for our vacation on the Hawaiian islands to begin. We had our list of things we wanted to do, but our itinerary was wide open. Aloha!
Pictures, pictures, pictures of our Island Life in Hawaii!