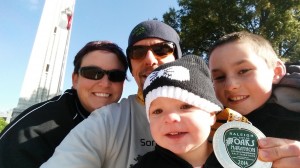 A cold blast of winter arrived yesterday, making the morning temperatures for the City of Oaks marathon a bit brisk. The forecast was for the low to be in the mid 30's. Luckily, race time starting temperatures were in the low 40's. And the wind was just a little ca-burrrr in a few spots!
I dedicated this race to my friend Thomas Crowder, who we lost a few weeks ago to cancer. Thanks for the inspiration Thomas.
This was my eighth time running the City of Oaks half marathon and my 23rd half marathon overall. Last year, I finished in 1:43:08, and my time goal was to beat that. I wasn't feeling that elusive 1:40 half marathon time today.
Merri Beth, Zander, and Coco were on the course to cheer me on. They saw me at mile 8 near Cameron Village and again at the finish line as I was cruising down Hillsborough Street with sub-eight minute miles. I don't have the official results, but the live results (which are not official) came in at:
Bib: 4055
10K split 0:48:38
Finish 1:42:47
My best time running the City of Oaks is 1:41:38, so I can't wait to see the official results…it will be close to a new record, but I don't think I beat it. That's what next week on the Outer Banks course is for.
UPDATE: Official time was 1:42:05 at 7:48 minutes/mile

I finished 183 in the men's, 208 overall.
Raleigh is hilly. And it's a tough, but achievable course with lots of hills / climbs on the back seven. I love finishing at the NC State Bell Tower too. Congrats to everyone who ran in Raleigh today!
Here's what the 2013 race season looked like:
Tobacco Road half marathon – 1:43:43 | 7:56 min/mile (Spring)
Flying Pirate half marathon – 1:45:27 | 8:03 min/mile (Spring)
City of Oaks half marathon –  1:43:08 | 7:52 min/mile (Spring)
Outer Banks half marathon – 1:41:32 | 7:45 min/mile (Fall) [PR]
Enjoy these pictures from the race. Be sure to see how the kids helped me stretch out after we got home. Thanks Zander and Coco.