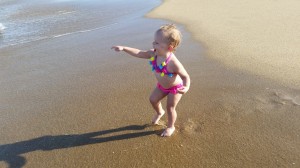 We were ready for a long weekend on the Outer Banks, but first, Merri Beth and I had few errands to run in Raleigh. Sunsets and long walks on the beach were on hold for a few short hours.
We'd missed back to school shopping earlier in the month, which for us, includes a new pair of running shoes.We went to Fleet Feet on Wade Avenue to get fitted and score some new running kicks. After that, a quick lunch at Whole Foods (to-go) and we were off to get the kids from school.
The Jeep was packed, two adults, two kids, and three dogs heading east. We hit a little bit of traffic in Raleigh, but once we got passed the I-40/I-440 split, we were good to go. Until. Until we hit Tyrrell County. We found a State Trooper after Columbia, in the swamp, where he followed us the entire way to Alligator River. Then they sped passed us to go get some tourists heading West.
We were fine cruising with our friendly State Trooper. But then, once we got to Alligator River, the mood changed. A barge had traffic stopped in both directions as the Alligator River bridge opened to let it pass. We were stopped on the bridge, got out of the car, enjoyed the breeze, and were finally on our way to the beach after the boat passed. I grabbed the following Vine video on the bridge.
We also made a pitstop in Columbia where I took a few minutes to check out the waterfront area. I've passed by many times, but never took the walk to see the Scuppernong River from ground level. The view from the bridge is great, but it's spectacular from the boardwalk. Definitely worth a stop if you're driving though Columbia.
We finally made it to the Outer Banks, a little but longer than normal, but with a holiday weekend on tap, we can't complain.
Saturday, August 30, 2014
I got up early and got a 4.2 mile run to Kitty Hawk and back. After some breakfast and cooling down, I took Zander and Coco to Farmdogs for their annual yard sale. We got Zander a 7-ft soft-top surfboard. He was stoked. After a pit stop at Harris Teeter, we made our way back to the beach house.
While we were gone, MB got in a few miles running, breaking in her new running shoes. Then the family was ready to hit the beach for the day. We couldn't ask for better weather, mid 70's, light ocean breeze, and some good surf. Big enough for dad, small enough for Zander.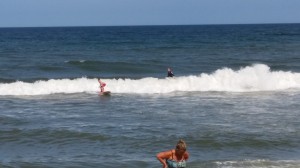 It was like a dream come tree. Zander on his board. Independent. Paddling on his own, catching his own waves. Meanwhile, I was on my board, watching him carefully, catching my own waves. We were both having fun. Coco and MB were having a blast on the beach.
It was Stop and Shop for lunch, a nap for Coco, and a few Kona Longboard Lagers for mom and dad. It was a stellar day on the beach. But we had to get back to the house in time for our fantasy football draft. Seriously.
My mom was ready to draft, MB was ready to draft, and I was too. I got stuck with the swing slot, which means I was picking 8th and 9th, then I had to wait a long time while everyone else picked. All in all, I was happy with my picks. We all were.
For dinner, we did takeout from Bad Bean. MB and I went to pick up the food and enjoyed a pint at the bar before bringing the goods back home. The family loves Bad Bean, so dinner was fabulous. After we finished, it was time to see the sunset. MB, Zander, and I hopped on the bikes and enjoyed the end of the day.
On the way back to the house, we stopped by to see the Canale's. Melissa was at work, but Tony was there. And we were surprised to see our old friend Allison Vengrin. We chatted for a bit, but had to get Zander to bed. MB was exhausted, but I went back for a bit to hang out for the night.
Sunday, August 31, 2014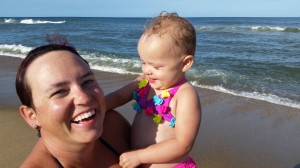 Another great beach day was on tap. The family was up early and ready to hit the beach after breakfast. We were set-up and relaxing well before 11:00 am. For lunch, we decided to try a new place for takeout, the Bonzer Shack on Martin Street. It was alright.
Zander and I surfer again today and it was just amazing to spend a fabulous day on the beach with the kids. The sun was shining, surf was good (again), and we were just soaking up as much as we could.
After a long day on the beach, we were looking to score some dinner, but it was a busy evening on the Outer Banks. Our first choice was Food Dudes, but after calling and calling with no answer, we did a drive-by and they were too busy to do any takeout. Our second choice was Mama Kwans. Same story—too busy for takeout. And we finally landed with a go from the Outer Banks Brewing Station.
MB and I were able to grab a seat at the bar, enjoy a beer, and order food for the family. By the time we got home, everyone was content, and another fabulous day was in the books.
Monday, September 1, 2014—Labor Day
We wanted to maximize our beach time and knew that we were heading back to Raleigh this afternoon. We were on the beach around 10:00 am and milking the day for all we could. There was still some decent surf and Zander and I were going to make it happen.
After a relaxing morning on the beach, we stopped by Days Inn to say good bye to Nana. Then we grabbed some lunch at Slice Pizza to eat at the beach house while we packed up the Jeep. Our timing was great, because Coco's nap time is around 1:00 pm and we were cruising by 2:00 pm. A great weekend and much deserved after a long summer. Both working and playing.