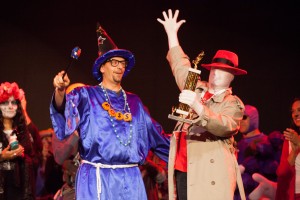 We had an amazing Halloween. Of course, it's a fun day for the family, but also at work. Halloween is important at Red Hat because of our history. 20 years ago this year, the famous Halloween release of Red Hat Linux was out in the wild. Now, it's evolved into one of the most trusted, secure, and reliable versions of enterprise-ready Linux.
We have an awesome Halloween party at the office. Starting at 2:00 pm on Friday, Red Hat Associates gathered at the Lincoln Theater for a skit from our Corporate Leadership Team.
This year, we got a version of The Voice, with some great performances including the Red Hat choral group. After the skit, the Halloween costume contest started. I decided to enter on a whim. Jen Wike Huger, dressed as a Firefox for the open web, also joined me on stage.
I put my costume together on Thursday night, after the Red Hat family trick or treating event at Red Hat Tower. The kids really enjoyed it. The 8th and 9th floors were converted into Halloween festiveness. By the end of the night, there was popcorn and busted balloons everywhere, all over the floor, in the elevators, even the parking deck—and the kids had lasting treats and memories.
I decided to be an open sourcerer, defender of free and open source software (FOSS). It was a wizard costume featuring a dual USB-stick wand (homemade) and a kickass FOSS necklace (made from a recycled Aviator six-pack holder and asparagus rubber bands). Throw in some party beads and a sweet, newly acquired wizard hat from Party City, and my costume was complete.
Merri Beth was a companion sorceress. Zander was grim reaper, while Coco was a butterfly. The family enjoyed our time at Red Hat Tower, especially the body glitter art for the kids and the fun games.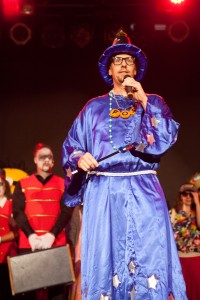 Back to the office on Halloween Day, I entered the Halloween contest with low expectations. No flashbacks to a few years ago when I dressed up as Captain Jack Sparrow and won the title. There was some tough competition, but more categories this year.
The most original costume prize went to Jeremy Hansen, who had an amazing Ironman costume last year and dressed up as Sauron from Lord of the Rings this year. The group prize went to our global workforce solutions team who were dressed up as zombie/dead bellhops.
Overall, third place went to the vintage wine dressed as a bunch of grapes. Second place went to a Raspberry Pi-powered Transformer. And first place was a tie between Shadowman and, you guessed it, the open sourcerer! I was in shock. Winning the Halloween contest was totally unexpected, but welcomed. Two titles under my belt!
Fast-forward to Ramsgate Manor after the office celebration. Once the family had dinner, we ventured out on Friday night to check out the neighborhood. Our street was dead. Only a few houses were handing out candy, so we decided to hit up some other streets.
We eventually ended up at a friends house who had a nice open fire going, fun food, and a cooler full of beer. We stayed there until 10:00 pm, then walked back home were things were quiet for the rest of the night.
MB and I fell asleep to a scary movie on TV, exhausted from a long day and anticipating a cold, rainy Saturday morning. Happy Halloween!
Note: Red Hat photo's by Andrius T. Benokraitis.