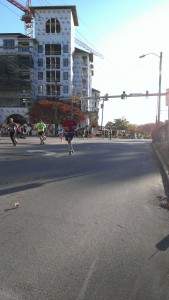 For the seventh year in a row, I've run in the City of Oaks half marathon. So adding this race to my fall bucket list was special. Why? Because it was my 20th half marathon—and to run that in Raleigh and cross the finish line at the NC State Belltower was awesome. For anyone new to Raleigh, running in a road race is a great was to enjoy the sites.
The weather was perfect for race day. Runners gathered at the start line, near the NC State Belltower, and headed downtown via Western Blvd. The course took us into Downtown Raleigh with a great view of Red Hat Tower, then through Boylan Heights for one of the best views of the Raleigh skyline. Runners then went through the heart of downtown, up Fayetteville Street, over City Plaza, towards the State Capital.
Runners caught a glimpse of the Daily Planet on their way to Glenwood Avenue. They then passed the 6.2 mile marker at Cameron Village where the Old Reliable 10k finishes. It was uphill from there, through the University Park neighborhoods, then back to Hillsborough Street near Meredith College. At this point, the full marathon split off onto the greenway. Half marathoners reached a turn-around point near I-440, then cruised down Hillsborough Street to the finish line.
I had a great race. I finished in the top 200 runners with a time of 1:43:08. If you want to get into running, this is a great, longer distance race to start with. There is a 10k (6.2 miles), half marathon (13.1 miles), full marathon (26.2 miles), and a marathon relay. The organizers do a great job and the course is challenging, but achievable. Running in the City of Oaks is a great way to discover Southwest Raleigh.