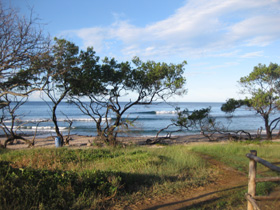 Time to get to the beach and into the water. Surfs up! The best part about this vacation was we didn't have any pre-set agenda. All Merri Beth wanted was a tan, all I wanted was some waves. We left the laptops at home, intentionally. I think Zander was just stoked to be with us and wanted to get in the water as well.
Day two, Monday, December 19, started off with breakfast at Cafe Playa Negra. We ordered some pancakes and a smoothie. Dave, one of the Cafe servers, was awesome. He was very friendly and gave us some good tips. After breakfast, we packed for the beach and began our journey to the beach at Playa Negra.
A walk to the beach
First things first, I needed a surfboard. We stopped at the local surf shop, Pargos Adventures, and I met Javier, a friend of a friend from back home in Raleigh that grew up in Costa Rica. I rented a sweet 6'4″ for the week for $60 US. I've been renting boards when I travel to avoid the hassles of bringing my own board, paying airline fees, and damage to my board from the airlines. Plus, the local boards are usually designed for local surf conditions. Surfboard acquired!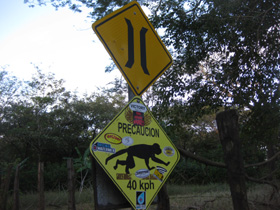 It was about a 10 minute walk down a dirt road to the beach. Along the way, we saw some interesting sights. At the corner where we made a left, there was a small farm. We saw a pig chilling on the banks of a small stream. Then we saw the coolest road some, monkey crossing! Further down, we saw some horses.
Then as we came to the parking lot at the end of the road, where it's 1,000 Colognes ($2 US) for "security" to watch your car, we got on a nice brick walkway next to Hotel Playa Negra. You can start to see the ocean through the trees and as you get to the end of the path, it opens up to a gorgeous view of the Pacific Ocean and a world class surf break.
The surf was a good size and super fun. I paddled out and caught lots of waves. Most waves coming in today were between chest to head high. The locals were friendly and I mostly tried to stay out of the way and catch whatever came my way. It's always interesting being on a new board at a new surf break.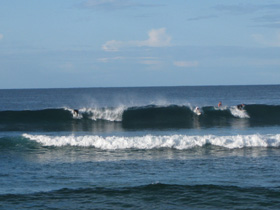 While I was surfing, Merri Beth and Zander were on the beach. It was a great day on the beach for everyone, the sun was shining, the waves were good, and the water was warm.
It was getting close to lunchtime so we decided to try the food at Hotel Playa Negra. The restaurant is pretty much on the beach. You can watch the surf from your table. When we were looking at places to stay, we looked at Hotel Playa Negra, but it was twice as much as Cafe Playa Negra. It looked nice, but I'm glad we stayed where we did. After lunch, we headed back to the Cafe and made plans for the afternoon.
A trip to Tamarindo
We didn't want to overdo the first day at the beach with too much sun, even if we were seeking shelter in the shade. We decided to drive to Tamarindo and do some exploring. We headed North for about 30 minutes until we arrived in the touristy town of Tamarindo.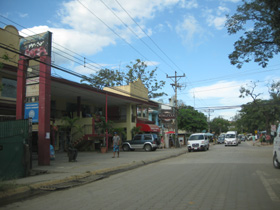 We found a parking spot and walked around, checking out the different shops. First we took a quick walk along the very active beach, were I was immediately asked if I wanted surf lessons or a surf rental. We're good! We ducked into a few shops, looking at souvenirs, but were a little shocked at how expensive some of the trinkets and gifts were. Pass.
We were over Tamarindo pretty quick, hopped back in the Jiminy and explored more by car. The town was bustling compared to Playa Negra. We decided that our next stop was to search for a grocery store to get some supplies for our room. We eventually stumbled on a Megasuper and went shopping. We stocked up some snacks, breakfast munchies, fruits, yogurt, water, and cerveza's. All set.
We were feeling adventurous on the drive back to Playa Negra. We wanted to see if it was faster to get back by going around and back in (on main roads) as opposed to staying on the bumpy, dirt roads. About halfway back, we realized it wasn't. We took a back road that was not well-traveled. We came across a few spots where we had to ford the stream. We put the Jiminy into 4-wheel drive and crossed our fingers. We eventually ended up in Pinilla, a small town that we came through on the way up, and knew the way back from there.
Sunset and dinner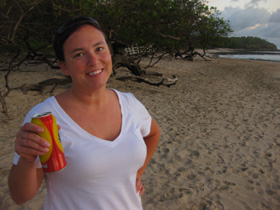 We stopped at Playa Avellana on the way back to catch what was left of the sunset. We cracked a few tallboys of Imperial and Zander played in the sand, making a volcano. There were a bunch of surfers wrapping up from their time in the water. There was definitely a good vibe at Avellana and we'll have to check it out during the day later on in the week.
Once we got back to Cafe Playa Negra, we put our groceries away and went downstairs for dinner. The special looked really good tonight, so we indulged in some Tuna Tataki along with some Ceviché for our appetizer. They were able to whip up some shrimp and fries (camarones y papas fritas) for Zander.
The Cafe was really busy tonight and we met some other folks from North Carolina. They were from Elizabeth City of all places (about an hour from the Outer Banks). Small world. We enjoyed some beers and watched some Monday Night Football on the big screen.
It was a pretty busy day and we were exhausted. Our first full day in Costa Rica was a success. No agenda, just pura vida.
See more pictures from Playa Negra, Tamarindo, Playa Avellana, and from the entire trip.