There's a first time for everything, right? As long as I've lived at or visited the Outer Banks, I had no idea you could go bow fishing on the Sound … at night. Wow, were we in for a treat. Zander couldn't contain himself leading up to the adventure. And what an evening we had, complete with a world-class sunset.
Sunday, July 19, 2020
My day started with a different adventure. My buddies Tony, Eric, and I had been planning a cycling trip to Bodie Island Lighthouse and back from Kill Devil Hills. Today was the day to ride.
We anticipated a southwest headwind heading south on the inbound ride, but what surprised us and demoralized us on the outbound portion, was a shift in the wind that kicked our asses when we were expecting a tailwind.
Overall, we had a great ride. We stayed on Highway 12 (aka The Beach Road) until we got to Whalebone Junction where we have a decent bike lane most of the way. Then we rode on Old Nags Head road south of Jeanette's Pier before getting back on Highway 12 for just over a mile to get to the lighthouse. Once we got to the Bodie Island, Merri Beth and Coco resupplied us with some fresh, cool water and words of encouragement.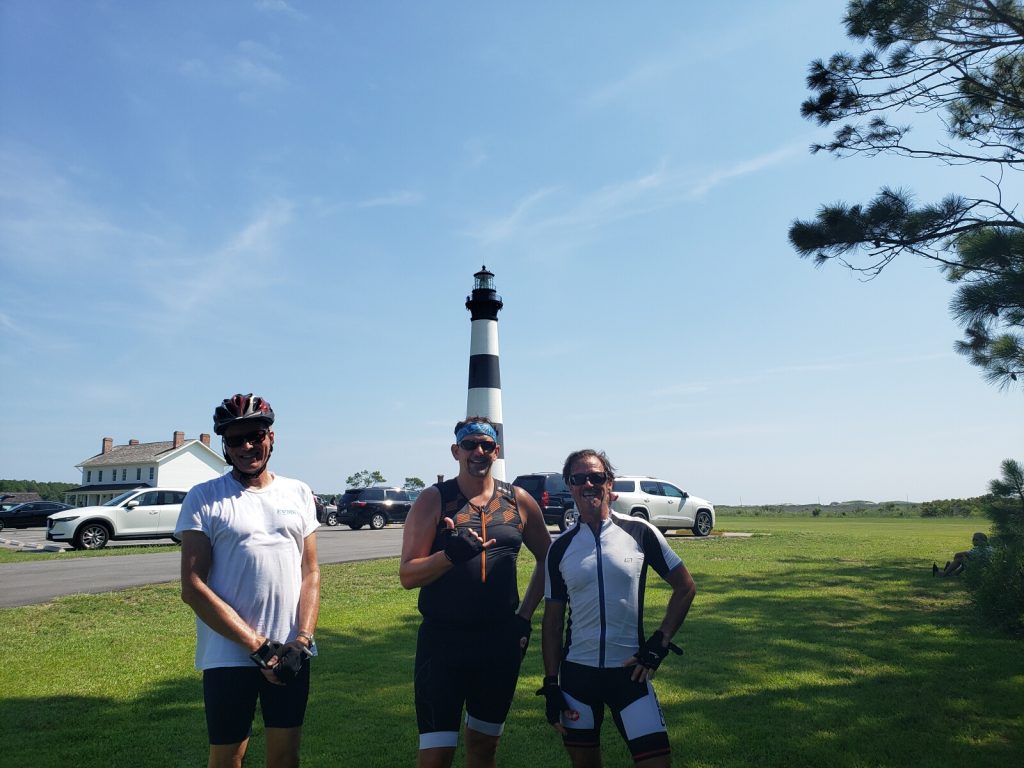 After some rest in the shade, some snacks, and hydration, we started to bike back. The sun was brutal. The unexpected headwind was a nightmare, but we pushed on. Around mile 32, we pulled over for a break. We were back in Kill Devil Hills and stopped at The Bonzer Shack for a drink and some much-needed rest. After that, the final 5 miles back home were a welcome cool down. Damn you shifty wind!
An amazing sunset and fishing with Reel OBX
Merri Beth booked an excursion for us with Reel OBX after Zander had told us about seeing their boat down on Bay Drive by the boat ramp on Dock Street earlier this summer. After some research piqued our interests, we reached out and got a date on the calendar.
Our original trip was booked for Thursday night, but the winds were blowing too hard to have a good time on the water. The captain called us Thursday afternoon and gave us some options. Instead of canceling or getting a refund, we decided to rebook for today.
We were pumped all day for this fishing experience. I, for one, didn't know this was a thing. And neither Merri Beth, Zander, or I have ever been bow fishing before, so this was something new for all of us. We had our bug spray and a small cooler packed, but more importantly, our sense of adventure was dialed up for this trip.
After dinner, we got ready for the fishing trip and made the short, 3-minute drive down to Dock Street where the boat ramp is and made final preparations for the night mission. The Reel OBX boat was already there waiting for us in the water, next to the boat ramp. We said hello to our Captain, Chris Crockett, and after a few minutes, we're crusing off into the sunset, ready to fish until midnight.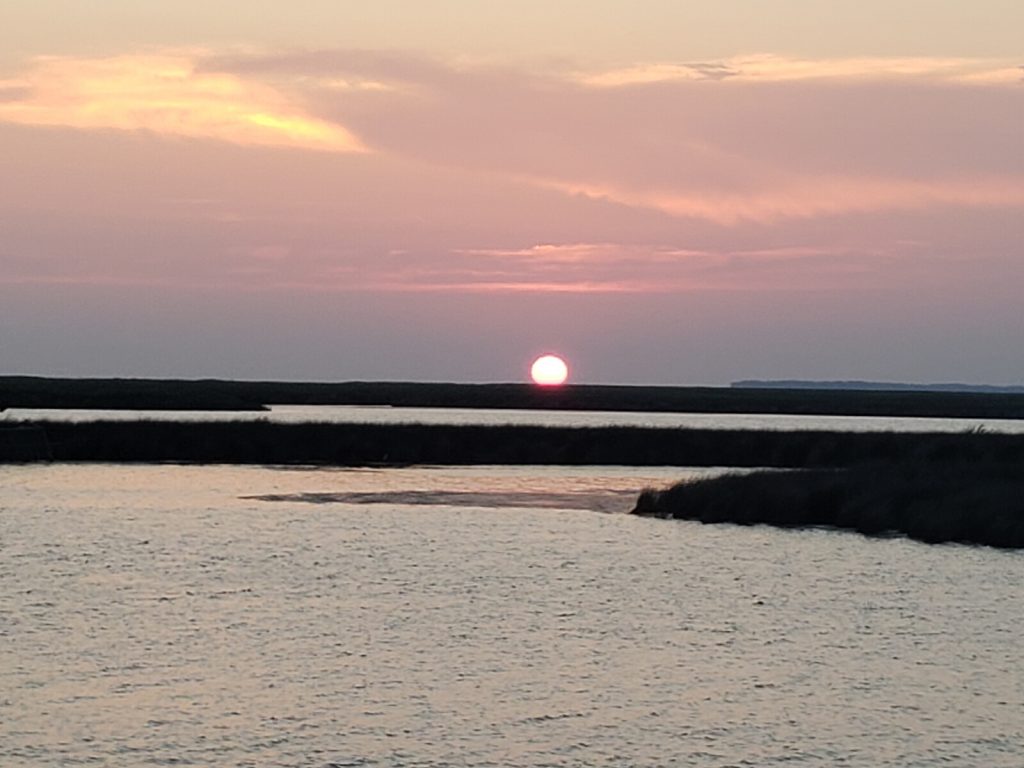 And wow, what a sunset we had lined-up. It was probably one of the best, most baller if I may, sunsets I've seen in a while. The glowing, orange sun just sank into the horizon over the water. Zander and I climbed up on the boat tower to watch the remaining part of the day slip over the thin tree line to the west. Amazing!
Next on our agenda, target practice. Chris took us to a spot to show us how to use our bow & arrow and reel equipment. We took practice shots at a purple floating noodle on a rope, attached to the boat. Advice: Trust your instinct and aim low because of the water refraction.
For the next four hours, we went all over the Sound. For the first hour, I was so focused on the water, looking for fish, holding my equipment ready to aim and fire, that I lost track of time. After a slow start, we started seeing some fish and took a few, mishap shots. No worries, we were learning and getting use to the water, the bow and arrow, and listening to advice from the captain.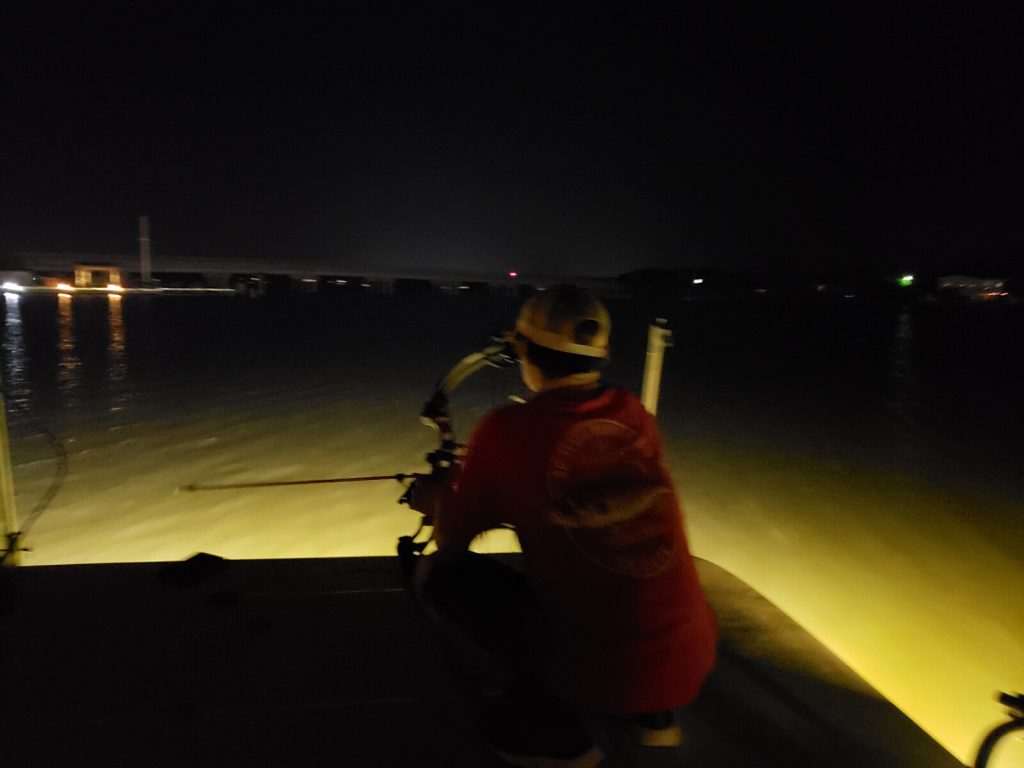 Both Zander and I got a few good shots off, but didn't bag anything. Merri Beth got into the action as well and really, was happy to just ride along for the adventure.
Overall, we had a great experience. I would totally do this again. Towards the end, we did see a 2-1/2 foot Gar that we spotted and turned the boat around, only to lose it in the grass.
Before wrapping up the evening, we wanted to see if we could catch a glimpse of Comet Neowise. Captain Chris took us to the center of the marsh, one of the darker spots in the Sound to take a look. Unfortunately, as we looked to the north west of the big dipper all we saw were clouds.
Just like the fish, another one got away.
Sunset and fishing with Reel OBX