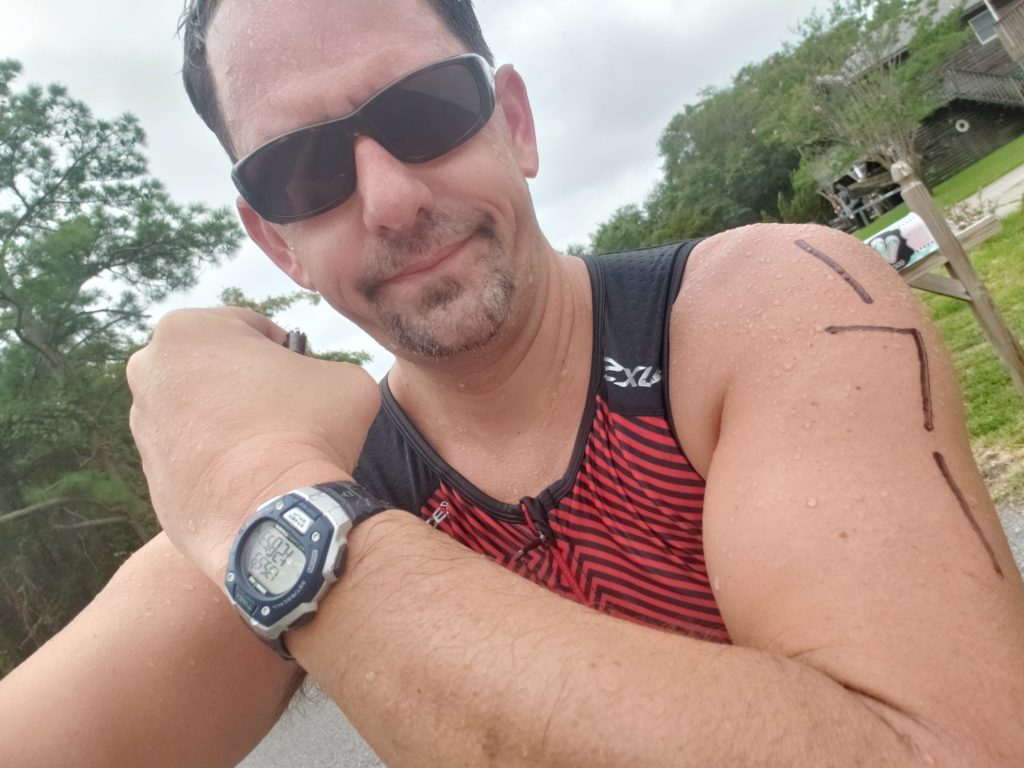 For all of the runners, cyclists, swimmers, and triathletes out there, if you've been missing race days, you're not alone. The camaraderie at the start and finish line, the competition on the course, and the milestones we accomplish, have all been set aside for a while.
I missed my summer sprint triathlon's so much, I decided to make my own course, get out there, and get it done. In this blog, I'll explain how I planned my courses and a few tips to make the most of my effort as I share my story with you.
Due to COVID-19, any race that I signed up for in the spring and summer have either been canceled, postponed, or gone virtual. Regardless, exercise and getting outdoors have been a huge stress relief for me from all this uncertainty and change in our world.
The first and only race I did in 2020 was the Pasadena reverse triathlon. Yes, run a lap around the Rose Bowl stadium, then 3 laps on the bike, and finally jump in the pool for a few laps. It was amazing!
I missed out on the Three Little Pigs Triathlon in June and now I'm missing the Rex Wellness Triathlon series that was supposed to happen in July, August, and September. I still have all the events on my calendar and as I get reminders, I get a little sadder with each one. I decided to take the sadness and turn it into motivation.
I've still been training, more on the bike these days and not swimming as much because pools are closed. When I saw the last calendar reminder, a thought popped into my head about doing my own race. I started to think, why not just make my own course? That's exactly what I did.
"Race day" was Friday, July 31. The evening before, I did all my prep, just like I would do before race day. I got my outfit ready and laid out. I put together my swim-to-bike transition items and set-up my bike-to-run transition in the garage.
I also planned out my courses. I used the website gmap-pedometer.com to map out a course and calculate distance. Pro-tip, just drop in your zip code, for example, 27948, and it will zoom in to your locale so you can start mapping. I love designing courses, by the way, and I always try to create a great experience.
For the swim, I decided I would start at Raleigh Avenue beach access. It has a nice ramp over the sand dune, a shower (to rinse off the salty water), and minimal stairs. I mapped out 300 meters on the Beach Road to figure out my halfway point. I also had a landmark I could see from the water to identify the turn-around spot (use the satellite view to pick something out or prepare an in-person visit).
For the bike, I wanted to avoid traffic and get as much mileage in on Bay Drive as possible. I knew I would be starting at Raleigh Avenue (more on those details later) and needed to figure out a safe place to cross the by-pass. At first, I thought about crossing at the Wright Brothers, but I knew the gate wouldn't be open during my race start time of 8:00 am and wasn't sure about how the light would (or wouldn't) change, so decided to cross at Collington Road where there is a signaled-crosswalk.
The rest of the bike course looks similar to my daily rides on the OBX, just with a different starting point. The course included a lap and a half around The Monument. You could add some good mileage here, but the recent resurfacing of the road does not sit well with my wrists. Boo to cheap government projects that look better on paper! Then it continues on the Collington Bike path to First Street, Bay Drive, Moore Shore Road, and a little loop on Kitty Hawk Road back to Bay Drive.
For the run, this was a little easier for me. I already have two 5k routes I run. One goes north on Bay Drive to Hayman Street (I call the Hayman Street 5k) and the other goes south on First Street (which I call the First Flight 5k). Both courses are out and back.
For the race, I decided to run the Hayman Street course because the winds were pretty stiff out of the southwest and I wanted that breeze to help cool me down on the way back.
With the swim, bike, and run courses all set, the next part is to execute. And some of you may think what I did next was cheesy, but to help me get into the race day mentality, I body marked myself with my bib number on my arm and my age group on my calf. Get in the spirit, my people!
I loaded up my bike and swim-to-bike transition items (helmet, gloves, cleats, shades, and a towel) into the back of the Jeep, drove to Raleigh Avenue, and got everything set-up. My mom was part of the race-day support team and stayed at the Jeep to watch my bike and gear while I swam.
Let the race day activities begin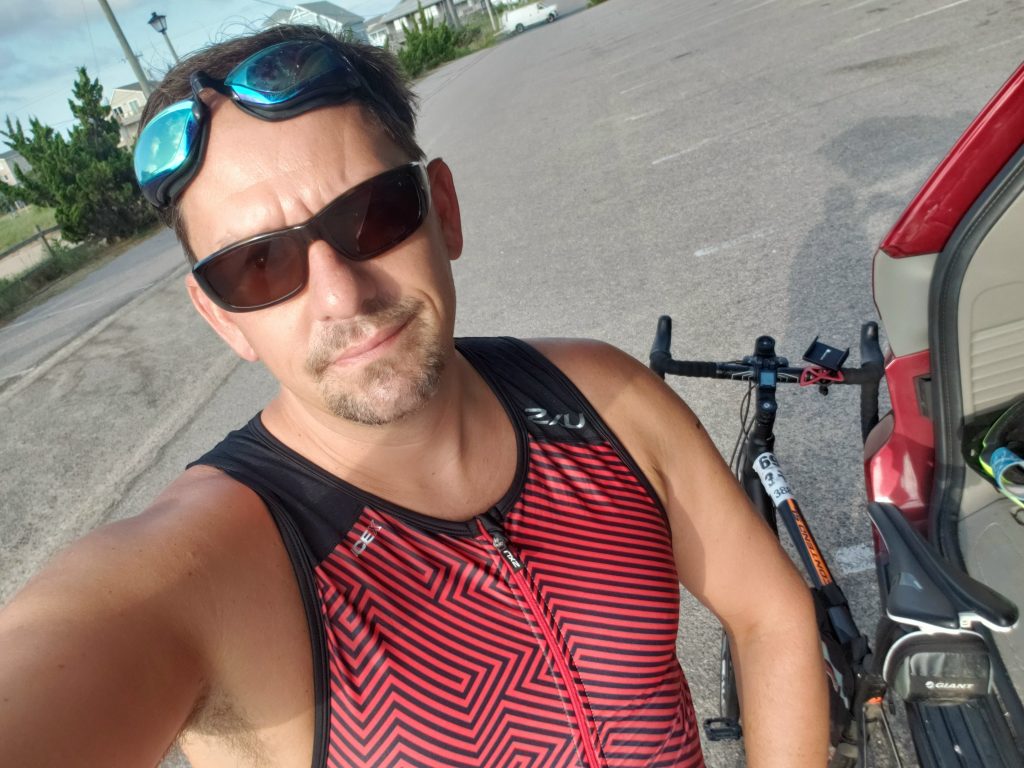 With goggles at the ready and my watch reset to triple zero's, it was time to begin. The ocean was brisk and there was a light current coming from the south. I decided to swim against the current first to make the way back a little smoother. Also, with the chilly water temp and warm air temps, I kept fogging up pretty quickly.
One thing I didn't consider until after I was in the water was having a race buddy to keep an eye on me while I was swimming. Luckily, at the spot I choose, the KDH ocean rescue lifeguards were on the beach doing their morning training. I felt safer already.
Besides the cool ocean temps, there were some sea lice to also deal with. Having that shower at the beach access was key to help get some fresh, clean water on my body at the end of my swim before my first brick.
My first transition took about 2-minutes, a little longer than I wanted, but it's been a while. I quickly dried off with my towel, put on my gloves, helmet, and then my cleats after redrying my legs and feet. I put on my shades, started my Strava app, and was off towards the memorial. Special shout-out to the kind motorists who stopped for me at the beach road crosswalk!
My ride was great. I designed the course to take advantage of the southwest wind to minimize the headwind and kept most of it for the last 3-4 miles.
The second transition was pretty quick. I had everything set-up in the garage ready to go. I had my dismount point demarked by the mailbox, trotted to my transition spot and switched out of my cleats into my running shoes, then grabbed my running belt.
I got really lucky on the run. Some clouds had rolled in and I didn't have to fight the blazing sun. I was already soaked in sweat, so being in the breeze and under the cloud cover felt great, for a while. Once I turned from Bay Drive onto Hayman Street, the wind was at my back and things got a little stagnant. I couldn't get to the park and the traffic circle fast enough to get turned around and back with the breeze.
5 tips to plan you own virtual triathlon
Check the weather forecast to see the predicted wind speed and direction, which could impact all three parts of your race
Check ocean conditions if you plan an open water swim, select a day with minimal swell
Swim against any ocean current on the front-end of the swim if you're doing an out and back
Know your app so you can quickly start your tracking on the bike and run portions if you don't have a GPS watch
Plan a safe course and consider having a race buddy or race support as you need it to increase the safety of your virtual race
And of course, I was stoked to cross my virtual finish line. What I really earned by doing this was a sense of accomplishment and pride. Now I'm really prepared to tackle the OBSE virtual tri event during the month of September. I'm even considering going for the Olympic distance, which would be a new milestone for me. Enjoy your training and stay hydrated.