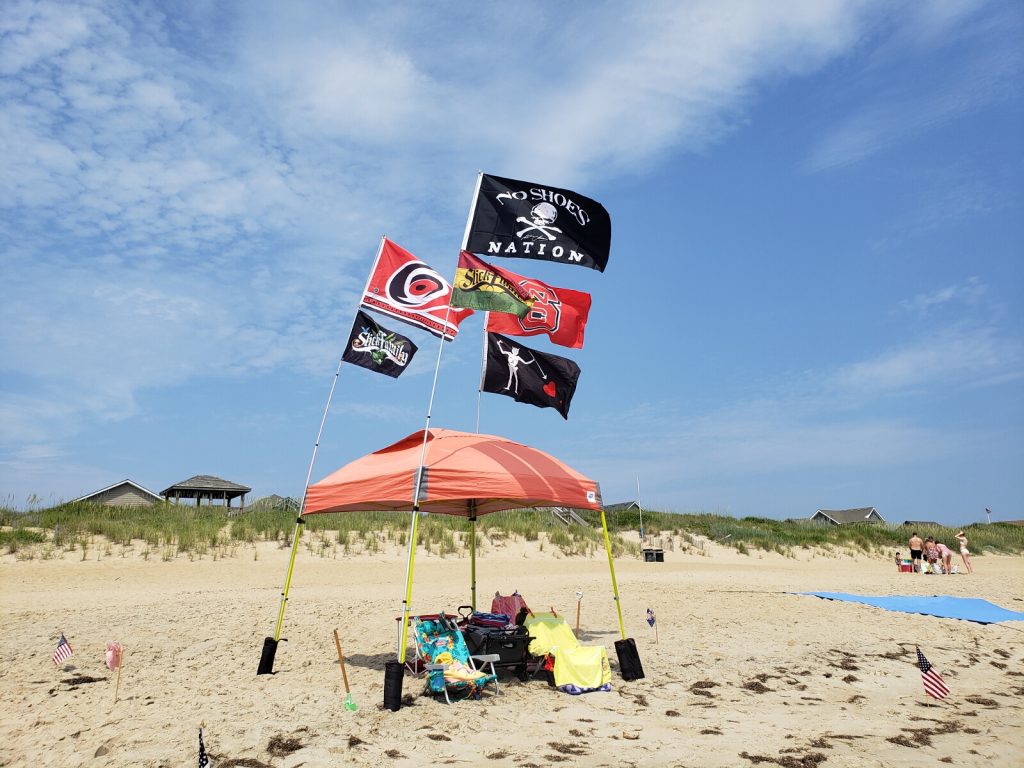 We've had our fair share of beach days this summer, but haven't had a chance to write much about them. And with a few new additions to our flag flying collection, it's time to fess-up and share some details about what our days on the beach look like.
Saturday, July 18, 2020
My day started off with a 17-mile bike ride up to Kitty Hawk and included a lap around the Wright Brothers Memorial. I'll typically bike or run before a long beach day. Lately, I've been biking more than running because it takes me almost an hour to cool down and stop sweating from the heat.
Here in Kill Devil Hills, the full sun is up and blazing before 7:00 am and it's typically already above 80 degrees. So even an early bird isn't getting too much relief from an early run or ride. Shade is your friend when working out on the Outer Banks.
By the time I get back back, the kids are up (sometimes bickering at each other) and are eating breakfast. Today, both have eaten and Caitlyn was well on her way to being ready. Zander on the other hand was getting distracted and not focused on getting out the door.
Merri Beth was making sandwiches and some fruit and yogurt snacks for the day. I got the cooler ready with beverages and we gathered our towels, and our beach bags, and had already loaded the Jeep up with our tent and beach chairs the night before.
One of the most important things we do is to lather up with sunscreen while still at the beach house before we leave, giving the lotion time to absorb and help protect us effectively. The kids use 30 SPF because they are in the water most of the time. I'm using 15 SPF with my base tan, while Merri Beth is milking 8 SPF with her bronzeness. All of us use 30 SPF on our face and are usually wearing hats and sunglasses when not in the water.
For whatever reason, it takes us about an hour to wrangle the kids, pack-up, get ready, and do any chores. Today took some extra effort. It seemed like every time MB or I turned around, there were dishes to wash or the kids weren't doing what we asked or a book was missing or the new flag wasn't packed or the speaker needed to be charged or something. Something that didn't want us to get to the beach sooner.
Luckily today was Saturday, a big "turnover" day on the Outer Banks, meaning that people who come down for the week will rent from Saturday to Saturday or Sunday to Sunday. Getting on the beach super early isn't as important compared to weekdays–when tourists get the beach gear set-up on the beach and then it sits there empty until they mosey on down at 11:00 am or after lunch.
Another big decision is what beach to go to. There a many factors that go into this decision:
Is there surf? Translation: Pick a good sandbar.
Is there a ramp? Translation: Reduce the effort to get our beach wagon over the sand dune.
Are we eating takeout for lunch? Translation: We want to be close (walkable) to a good place to eat.
Is there ample parking? Translation: Can we get another parking spot in case we have to leave and come back? Or if we are meeting people at the beach, will they have a place to park.
Is there a lifeguard stand nearby? Translation: We like having that extra set of eyes on the kids when they are in the water.
Is there room on the beach to sprawl? Translation: Some beach accesses get pinched at high tide and there's not a lot of room on the beach to spread out accordingly, and these days, to appropriately social distance.
Who would have thought going to the beach would be so complicated?
Luckily, since we are somewhat beach professionals at this point, we've got most of these decision points nailed down. It really comes down to lunch, surf, and parking. We have a few of our favorite beach spots depending on the conditions.
Our typical beach set-up
We were finally out of the house shortly after 10:00 am and decided to go to Nags Head and set-up near a shallow sand bar with some potential knee-high surf breaking at low-tide. We try to adhere to our rule of one-trip from the car to the beach. With surfboards, I will relax this "one-trip" rule because we're now up to three boards: my shortboard or funboard depending on conditions, Zander's yellow fish, and Coco is using the red Farmdog's soft-top to learn.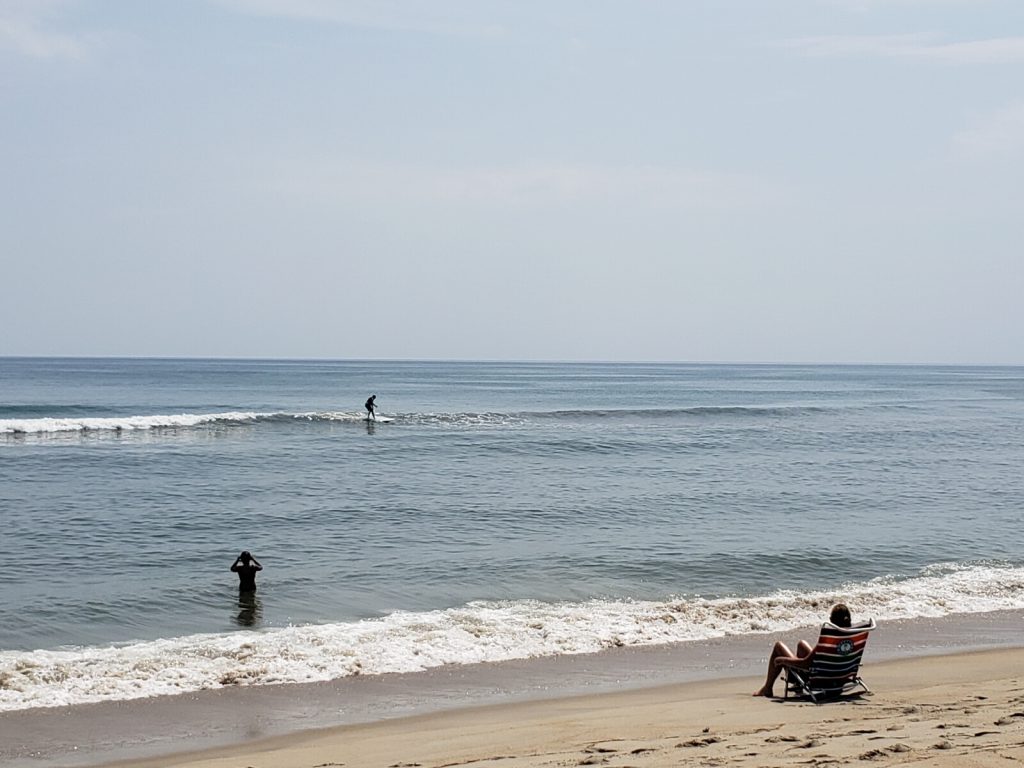 Once we find a parking spot, we start unloading the Jeep by loading up the beach buggy with the cooler, beach towel bag, flags, and a few other small items like sandbags for the tent. Zander takes our beach backpack and a chair. I handle the tent. Caitlyn carries her chair and we load her up with our flag poles. Merri Beth drags the buggy. The kids will also carry their boogie boards.
Getting up and over the dune can be somewhat of a challenge. If there isn't a ramp to wheel the wagon up, either Zander or I will assist with the lifting. And depending on how packed the cooler is, it can be a small workout. Regardless, we've got to get the wagon down the beach access stairs and then drag it to the beach spot for the day.
Once on the beach access on top of the dune, we start scoping for an appropriate beach spot. We like being close to the water and a reasonable distance from the folks next to us. If we are earlier enough, we get a spot near the high tide line. Then we begin our set-up.
First things first, we get the tent up. Then we start filling sandbags, distribute our social distancing American flags, relocate the cooler/buggy under the tent, and set-up our chairs. Once the sandbags are filled, we secure the tent and start flying the flags. Our family rule: we have to be set-up first and settled before anyone can get in the water or start playing. Special exceptions for a hot and sweaty dad on hots days. Today was a hot day!
Our flags are a new addition to our beach set-up this summer. We experimented earlier in the year at Topsail Island with just our NC State and Blackbeard flags. Then we added a flagpole with the addition of a Stick Family flag (our tent does have four legs by the way). Eventually, we found a Carolina Hurricanes promotional flag at the house that we added before we purchased a larger 3'x5′ flag.
Today, we were excited to add a new flagpole and two new flags to our set-up. Merri Beth has been itching to get a Kenny Chesney "No Shoes Nation" flag and we also added a red, gold, and green Stick Figure flag.

Toes in the sand
There are plenty of activities to keep us busy on the beach. Of course, the kids love being in the water. We actually think they are part fish. Zander will surf if there are waves and both kids enjoy boogie boarding. I will hop on the board for a few if the waves are surfable and definitely stay in the water longer if the surf is good.
Sometimes I'll go for an open water swim. Since pools have been closed due to COVID-19, I haven't been getting in the laps that I'm used too. It's nice to get out in the water and get in some distance.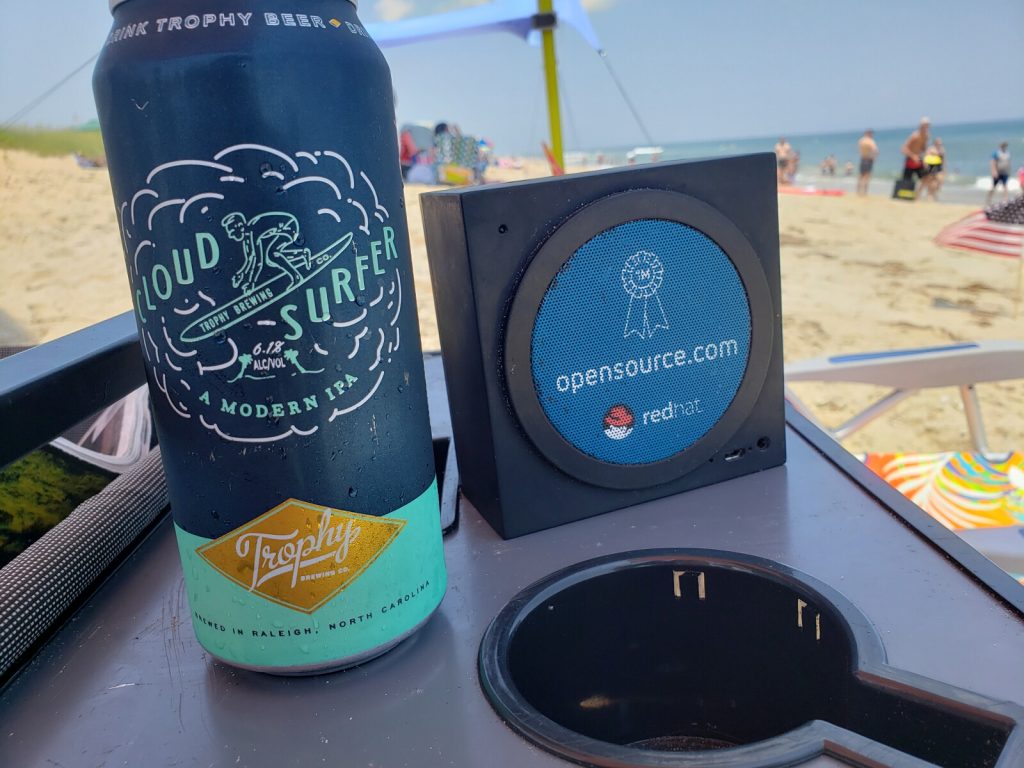 Of course, there is always reading and relaxing under the shade of the tent, or working on our tans, but as parents, one of us is keeping an eye on the kids in the water. Regardless, we usually have our Bluetooth speaker streaming some relaxing Reggae beats.
At the end of the day, typically between 4:00 – 5:00 pm, sometimes a little later if the day is nice and the winds stay calm, we've got to pack things up. That is somewhat of its own operation and a signal that the beach day is coming to an end. We organize things back to where they originated from, cooler, buggy, backpack, etc. and proceed to get our gear over the sand dune and into the Jeep.
We cruise back to the beach house on the Beach Road (Highway 12), because we're in no rush. Items such as the tent and beach chair will stay in the Jeep if we have plans to head back to the beach the next day, otherwise, our gear finds it way to the beach room for storage.
The evening wraps up with showers, dinners, and sometimes a little aloe. We definitely enjoy our long days at the beach and particularly like flying new our flag collection. Every time we hoist them up, someone on the beach will make a comment or ask us about a particular flag. And we absolutely love spreading those good vibes.
Some views from the Outer Banks