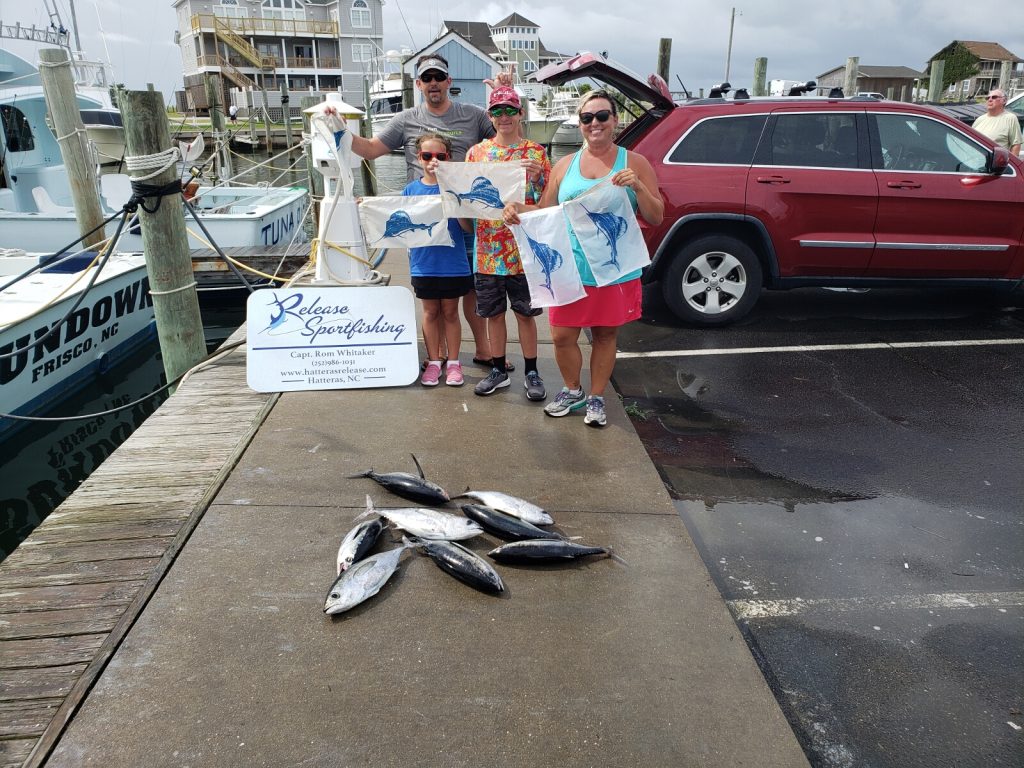 The family was stoked to go offshore fishing with Captain Rom Whitaker and first mate Andy Trant on The Release. It was a windy and sometimes rainy Wednesday out of Hatteras Harbour and we had an amazing time. When all was all said and done, we caught 5 Sailfish and some Yellowfin Tuna. It was a long day, but we had fresh fish for dinner!
Wednesday, July 8, 2020 – Off to Hatters Island
After spending most of last night preparing for this morning, we were up before 4:00 am putting the final touches on an offshore fishing trip. Lunches were made, the cooler was mostly packed, and all we needed to do was wake up and drive 80 minutes to Hatteras Village.
Funny thing, the kids had no issues waking up for this trip. We were packed up and ready to go by 4:15 am heading south on 158, then Highway 12 on our way to Hatters Harbor where The Release is docked.
The boat for the offshore adventure is a 53′ Bobby Sullivan powered by 60 Series Detroit diesel motors. With no traffic at all and some early morning light cracking the horizon in the rearview mirror, we arrived at the harbor around 5:30 am. Captain Rom and Andy where ready to go, so we used the restroom, loaded the boat, and we were off.
Heading to Hatteras Inlet, we saw an amazing sunrise and were blessed with a full rainbow to the south. Wow we thought, we hope this is a good sign for the fishing trip.
After making it through the shallow inlet, it was only about 90 minutes at full throttle until we started to get some lines out. Today, we were fishing for Dolphin (Mahi Mahi), Tuna, and whatever else we might reel in.
Unfortunately, on our way out, Caitlyn got seasick. At first, she thought she needed to use the potty, but after seeing how green she looked, our fear came true. She was hurling into a five gallon bucket. She laid down in the cabin and rested, looking miserable and eventually dosing off.
Probably about 20-30 minutes into our morning, Zander was in the chair first with our first billfish of the day, a Sailfish. Not long after that, Merri Beth was in the chair reeling in another Sailfish.
Video: Reeling in a Sailfish
We kept trolling for a bit, maybe about 20-30 more minutes and the next Sailfish was on the line. It was my turn in the chair. As I was reeling the fish in, another Sailfish was hooked. While I wrapped up my session, we got Caitlyn into the chair (probably running off of adrenaline) and she reeled one in with the help of mom and brother.
Not long after that, Coco was back laying down–passed out for a while. So far, each of us has caught a Sailfish and four citations were in the works. We hooked our fifth Sailfish and Merri Beth jumped into the chair to bag her second billfish!
For those of you not too familiar with offshore fishing, you don't keep any billfish. It's very much a catch and release fish, so all five of the Sailfish we caught today were safely released back to the open waters and we would get a citation (think certificate) for each catch. Our first mate said catching six would be a record for his time on The Release.
While we scored with the Sailfish, we were hoping to bring some of the catch back with us. We were baiting for Dolphin, but with the Southeast winds, Andy told us they've been a bit deeper and the winds spread out the sea grass where they like to feed. We kept pursuing the Mahi.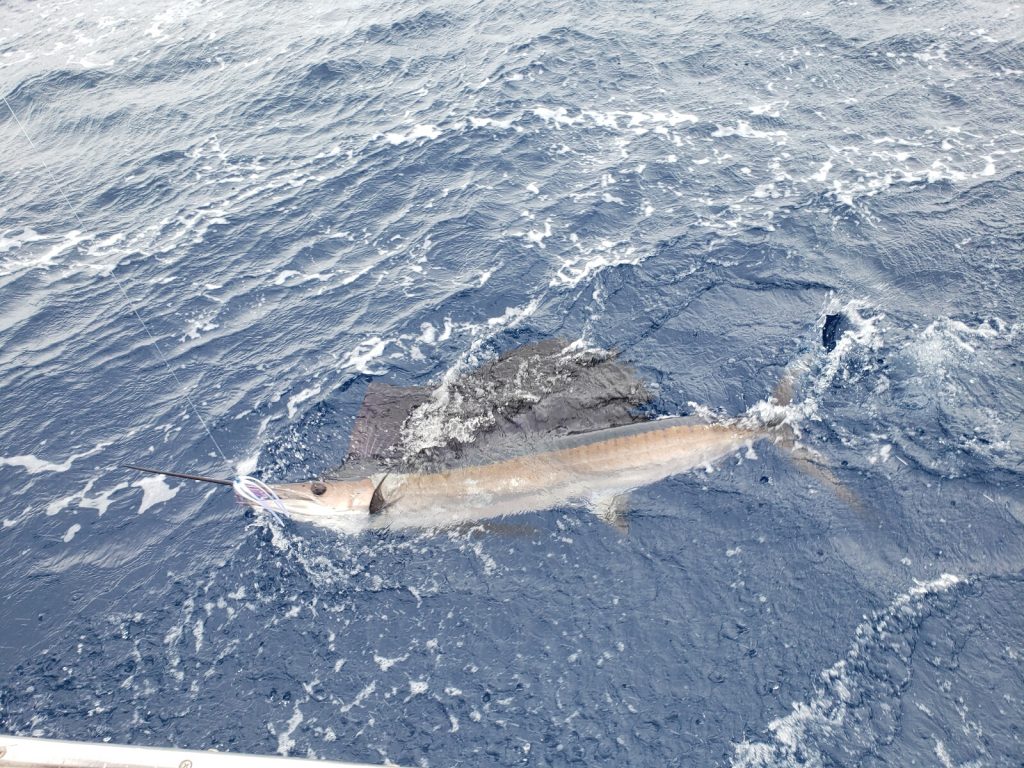 What felt like hours looking at the lines off the boat turning into anxiety and impatience. Finally, Captain Rom got a call from another boat where some Tuna were biting. We headed in that direction and switched bait.
After a long period with little to no action, lines started snapping and the action turned on at the back of The Release. We started reeling in Yellowfin Tuna and Albacore. We even had a bird get stuck on one of the lines that we safely released after a bit of panic from the bird.
The intense action came in short spurts as we would make a pass and nab more Tuna on the lines. At one point, Merri Beth reeled in two on the same line. And apologies, no pictures of us hauling in the Tuna, we were too busy manning all the reels!
As quickly as the action went by and as long as the day was, our time offshore was coming to an end. We were battling low tide at the inlet and needed to get back in order to push through, even with the Southeast winds and building swell.
Weather-wise, we were blessed with cloudy skies keeping the beating sun off of the open water. While we hit a few spots of rain, no thunder or lightning came our way. As the day went on, we faced 3-5'+ seas as a low pressure system was coming off the coast of Georgia and South Carolina, heading north towards us.
The forecast says it could become the fifth named tropical storm of the season (Fay) once it hits the gulf stream off the NC/VA coast. Luckily, we skirted the weather, caught some fish, and made it back to Hatteras all in one piece.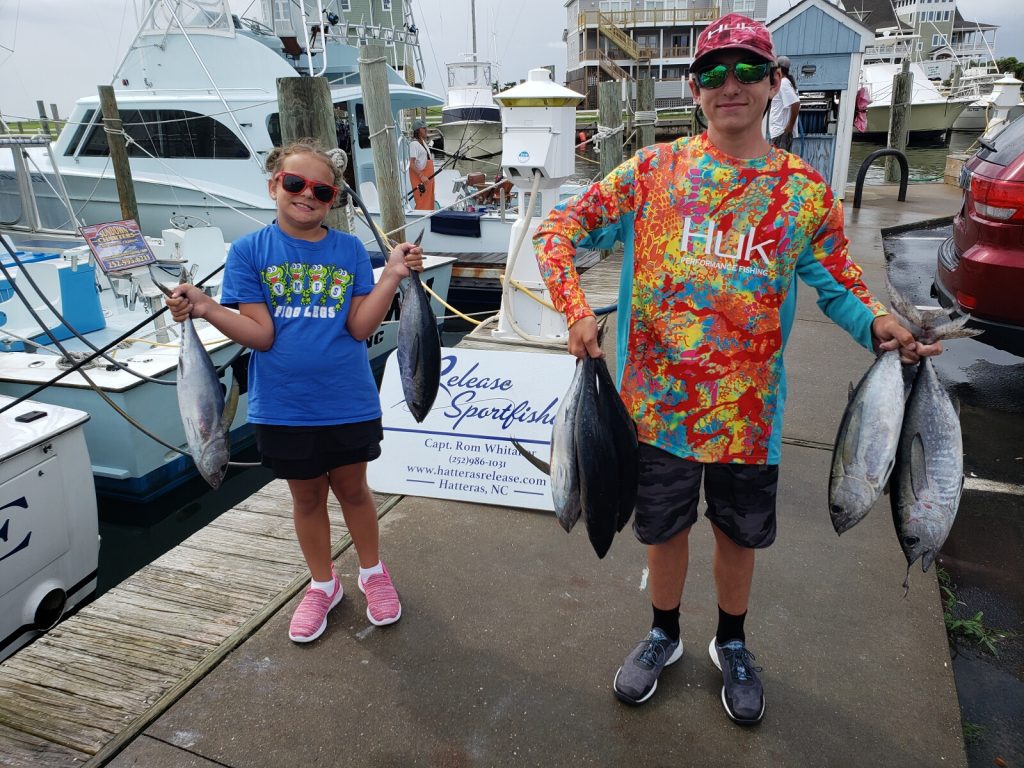 Back on land at Hatteras Harbor
One the way back, we hit some heavy pockets of rain. The family stayed inside the cabin to stay dry. Once we made it through the inlet, the rain cleared and Andy started to prepare our billfish flags to display our sporty catches for the day.
Once docked at the marina, we unloaded our gear, took pictures of our catch, and filled out the forms for our citations. I took the kids over to watch the fish get cleaned and prepared to take home.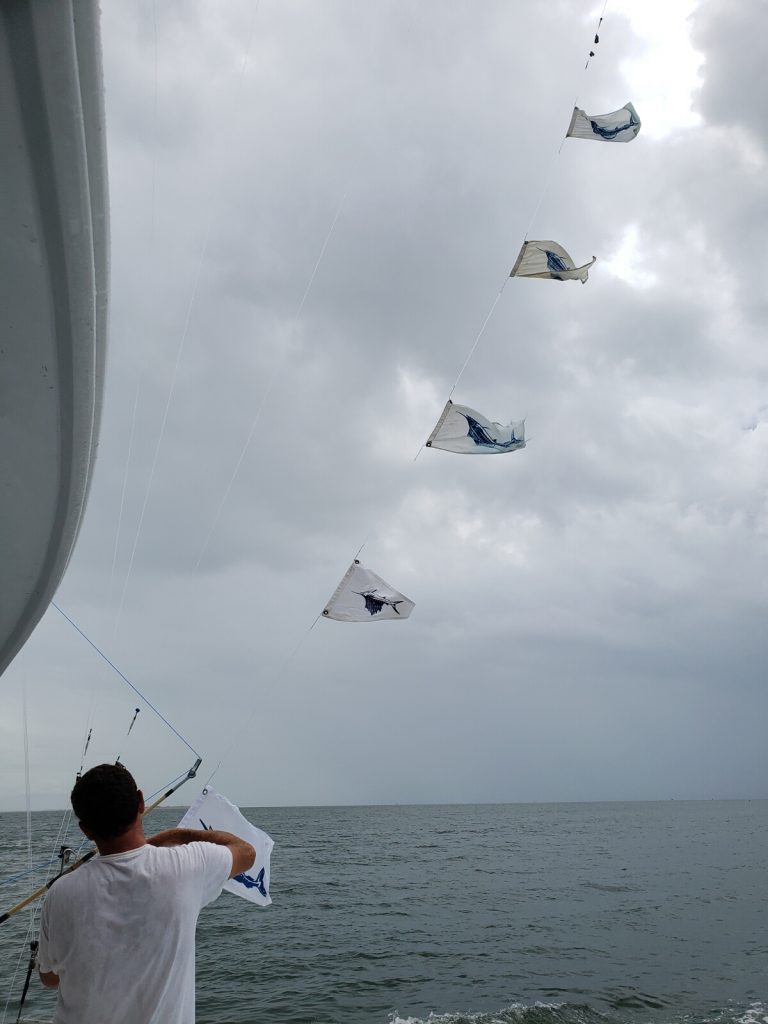 While coming off the boat, a fellow angler who had reeled in an abundance of Mahi asked if we would trade some of our Tuna. Since we wanted to catch some Mahi and didn't, we were very open to this. We decided to trade four of our Tuna with four of their Mahi. A good deal both ways if you ask us.
Our crew received multiple congratulations for our five Sailfish citations, an impressive number for the Hatteras fleet. We were happy with our catch and really glad we got to bring a few fish home with us.
We settled-up with Captain Rom, tipped our first mate who busted his ass getting everything prepared, keeping lines in the water, and giving us instructions on what to do so we could catch some fish.
On the long and exhausting drive back to Kill Devil Hills, we stopped at the Cape Hatteras Lighthouse to eat a snack and settle in for the hour drive back. We really didn't eat much on the boat, due to the the building swell and the anxiety, everyone, including Coco, got some food in their belly before the car ride back.
When we got back, we unloaded the Jeep and prepped the fish, freezing and labeling most of the catch for future meals. However, we did leave a few fillets out because, why not, they were swimming this morning! The Tuna become a decadent Poke dish while I sauteed the Mahi which was light, fresh, and delicious.
Captain Rom Whitaker and first mate Andy Trant took great care of us on
The Release, if you're interested in going offshore fishing from Hatteras Island, I'm sure they'll take care of you too. This is my third time going out with Rom and it's been a different adventure each time, hat tip to the late Larry Troan for the introduction. I look forward to our next offshore trip, whenever that may be.
All-in-all, a successful day offshore. It's been almost a decade since I was on my last offshore fishing trip, and I'm glad I was able to spend this one with the family and enjoy some time away from work, avoid COVID-19 headlines, and find my sea legs again.