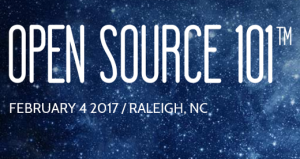 If you are interested in exploring what the world of open source has to offer or seeing what the professional technology environment will look like in the future, then mark your calendar for Saturday, February 4, 2017.
Open Source 101 is a one-day conference for existing technology professionals and students designed to provide open source education and instruction. The event is organized by the same people who host the All Things Open conference held each October in Raleigh.
The event will have morning keynote sessions addressing higher level topics, then breakout sessions in the afternoon. Topics include some of the basics: What is open source?, Why open source and why should I participate?, and How do I join or start a project? Other topics aimed at technology professionals go into the world of licensing, community, and the business case for open source.
Open Source 101 event details
My team from Opensource.com will be well-represented. I'm bias, but I would encourage you to check out the sessions they are presenting at:
I have a talk, more of a case study, on Building Community with Twitter Chats, that will be lots of fun. I'll walk you through how to plan, execute, and measure the success of a Twitter chat. Then we'll do a live demo during the session.
For those new to open source, I would encourage you to attend Mark Hinkle's talk, The Linux Foundation 101.
Hope to see you at Open Source 101!