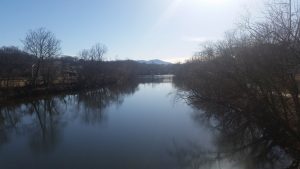 The last day of our trip in Asheville was another beautiful day, a little windy with lots of sun. We wanted to stop by New Belgium before having lunch at White Duck Taco. Our ride back to Raleigh would be just under four hours and we had a few last minute things to check off our list before the end of our trip.
My morning started off with a run through the historic neighborhood where our Air BnB was, just north of downtown Asheville. There are some cool houses along my route and a few neighbors were out and about on their morning routines. Once I got back to our place, it was time to shower, pack-up, and get ready for our last hurrah before heading back to Raleigh.
New Belgium Brewery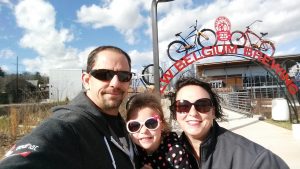 We were out of our Air BnB before noon and heading to the west side of town to explore New Belgium Brewery. We ran out of time yesterday to make the visit to our friends from Ft. Collins, Colorado, but we knew that we definitely wanted to stop by and check out the digs at New Belgium.
The location is amazing. Compared to Sierra Nevada, it wasn't as big of an operation, but it is definitely one of the larger breweries in the area and has some scenic views along the French Broad River.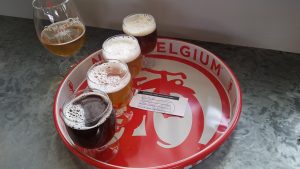 We settled in at the tasting room and tried the Bretta IPA, Voodoo Ranger 8 Hop Pale Ale, Dunkelweisen, and Anne-Francoise Spiced Dark Ale (from the Lips of Faith series). Don't mind the extra Chocolate Chip Cookie Dough ale in the picture, that was a bonus pour for us.
The staff was very friendly and attentative. I definitely got a sense of the New Belgium family compared to the facility in Ft. Collins, but with a twist of Asheville. This is by far one of the better places to come and experience the NC craft beer scene.
White Duck Taco Shop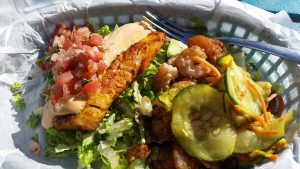 Lunch was across the river at the White Duck Taco Shop. We arrived at just the right time. The line was barely out the door, but soon after, it was literally around the corner of the building. The line moved fast and as we advanced to the inside, we strategized on what to order.
Coco wasn't hungry, which we thought was strange, but she had a late breakfast too–and she's still a little under the weather. MB and I each got two tacos, they were able to serve mine on a bed of lettuce (yeah low carb!). We also ordered some queso to pass the time while we waited for our food to arrive.
White Duck Taco did not disappoint. The tacos were solid, and they came out fast and fresh. The atmosphere was fun and inviting. This is a place we would definitely visit again. White Duck is a great spot for a quick and affordable lunch.
As our time in Asheville expired, MB and I were dreading the drive back to Raleigh. Not that we didn't want to get back home, it was the dread of missing the fun, exploratory feeling you get with somewhere new and different that we didn't want to go away. A pit stop in Black Mountain would help us keep that spirit alive.
Lookout Brewing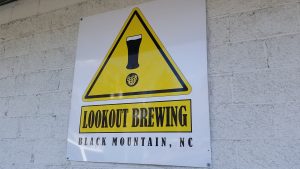 On the way out of Asheville, we made a stop in Black Mountain just off of I-40 to check out Lookout Brewing. They opened at 2:00pm which worked out well for us as we were trying to time out traffic going back home.
This was a neat little spot just a block or two off of the main drag in Black Mountain. They have a private parking lot and when we arrived, there were a few locals already hanging out at the Brewery.
We occupied Coco with a cartoon on Netflix while MB and I tried a few samples. Nothing overly exceptional was jumping out, but nothing was horrible. OK, if you know my palette, you know I wasn't digging their peach beer, but I gave it a try. The Belgian Ale and IPA were two of our favorites.
Samples included: Lookout Stout, Dark Town Brown, Feelin Peachy, Alison's Front Porch Pale Ale, On the Trail Golden Ale, Belgian Ale, Mountain Hop Shine, and Black Mountain IPA.
Wrap-up
That was our mini-vacation to Asheville, NC. As always, I felt like we did a lot in a short amount of time. We explored the Biltmore Estate, Chimney Rock, and quite a few breweries. And we hope that sharing our experience will help you have a great time in your adventures and we always welcome other tips and tricks for the next time around.
Picture from New Belgium and Lookout Brewing