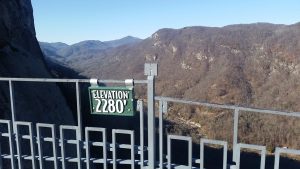 Our second day in Asheville started off with an easy relaxing morning, then an afternoon hike at Chimney Rock State Park. After capturing some amazing views of the mountains we sampled some more brews at Sierra Nevada, Wedge Brewing, and Asheville Brewing Company.

My morning started off with a run from our place north of downtown to the French Broad River. Along my route, what I thought was a science museum on the west side of the river ended up being New Belgium—the facility looks amazing. After my run, we got ready to drive about 45 minutes to Chimney Rock State Park.
Hiking Chimney Rock State Park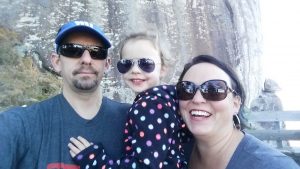 After going up and down the winding mountain road on Highway 74 we arrived in Hickory Nut Gorge. We found the park entrance and went about a mile up the mountain, to the ticket booth. After paying our entry fees and getting our trail map, we parked the car and took a shuttle to the top parking lot that was already full from the days activities.
We started our ascent stopping at each lookout point—first was Vista Point, then Pulpit Rock. After lots of stairs, we made it to Chimney Rock. There were lots of people at the top, taking in the view and being annoying all at once.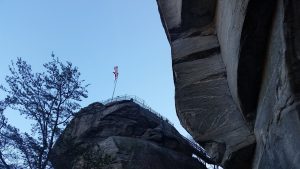 Merri Beth, Coco, and I continued on to see the Opera Box, Devils Head, and then hiked the Exclamation Point Trail, which took us all the way to the top. The higher elevation and extra hiking weeded out a lot of people. The views were amazing and we enjoyed a few minutes at the top before heading back down the trail.
I wish we would have gotten an earlier start as MB and I wanted to hike the Hickory Nut Falls Trail to see the waterfall, but we were out of time. We'll have to come back another day with a better approach to cover more of the park.
Beers Along the Trail
For the rest of the trip, we wanted to check out some more breweries. With so many to choose from, we had to be strategic about where we wanted to go and what we wanted to taste. Here was our attempt to maximize that time.
Hickory Nut Gorge Brewery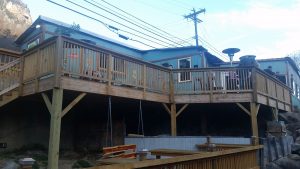 After a full afternoon of hiking and soaking in some amazing views, we decided to make an unplanned stop at Hickory Nut Gorge Brewery. It was a small, quaint spot with an awesome location along the rushing waters of Fall Creek. They had a small tasting room with three different decks outside. MB and I shared a Slay Ride Christmas Ale and a Rain Check Spiced Stout.
Definitely a cool spot. And a great place to unwind after a day at Chimney Rock.
Sierra Nevada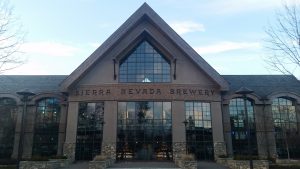 The next stop was very impressive. As we approached Sierra Nevada, who has their own road named after them, we were amazed at the size of the operation. Wow, we got pumped just walking up to the place.
We headed for the brewpub, where there was an hour wait to get a table. MB, Coco, and I opted for a community table instead and ordered some samplers and some snacks. I had a mason jar salad and Thai coconut curry, MB had the pear salad with Carolina bison short ribs, and Coco stayed true to her sampling of mac n' cheese wherever she goes.
Overall we were impressed. I'd say if you are doing the Asheville Brew scene, this is a must stop. My only caution would be the food portion for the price was a little disappointing. Beers and service were excellent.
Samples included: Bigfoot, Hop Hunter IPA, Tropical Torpedo, Hoppy Wheat IPA, Kellerweis, Petite Fumme, Barrel Aged Wheatwine with Lemon, Kölsch, and 2016 Celebration Ale.
Wedge Brewing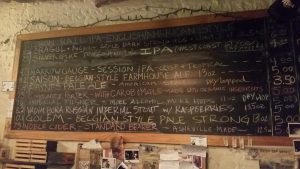 Wedge Brewing was recommended to us by a few people, so it made the limited list of places to try. We arrived around 7:30pm and it was kind of quiet with a few groups of people filling the space, which was stretched between several rooms and a nice area outside with a food truck. We each got a sampler, a bucket of roasted peanuts, and found a table outside under a patio heater.
It was made very clear, that since we had Coco, we turned into pumpkins at 8:00pm. There were signs posted and the staff reminded us about their kids rules. Huge thanks to all those parents who can't keep tabs on their kids and ruin it for the rest of us.
Wedge was a neat place, nothing super spectacular was jumping out at us, but I'd give them another try. I'd love to see their space during the day and get another round on a fresh palette.
Samples included: Dragul, Payne's Pale Ale, SilverSpike Transcontinental IPA, Narrow Gauge Session IPa, Golem, Vadim Bora Russian Imperial Stout, Saison, and Imperial Pilsner.
Asheville Brewing Company
The last place on our list was Asheville Brewing Company, which would also be dinner. This was a cool little pizza spot that reminded me of Little Trophy in Raleigh. We had to wait just a little while, so we grabbed a table outside for about 15 minutes before our table was ready.
I ordered a sampler for MB and I to share while we waited. We were finally seated at our table and ordered some salads and a pizza to split. I was really digging their IPA's. A place I would definitely come back to visit again.
Samples included: Shiva IPA, Rocket Girl, Perfect Day IPA, Make a Mango Crazy, and 828.
Views from my run along the French Broad River
View at Chimney Rock
More Brewery Pictures