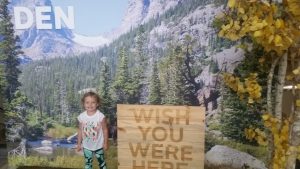 Time flies when you're having fun. Our week in Fort Collins was coming to an end. But we're not going out that easy. We squeezed in some last stops as we wrapped up our time in Colorado. On our way to the airport, we grabbed lunch at Oscar Blues. A great choice before heading back east. And there were a few more fun things sprinkled in before our time ran out.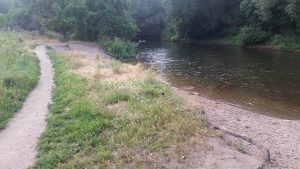 It was another beautiful morning in Fort Collins. I was out for my last run on the Poudre Trail. Except today, I explored some of the trails and went off the beaten path. I got some great views of the river and it was a great way to start the day.
After Merri Beth and I checked in with work, it was time to pack things up and get ready to hit the road. The car was packed and we were running just a few minute behind where we wanted to be. All good though. We were out the door shortly after 11:00 am.
Our first stop was an old favorite, New Belgium. Close to our place, but worth another stop. Coco was with us and enjoyed spending some time outside while MB and I sampled some collaboration Fat Tire from other breweries. On tap were Fat Funk Ale from Allagash and Fat Wild Ale from Avery.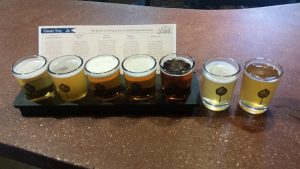 We had time for one last quick stop in Fort Collins and it was one of my favorites (that MB hadn't had a chance to visit yet), ODell's. Selfishly, I wanted to pick up a t-shirt that I saw the other day and get one last 90 Shilling. We shared a flight, and added  Piña Agria sour ale that was just tapped. Totally worth the stop before we started heading to the airport.
For lunch, we headed to Oscar Blues Home Made Liquids & Solids,in Longmont, Colorado, which is north east of Boulder. Not only do they serve some delicious food, but more beers than their own. We sampled some house beer from Oscar Blues, but expanded our tasting to the rest of their offerings. We had a great time checking out Oscar Blues. Can't wait to crack a Dale's Pale Ale when I get home!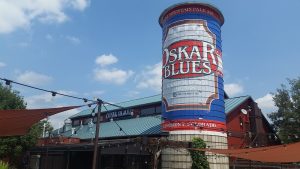 As you can imagine, the rest of the day was focused on getting home. We returned our rental car near the airport and took the shuttle bus to begin the check-in process. Our timing was perfect and we arrived at our gate just as the boarding process was starting.
Our travels took us through Detroit, where we had a really tight layover. We basically walked to the next gate and got on the plane. No time to find or grab dinner, just time to get on our connection. No worries, we were more excited about getting home.
By the time we got to RDU, they weren't ready for our plane and we sat for 20 minutes outside our gate waiting for the plane that was there to push off. What a disappointment. We were supposed to get home around midnight, but that quickly backed up to 1:00 am. But, we're glad we made it home.
Pictures