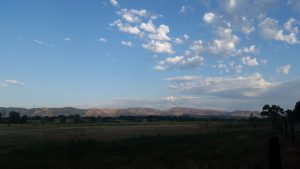 Our day started early, like out the door at 5:45 am early, on our way to RDU to catch a 6:55 am flight to Denver. The last days of July were lurking and we were escaping a heat wave that was on the way. As the garage door opened, even before the sun came up, a swoosh of 80º humidity rushed in. Rocky Mountains, here we come.
Merri Beth, Coco, and I were heading to Fort Collins, Colorado for the week. Her parents, Jim and Beth, flew out on Saturday with Zander. Our travels took us through Cincinnati for a short layover—enough time to grab breakfast and board the next flight.
We arrived in Denver just before lunch time, got our bags, hopped on the bus to get the rental car, and drove about an hour to Fort Collins. We were hungry and as the navigator, I'm also responsible for Yelp, which means I get to choose from the myriad of places to eat based on a few preferences. And since we're in Fort Collins, I found a brewery with food that got great reviews.
Black Bottle Brewery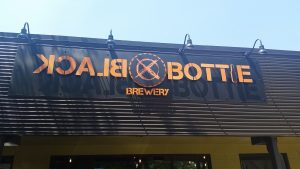 Black Bottle Brewery (BBB) is nestled in a small shopping center, just south of the Colorado State University campus. There is a great variety of food to choose from and the beer selection is top-notch. We got some salads and cheese curds to start off. And somewhere in the midst of our beer sampling, I had fish tacos and MB got the sausage plate.
The beers were so good. And it wasn't because we were traveling all day. Some of my favorites were the Scuba Steve, Nunchuck, Hipster, and There Goes the Neighborhood. My absolute favorite one was the Scuba Steve – Tequila Barrel Aged. Delightful!
Lunch was a huge success and we were happy, BBB is a place I'd definitely like to visit again. Now it was time to find our VRBO, get settled in, and check in on some work.
The Mayor of Old Town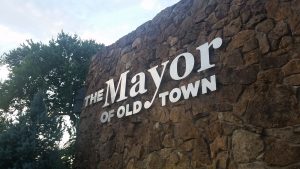 Jim, Beth, and Zander were back from Frontier Days and we were heading out to dinner. We decided to give a place called The Mayor of Old Town a try. They had a pretty good variety of food that could satisfy everyone's appetite. The wow factor of this place: 100 beers on tap.
The service started off a little slow considering how it didn't seem that busy inside. Merri Beth and I ordered a few samples of beer and then everyone ordered dinner. Burgers, salads, and sandwiches seemed to be popular at our table. It was getting late and everyone seemed satisfied with their meal.
That was about it for the first day. MB, Coco, and I were tired from traveling and were ready for a good night sleep.
(Just a few) Pictures