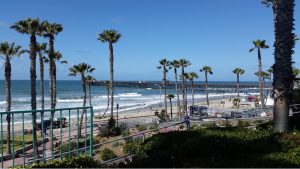 We captured some amazing views of the coast today. Our morning started off at Oceanside Pier before we packed up the car and headed north to Los Angeles. On the way, we stopped at San Onofre and then did a driving tour of Venice Beach. Once we got settled in at our new place in Santa Monica, we enjoyed the views of LA from the Griffith Observatory.
Farewell Oceanside – March 29, 2016
It was a bitter sweet day for our Spring Break in Southern California. We were leaving Oceanside and heading north to Santa Monica. That means we had to pack-up our things and tidy up the place before getting on the road. And we didn't want to deal with any of the morning commute traffic, so once the car was packed, we headed over to Oceanside Pier for a little walk before sitting in the car for a while.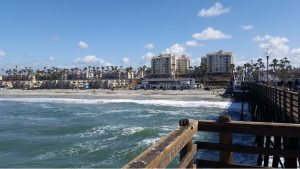 There was a chilly breeze coming off the ocean that was kind of pleasant while we walked to the end of the pier and enjoyed the views of Oceanside. The sun was bright, shining, and warm. After walking the pier, we stopped by the famous "Top Gun" house—which wasn't looking too good and I wouldn't be surprised if it's torn down sometime soon.
There was one more thing we had to do before leaving. Zander and I had to return our surf board and wetsuit rentals. We swung by the Real Surf Shop and settled up with them. Then we said our good-byes to Oceanside.
A quick visit to Trestles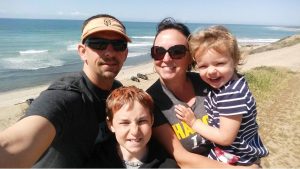 On our way to Los Angeles, we made a fun pit stop at the San Onofre State Beach. I remember surfing here many years ago with my buddy Chef Jeff and I wanted to show Zander the famous surf spot, Trestles. We enjoyed the views from up top, although if I could have made a full beach day out of it, I would have. Before continuing on to LA, we ate some lunch in the car.
As we approached our final destination, I navigated us off the freeway and we did a drive-by tour of Venice Beach. This place was insane, wow (glad we didn't stay here). We settled into our new place in Santa Monica, quickly unpacked, then started discussing what we would do for the rest of the afternoon. On the list of things to do while in LA was to visit the Hollywood walk of fame, Griffith Observatory, Hollywood sign, and we were considering the La Brae tar pits. We decided to head towards the hills and visit the Griffith Observatory.
Learning about space at Griffith Observatory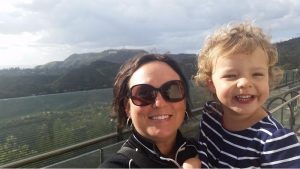 We fought some infamous LA traffic. The quickest route to West Hollywood involved getting on the bumper-to-bumper freeway before navigating a horrendous grid of streets with ill-timed traffic signals. We drove down Hollywood Boulevard then drove up the mountain to the observatory. And something weird happened. It started raining. At first it was light, then it was heavy. And as the temperature dropped, the rain turned to hail. Totally freaky and unexpected.
The area around the observatory was really busy. Cars parked on both sides of the street. Traffic heading up and down the road. We scored a parking spot close enough to the top and walked the rest of the way. The rain had stopped and it had cooled off quite a bit.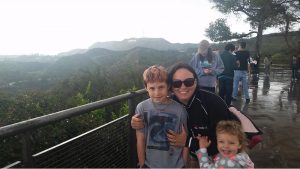 Admission to the Griffith Observatory is free. And there are plenty of cool exhibits to wander around and learn about. We tried to see a 5:15 show, but kids under 5 weren't allowed, so we axed that. Although there is a lot of cool stuff to see, the kids got bored pretty fast. Coco more than Zander. At least Zander is learning about some of this stuff in school. Coco just wanted to touch all the buttons.
Before heading back to the car, we meandered outside for a bit and enjoyed the views of LA. The sun was approaching the Pacific horizon, but we didn't have time to stay for the sunset. It was a long day on the road and we needed to get some dinner.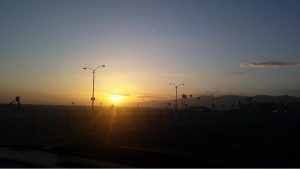 On the way back to Santa Monica, we got some take-out from a local place called Tacos Por Favor. Apparently it's some good eats because there was a line of people getting dine-in and take-out. We got back to our place and devoured the food. The tacos were really good.
We had a pretty fabulous day. Some of it on the road, but together as a family, we saw and did a lot during our transition from Oceanside to Santa Monica. Can't wait to explore for one more day as our Spring Break winds down.
Pictures from Oceanside Pier
Pictures from San Onofre
Pictures from Griffith Observatory