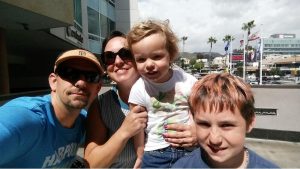 The last day of Spring Break in Southern California was awesome. Our plan was to head over to Hollywood and visit the Hollywood Walk of Fame and the Chinese Theater. Then later in the afternoon, we decided that we would explore the Santa Monica pier and go out with a bang. We had a nice dinner, rode lots of rides, and enjoyed the sunset from the ferris wheel. Life doesn't get much better than this.
A morning in Santa Monica – March 30, 2016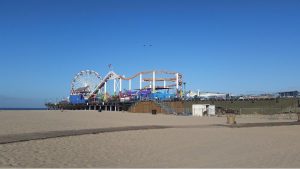 My morning started out with a 5 miles run along the beach from our new rental to the Santa Monica Pier and back. Merri Beth and Coco went out to the super market and got a little exercise in as well. Zander slept in. Life is rough on the west coast. After my run, I went over to see the famous Santa Monica stairs. They are no joke for a workout and there was quite a little gathering of people there too. Good times.
Seeing Starts on the Hollywood Walk of Fame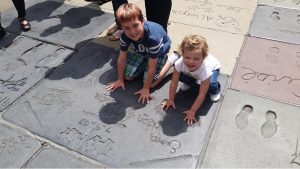 After workouts and breakfast, we packed our lunch and headed to Tinsel Town. Traffic was much better this morning and no rain was looming around. We parked at Hollywood and Highland, then got to the street and started looking at all the Hollywood stars on the sidewalk. We eventually made it to the Chinese Theater, where we meandered for quite some time and enjoyed seeing all the imprints from famous stars.
Coco enjoyed seeing the star for Mickey Mouse, while MB was stoked to see Drew Barrymore. Donald Trumps star was not defaced in any capacity when we passed. After walking the sidewalks, we grabbed a quick drink and a snack at California Pizza Kitchen, then, headed up the mountain to the Hollywood Bowl Overlook.

Several twisty turns and lots of expensive houses, we had a magnificent view of LA. After a short walk down a trail, we had an amazing view of the Hollywood sign. After the nostalgia wore off, we ate a picnic style lunch in the car and soaked up the amazing weather. After lunch, we headed back to Santa Monica via Beverly Hills and got ready for an afternoon of fun.
The Santa Monica Pier Experience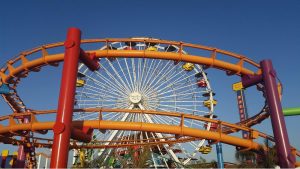 Literally, the waning hours of Spring Break were melting away. After a quick visit to the grocery store to stock up on some California vino (that was on a super, mega sale), we headed to Santa Monica Pier and the 3rd Street Promenade. The amusement park and rides at the pier put Legoland to shame. No lines, super fun, and a whole lot cheaper.
We did a round of rides on the roller coaster, and a few other rides. One of the highlights of the evening was getting the sunset on the ferris wheel. That was totally magical for me. I'm not sure how the kids were digging it, but I thought it was completely awesome.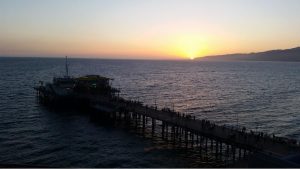 We needed to get some grindage, so we ended up at Del Frisco's Grille. It was a little fancy, but it was our last night of Spring Break, so something a little nicer sounded just right. MB and I enjoyed some wine and the food that came out was very good. The restaurant was pretty busy, but after a slow start, the service was pretty decent.
We headed back to Santa Monica Pier to ride a few more rides, but it was getting late. The kids wanted to stay, but we knew we had to get up early to leave for our flight back home. We could have stayed much longer, but time zones and packing up were calling. Our flight leaves tomorrow at 10am, and we don't want to revisit any of the drama we had on the way out.
Picture from Hollywood
Picture from Santa Monica