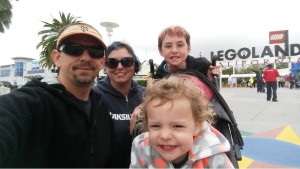 Imagine, build, and ride. That's what we had in mind as we enjoyed another day of Spring Break in California. Our adventures this time would take us to Legoland in Carlsbad. After a full day at the theme park, we enjoyed the brew scene and dinner at Breakwater Brewing Company back in Oceanside.
Legoland – March 28, 2016
The family was excited to head to Legoland and explore the theme park. We did a lot of research online to figure out the best approach and what rides the kids could and couldn't go on. Merri Beth packed up a fantastic picnic-style lunch for the family. Once everyone had breakfast and was ready to go, we were out the door on a short 15-minute drive to Carlsbad.
As we arrived at the park our anticipation started to build. I'll be honest though, I went in with very low expectations. The first hint that today was going to be long was the line of cars getting into the park and the $15 parking fee(just include that in your ticket price). Once we found a spot, we made our way into the park, ready for a full day of Lego adventures.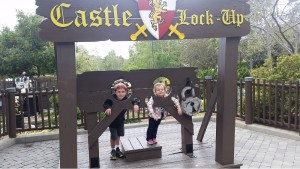 The weather was a bit chilly, and we had our jackets on most of the day because of the cool breeze. It was overcast too, which was probably a blessing in disguise. We grabbed some maps as we went into the park and once we got oriented, headed towards the back of the park. We were in Castle Hill and stood in line for maybe 10 minutes to ride the dragon roller coaster. Coco laughed the entire time, which is so awesome.
Then, our day started to get painful (like the kids in the above picture). While Coco was in line to ride the jousting horses, they had to shut the entire ride down because a kid dropped a shoe on the track. MB and Coco must have waited for at least 30 minutes. We continued around the park heading into a section called Fun Town. At this point, it seemed that all lines were getting busy. To the tune of 30-45 minute wait times or longer.
Zander wanted to get behind the wheel at the LEGO driving school. While we were standing in a really long line, they ended up shutting the ride down. MB and Coco where waiting over at the Junior Driving School that had an equally long line and when it was all said and done. Coco didn't even get a full lap in on the track because some kid T-boned her into the wall and the attendant didn't move the cars fast enough. While Zander and I were patiently waiting, they had opened up the other driving school, so he was able to get in the front of the line and get a fun ride in.
We were getting hungry, and the family decided to head out to the car to eat our picnic lunch and rest up a bit for the rest of the afternoon. At this point in the day, I was about ready to leave anyway, but trucked along for the kids. On our way out, the kids traded LEGO figures at one of the trading stations.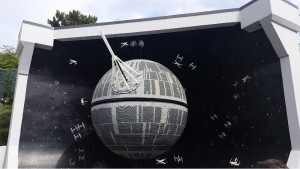 Once back in the park, we hopped on the boat cruise and then walked through Miniland USA. I'll have to say this was one of the coolest parts of the day. Seeing the New York City skyline, Vegas, Washington DC, San Francisco, Mount Rushmore, and lots of great Star Wars scenes, including the Death Star, was pretty awesome. After that, we built a LEGO boat and raced it down the waterway.
Next we headed over to the Land of Adventure, and on our way, stopped in to watch the 4D movie they had playing, The LEGO Movie 4D A New Adventure. This was rather disappointing too. We waited in line for 30 minutes because they posted conflicting start times. The sign out front said something different than the online app, so we ended up waiting longer than we should have. Once we got in, we sat on long wooden benches. And the only "4D" portions of the movie were moving air and some misting water. Compared to other 4D movies like this, I was expecting a comfortable chair and more effects. It felt like such a waste of time. They even had commercials at the beginning. Really?!?
Once we arrived at the Land of Adventure we saw, you guessed it, more long lines. We stopped and let the kids play at the Dune Raiders and a small little playground area. Looking around, I could see a lot of parents that looked board and exhausted. It was at that point Merri Beth looked at me and said, "We can go at anytime."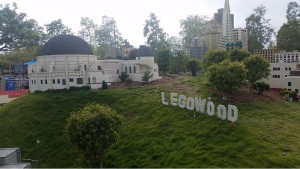 We stuck with it, as the sun was now starting to punch through the clouds. We decided to play a round of mini golf and make a decision on when to leave after that. So…we waited in line to play mini golf for 20 minutes because they were low on golf balls. I'm seriously wondering about the efficiency of this place and if their mission is centered around fun or testing peoples patience.
Something changed after our round of mini golf. The crowd thinned and the lines were manageable. The sun came out too. For the last hour, it seemed like we rode more rides than we did all day. Zander and I rode on several rides that we skipped earlier. Merri Beth and Coco did the same.
Our day at Legoland ended with some shopping in the LEGO store and getting pressed pennies for the kids. Overall, I'd say Legoland was a dud. I'd rather spend that kind of money at a different theme park. The kids had fun, yep, we enjoyed our day, but I wouldn't recommend Legoland to any parent based on my experience today. Maybe things would have been different if the water park was open, but can't say that would change how I feel about the park.
Dinner at Breakwater Brewing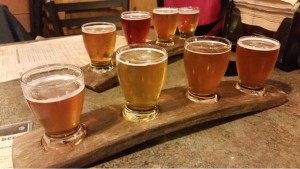 Walking around all day and standing in line makes you exhausted. The family made a pit stop back at the condo to freshen up, change shoes, and get ready for dinner. We headed down the way to Breakwater Brewing Company. Their food menu of salads, pizza's, sandwiches and more looked delicious. And the beer menu was looking quite delightful as well.
The beer list looked something like this: Todos Santos Double IPA, DMJ IPA, Beach Honey Ale, Kali Kush, Reincarnation, Alpha Bravo Pale Ale, Bandidos Yanquis, Teahupo'o Triple IPA and a few more that we didn't get to. MB and I sampled beer while we waited for our pizza. Dinner was a huge hit and we definitely enjoyed the scene. This is totally a surfer joint and the perfect way to end the day in Oceanside.
Breakwater Brewing Company
Pictures from Legoland